RESEARCH PARIS AUTO SHOW BY YEAR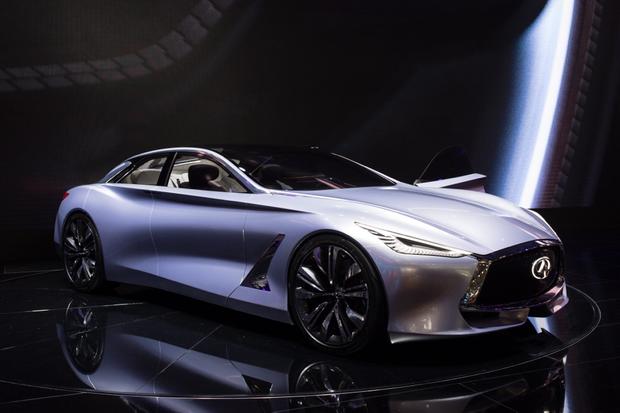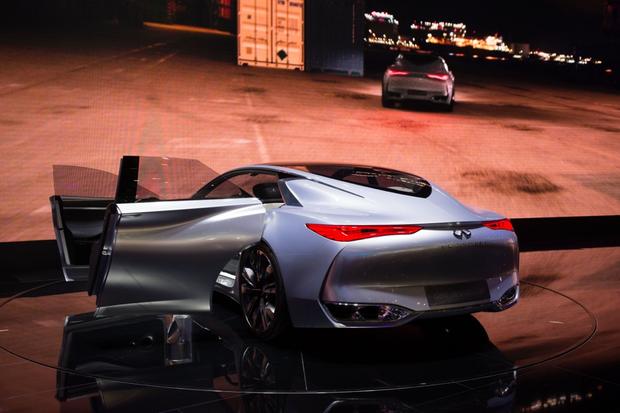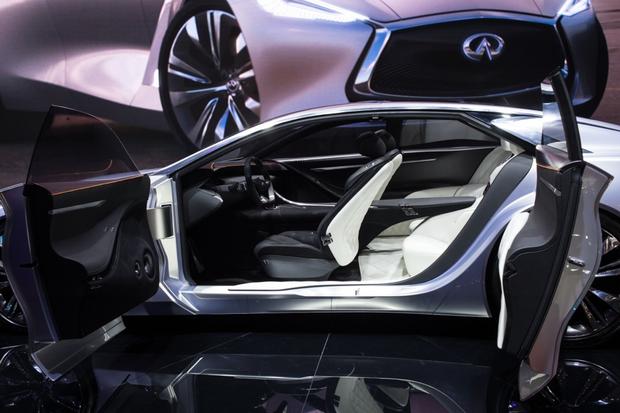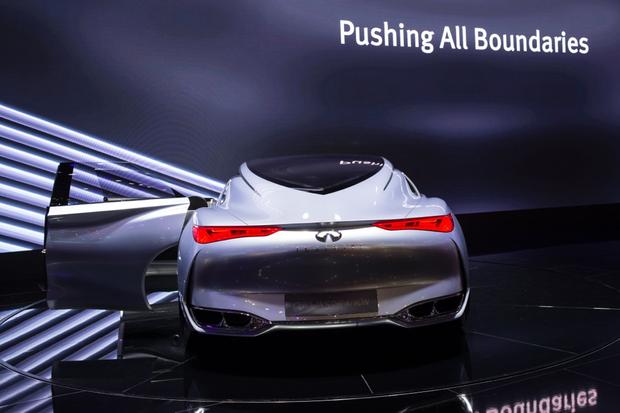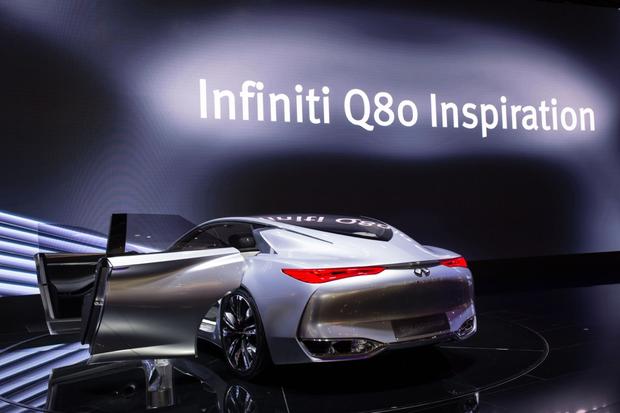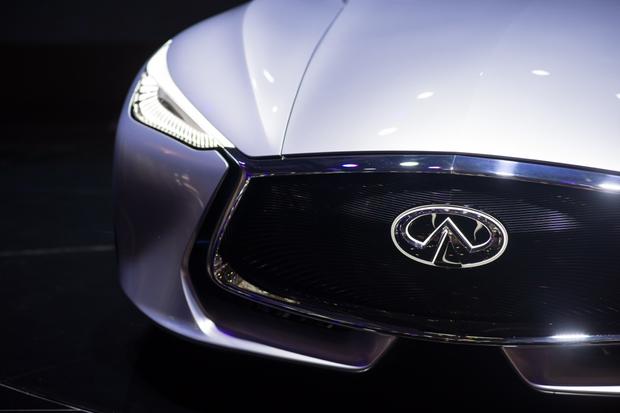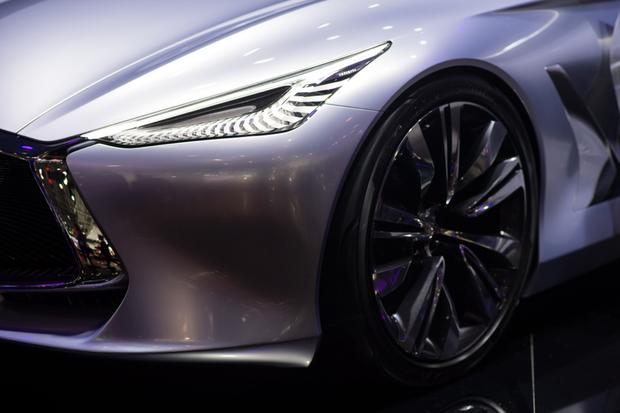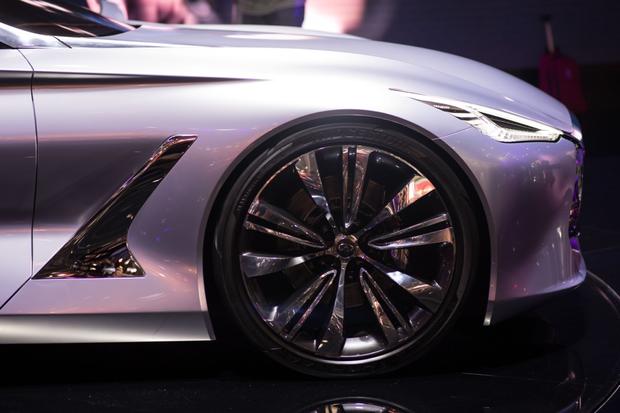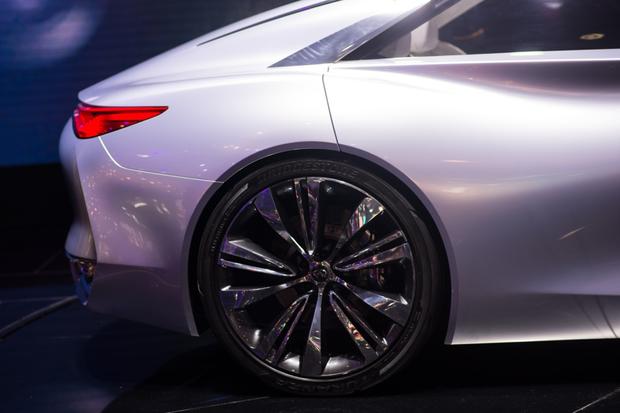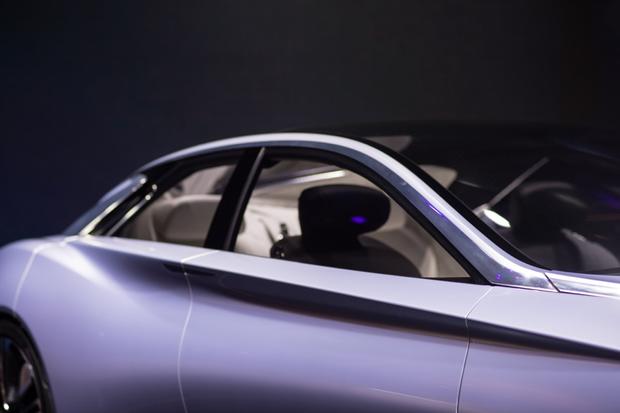 What Is It?
The Infiniti Q80 Inspiration Concept previews the future of a full-size flagship luxury sedan from Infiniti. Though it's just a concept car, the Q80 would be positioned above Infiniti's current Q70 sedan, rivaling high-end luxury models such as the Mercedes S-Class, BMW 7 Series and Lexus LS.
On the outside, the Q80 Inspiration Concept certainly looks the part. Huge wheels, a wide grille and narrow, aggressive headlights complement the car's swooping lines and its unusual V-shaped rear window. The Q80 also boasts quad exhausts, narrow taillights and suicide rear doors that include no B-pillar and give the car an impressive presence.
Inside, the Q80's interior is simple, boasting only sculpted Alcantara seats, a unique flat-bottomed steering wheel and a small screen set low in the center stack that appears to control climate and audio functions. Otherwise, the car's interior is an exercise in minimalism -- and high-quality materials.
Under the hood, the Q80 doesn't offer a V8 like most competitors. Instead, it includes a twin-turbocharged hybrid 3.0-liter V6 that manages to make an impressive 550 horsepower -- more than base-level engines from nearly all production-car rivals. The sedan also boasts an early application of autonomous technology, which helps to suggest various courses of action the driver should take.
Will They Ever Sell It?
Not in this form, but we wouldn't be surprised if the Q80 previews the future of Infiniti's luxury-sedan lineup given the brand's rapid expansion and its desire to take on established players such as BMW and Audi.
Why It's Important
The Infiniti Q80 Inspiration Concept is important for three major reasons: its size, its powertrain and its technology. In terms of its proportions, the Q80 is important because it shows Infiniti is eager to go toe-to-toe against full-size luxury sedans -- a market that the automaker hasn't entered since dropping its V8-powered Q45 after the 2006 model year.
The Q80's powertrain is important for largely the same reason: It previews Infiniti's plans for increased application of hybrid technology throughout its lineup. And while we're surprised to see a full-size luxury sedan that only includes a V6, it's hard to argue with 550 hp.
Finally, the Q80's technology is an important step for the automaker. In particular, its autonomous driving technology helps to read the road and suggest courses of action to the driver. While we're not entirely sure how well it works in practice, adding this feature to a concept car proves that Infiniti is focused on bringing autonomous or semi-autonomous technology to its lineup sometime in the near future.