RESEARCH LA AUTO SHOW BY YEAR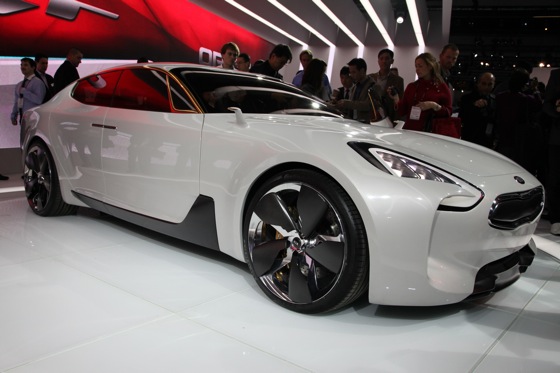 The Kia GT Concept was styled by former Audi designer and Kia chief design officer Peter Schreyer, who's known for his work on the Audi TT.
The GT Concept isn't production-ready, but may indicate a direction for future Kia models.
Under the rear-drive sport sedan's hood is a 389-horsepower 3.3-liter turbocharged V6.



Kia's sporty GT Concept made its North American debut this week at the Los Angeles Auto Show. Styled by chief Kia design officer and former Audi designer Peter Schreyer, the sleek sedan may offer a glimpse into the future of Kia design.
While it's mostly known for small SUVs, midsize sedans and fuel-efficient compact cars, Kia proves it may someday aspire to join the ranks of upscale automakers with the stunning GT Concept. That's best seen in the sedan's exterior, which eschews a functional design in favor of sweeping lines, classic styling and an upscale image. While Kia's characteristic "tiger nose" grille appears on the GT Concept, its muscular shoulder line, defined side vents and gray alloy wheels otherwise suggest a luxurious, high-dollar premium sport sedan.
Inside, the GT Concept also screams luxury. The sedan offers rear-hinged doors for rear passengers, which open to reveal four distinct front and rear bucket seats rather than the traditional front buckets and rear bench. A floating center console displays information to front-seat occupants on three layers of glass panels, while two rearview cameras act as mirrors and help preserve the sedan's fluid shape.
Under the hood, Kia says the GT Concept offers a 389-horsepower 3.3-liter turbocharged V6, which is mated to an 8-speed automatic transmission. According to Kia, the GT Concept puts power to the ground through its rear wheels, which is different from most of the automaker's models but on par with nearly all upscale sport sedans.
"No matter from which perspective you look at it, this concept car is roaring with energy and ready for takeoff," said Schreyer at the car's launch earlier this year at the Frankfurt Motor Show. "I believe the car is a strong statement from Kia: we are ready to fast forward to an all-new chapter."
But it's that likely Kia's entrance into the upscale segment is still a ways away. While the brand continues to develop both in the United States and globally, most consumers still associate the automaker with its compact cars. But if Kia's successes in the last few years are any indication, the brand seems capable of accomplishing just about anything given the right product, the right pricing and high-visibility marketing.
See more LA Auto Show news.