RESEARCH LA AUTO SHOW BY YEAR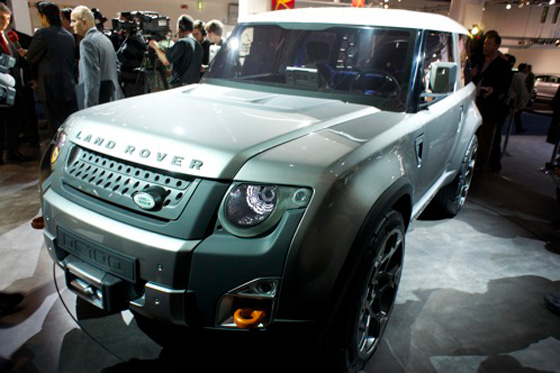 The DC100 Concept previews the styling of the next Land Rover Defender SUV
Expected to launch in 2015, the next Defender is virtually assured to come to the US
Land Rover also showed the convertible DC100 Sport Concept


Land Rover's next-generation Defender is on its way, and the automaker used this week's Los Angeles Auto Show to reveal yet another concept version of what it may look like. Dubbed the DC100 Concept, the futuristic SUV builds on a series of concepts released at the Frankfurt Motor Show earlier this year.
On the outside, the new DC100 Concept is similar to the gray DC100 hardtop that Land Rover showed off in Frankfurt. But this model seems slightly more realistic, thanks to new 20-inch wheels, all-terrain Cooper tires and a Heritage Blue paint scheme that replaces the Frankfurt show car's flat gray finish.
Inside, however, the Los Angeles DC100 Concept is identical to the Frankfurt concept car. Featuring a two-spoke steering wheel, orange accents and a center-mounted LCD screen that displays speed and other vehicle information, the spartan interior is clearly still in concept form. But while many interior details will be altered before the SUV makes production, we'd expect a similarly bare interior to accompany the finalized Defender when it finally does make its debut in 2015. After all, the Defender isn't known for excessive luxury, but rather for its terrain-tackling off-road prowess and go-anywhere capability.
"The Defender has always been at the heart of the Land Rover brand and single-handedly defines our go-anywhere, can-do spirit," said John Edwards, Land Rover's global brand director. "Our ambition is to create an all new Defender for a global market that remains absolutely faithfully to its original DNA: tough, versatile, durable and capable. At the same time, it will be developed for the 21st century and adaptable for the needs of future generations."
Also included in Land Rover's Los Angeles display was the DC100 Sport Concept, which made its first appearance in Frankfurt. Finished in an eye-grabbing gold color and shown without a roof, the DC100 Sport features large wheels and a futuristic interior that's similar to the one found in the more traditional DC100 Concept. While we don't expect the DC100 Sport Concept to make it to production, an open-top Defender would certainly recall the model's early days and may prove popular with buyers.
Although Land Rover hasn't confirmed it, we think the DC100 Concept's appearance in LA virtually confirms the next-generation Defender's presence in the US market, following a hiatus since the mid-1990s. Unfortunately for off-roading enthusiasts, however, it may be a long wait before the finished product makes its debut.
What it means to you: The Defender is the UK's version of the Hummer, and we expect it to find a large fan base when it finally does appear in the US market.
See more LA Auto Show news.