RESEARCH NEW YORK AUTO SHOW BY YEAR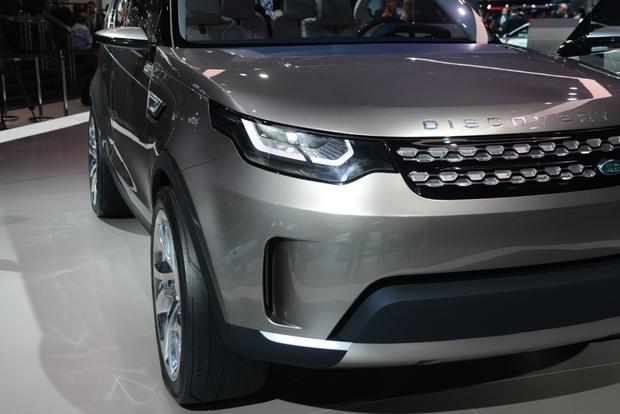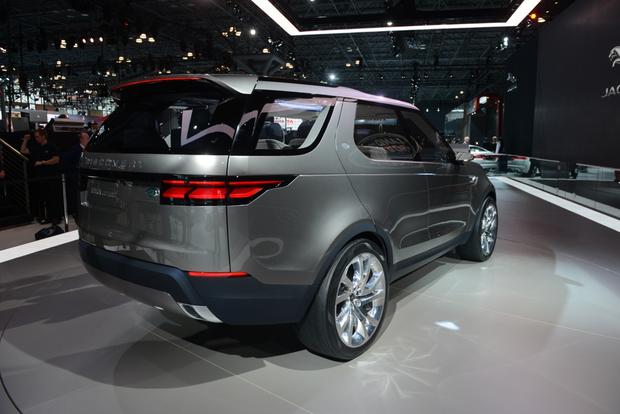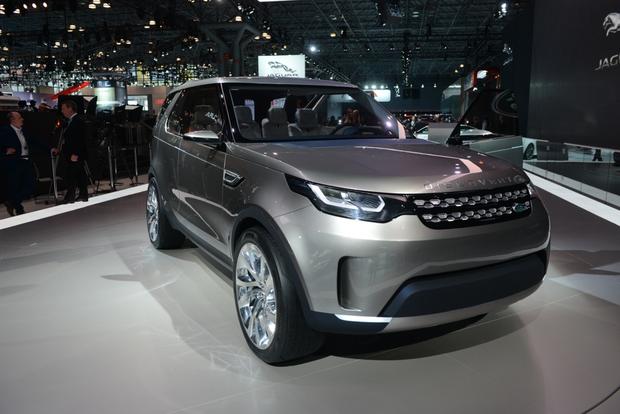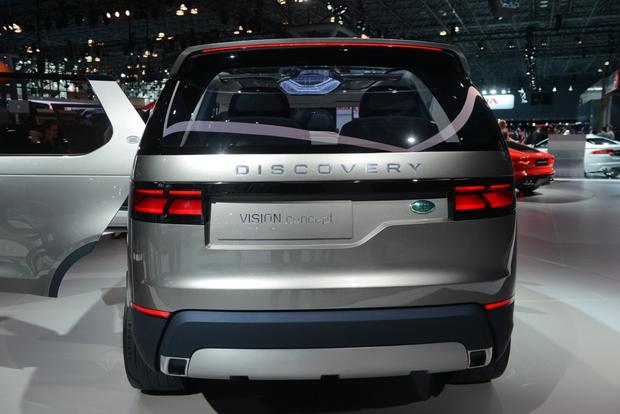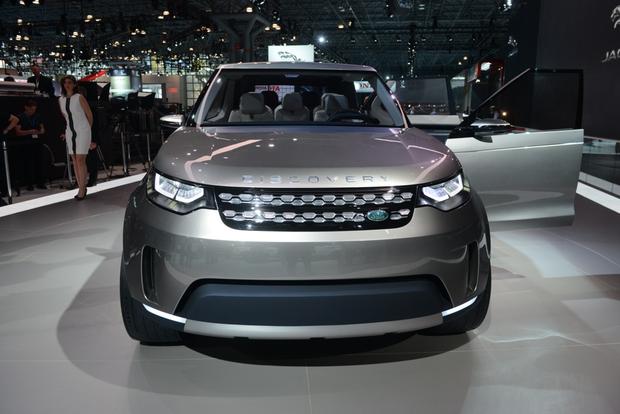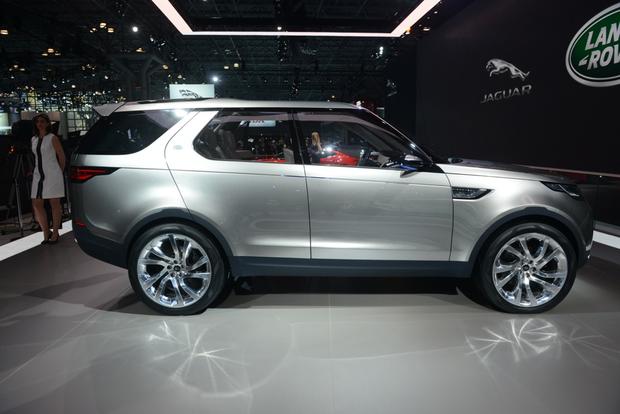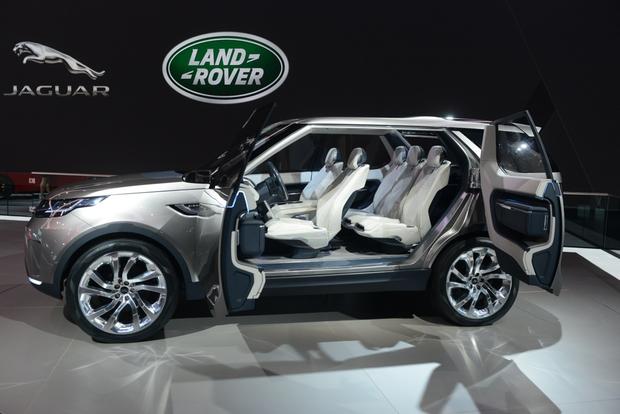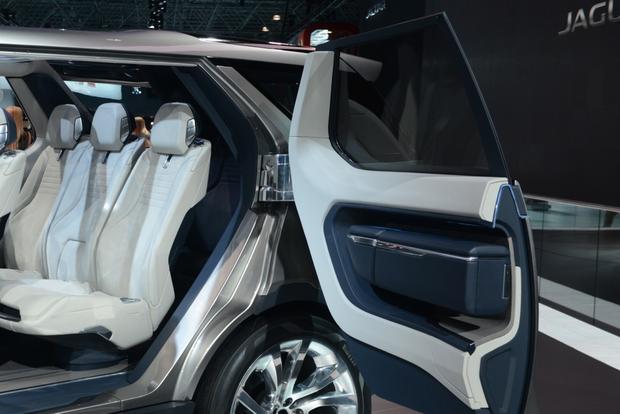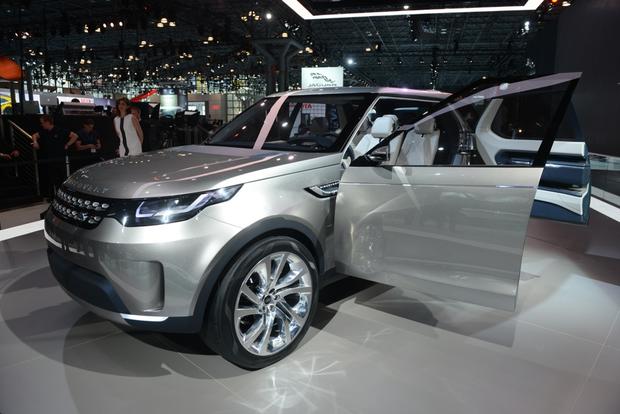 What Is It?
The Land Rover Discovery Vision Concept is the company's big idea for the 2014 New York Auto Show. The current 2014 Land Rover LR4 on sale in the United States is called the Discovery elsewhere. It's a 7-seater SUV with formidable off-road talents. Over the years, no one has particularly cared whether it was pretty or not as long as it could get into -- and out of -- situations that would leave more street-oriented rivals up to their axles in mud or sand.
Now, though, things look like they're changing. This concept is, according to the company, "a vision into the future of Land Rover's new family of leisure vehicles." That's right -- a family of Discovery models, not just one. Within a sleek shell that looks decidedly influenced by the Range Rover Evoque, some traditional Discovery attributes show up, such as the stepped roof and stadium seating in the second and third rows.
Will They Ever Sell It?
When the next generation of LR4 comes out, whenever that may be, Land Rover will dust off the Discovery nameplate for the United States, and there's a good chance it might resemble something like this concept vehicle. With any luck, the tweed blankets and stain-resistant leather will also be part of the package.
Why It's Important
The Land Rover Discovery Vision Concept hosts a whole range of technologies that could find their way onto Discovery family vehicles, although they might take some time. For instance, hand-gesture control is all well and good for infotainment systems and interior lighting, but people will still want tangible turn-signal stalks for a while longer.
Plenty of other ideas would make life easier, though, such as remote-control driving by using an app on a smartphone. Instead of getting out to open a gate, driving through and then getting out to close it again, the driver could use the controls on a phone to guide the unmanned Discovery through the gateway, or to inch the car toward a trailer hitch.
How about laser-scanning of the land or the water? That information would then be fed into the Discovery's terrain-response system so it can automatically select the appropriate settings.
Smart glass that shows images of what's immediately outside on any window could prove invaluable when easing along a narrow mountain trail or squeezing into a parking space.
The Discovery Vision's "Transparent Bonnet" is not a see-through hat. In England, where Land Rover is based, a vehicle's bonnet is its hood. And it's not really transparent; cameras beneath the grille send images, which are then projected on the windshield's head-up display. Imagine being at the top of a steep descent, where the front of the vehicle obscures all view of the ground and you don't know if your front wheels are straight or angled. That could be pretty scary. The Transparent Bonnet allows those head-up images to be displayed in the driver's line of sight, so it's possible to check which way the wheels are pointing.
Features like these could not only preserve the Discovery's reputation as an off-roader par excellence but could take things to another level of ability that would have rivals struggling to catch up.