RESEARCH DETROIT AUTO SHOW BY YEAR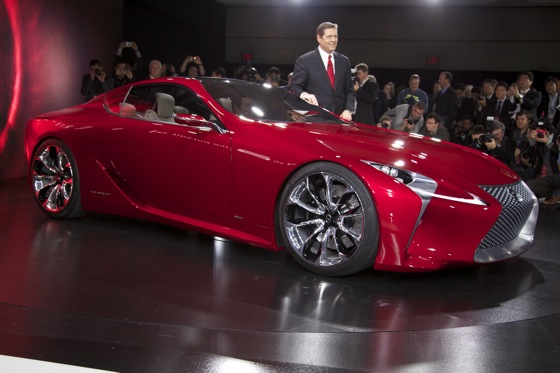 The new Lexus LF-LC Concept features a hybrid powertrain, four seats and wild styling.
Interior features include two 12.3-inch screens and touch pads to unlock doors and roll up windows.
While the LF-LC likely won't make production, it does showcase Lexus's intent to produce sporty new vehicles.


Lexus chose this year's Detroit Auto Show to debut an all-new concept sports car that features wild styling and an efficient hybrid powerplant. Dubbed the LF-LC Concept, the futuristic Lexus borrows design cues from the automaker's LF-A supercar, adding several extreme lines, a new interior and a host of advanced technology.
Proudly displaying the new Lexus "spindle" grille, the LF-LC's exterior styling exaggerates many of the LF-A's sporty lines, including a pair of horizontal air intakes below its headlights and similar openings in front of the rear wheels. The concept car's rear end also features an unconventional appearance, with massive creases and character lines on nearly every surface.
Not surprisingly, the LF-LC's interior complements its extreme exterior, featuring several exotic lines and unusual surfaces. In addition to four sculpted bucket seats, the LF-LC uses a pair of 12.3-inch touch screens for information and navigation, with similar touch pads placed on the coupe's doors to control door locks, windows, mirrors and seats. The LF-LC also features a wide center console and a host of dramatic edges and corners, along with a series of smooth leather and suede surfaces.
While the LF-LC is unlikely to make it into production, the automaker did announce the large coupe features hybrid power and could be put on the market at a price within the reach of premium buyers. Lexus also says the high-performance coupe features a front-mounted engine and rear-wheel drive, and previews the brand's future design direction, which places an emphasis on greater driver focus.
"The concept we're showing here in Detroit continues the Lexus design revolution started with the CT and GS," said Mark Templin, Lexus group vice president and general manager. "The concept hybrid two plus two liberates the idea of a sport coupe and pushes the boundaries of performance, style and technology."
Currently used only on the recently released GS sedan, the LF-LC's new "spindle" grille will become standard on all Lexus models in the coming years. Other Lexus design elements likely to carry over to production cars include the LF-LC's sharp headlights and abrupt rear end.
What it means to you: The LF-LC is proof that performance car enthusiasts shouldn't count Lexus out.