RESEARCH DETROIT AUTO SHOW BY YEAR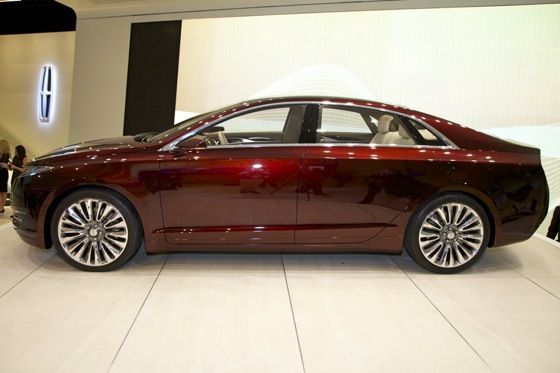 Lincoln's new MKZ Concept features distinctive styling that previews the brand's future models.
While the MKZ Concept won't see production, it previews the upcoming MKZ sedan, which is slated to be replaced soon.
Advanced technology is a further hallmark of the MKZ Concept, which Lincoln says is the beginning of a new chapter for the brand.


An all-new concept car that made its debut at this year's Detroit Auto Show is designed to preview the future of Ford's upscale Lincoln brand. The Lincoln MKZ Concept features expressive styling and high-end appointments, but more importantly represents the reinvention of the fledgling luxury brand after several years of mediocre products and poor sales.
The MKZ Concept's main attraction is its distinctive, upscale exterior styling. In front, the sedan features the brand's new corporate grille, which consists of several horizontal slats integrated into stylized lines that flow out from the headlights. Rear styling includes a wide single taillight along with the word "LINCOLN" spelled out on the trunk lid, while the side profile features large, flat doors and a sweeping roofline.
Inside, the MKZ Concept represents a massive step forward over the current MKZ model, which is based on Ford's midsize Fusion sedan. Nearly every surface receives a major overhaul to offer a more upscale feel, while the sedan's center stack, steering wheel and gauge cluster are completely redesigned to provide a handsome, crisp new appearance. Even the MKZ Concept's interior carpet gives occupants the feeling of riding in an expensive, purpose-built luxury sedan.
"With the Lincoln MKZ Concept, we are not introducing a new car. We are essentially introducing a new brand," said Derrick Kuzak, Ford's group vice president for global product development. "The MKZ Concept is the next step in the reinvention of Lincoln, something we've been quietly but aggressively pursuing."
While the MKZ Concept likely won't see production in its current form, the sedan clearly previews what's next for the brand, both in terms of design and technology. Advanced new features include the automaker's MyLincoln Touch infotainment system, touch-sensitive buttons in the center stack, adjustable suspension and a push-button starter. The MKZ Concept even integrates its gear selector into a small nook on the center console, freeing up the remainder of the surface for an attractive flat panel and more hip room for drivers and passengers.
Since Ford also unveiled a redesigned Fusion in Detroit, we expect to see a new production-ready MKZ sometime in 2012 - and we hope it closely resembles the handsome MKZ Concept.
What it means to you: Luxury car buyers, be prepared to add Lincoln to your shopping list when you search for your next new car.