RESEARCH DETROIT AUTO SHOW BY YEAR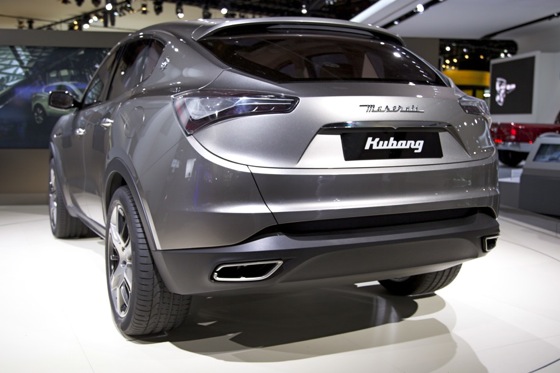 "Sport luxury" SUV concept
Platform shared by Jeep Grand Cherokee
Production model to be US-built


We got our first glimpse of the Maserati Kubang SUV concept at last year's Frankfurt Auto Show. Now the concept is making its North American debut at the Detroit Auto Show, and while details about the SUVs engine, production schedule and pricing remain sketchy, it will very likely become a production model.
The Kubang platform is shared with the Jeep Grand Cherokee, a result of the marriage of Jeep's parent company Chrysler and FIAT, Maserati's parent company. The Kubang's ties to existing vehicles do not end there, though. The Grand Cherokee is actually closely related to the Mercedes-Benz M-class SUV, a result of Chrysler's failed merger with the German automaker. Regardless of its complex pedigree, the Kubang should benefit from the Jeep's engineering. The Grand Cherokee is an award-winning SUV that has been lauded for quality and capability.
A production version of the Kubang concept will be manufactured in North America. Maserati has not provided a specific date, but they have said that the "sport luxury" vehicle, designed at the Maserati Style Center, will use "100% Maserati" components for key systems, keeping the vehicle consistent with Maserati's other exclusive, stylish and high-performance products.
Indeed, the Kubang's engine will not come from the Chrysler-Jeep parts bin, but will be all-new, designed by Maserati in Modena, Italy. The task has been put in the hands of Paolo Martinelli, head of Maserati Powerplant Development and former Formula 1 engine designer for Ferrari. That legendary marque will build the Kubang's motor at its factory in Maranello. Maserati has not provided specifics on the new engine, but a V8 is expected.
Maserati introduced its first Kubang concept, a Giugiaro-penned design, at the Detroit Auto Show in 2003. Maserati says that few other companies were thinking about a performance-oriented luxury SUV at that time. Perhaps that includes Maserati itself - the first Kubang was a wagon, not an SUV. Plus, the Porsche Cayenne, a likely competitor for Maserati's eventual production SUV, was already available then, and the Range Rover Sport showed up a few years later. Now, it's 2012 and the Kubang concept looks just like it did last year at Frankfurt - a beautiful machine, with a lot of promise but no engine.
What it means to you: The Maserati Kubang concept previews an exclusive, luxurious and high-performance Maserati production SUV with a new Ferrari-built engine.