RESEARCH SEMA AUTO SHOW BY YEAR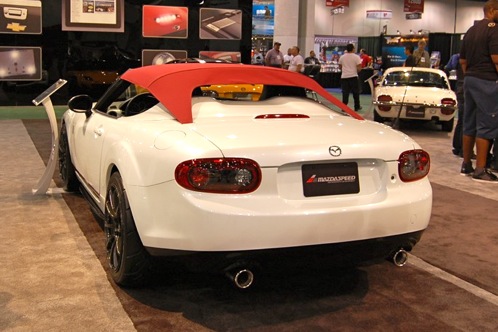 Considering that any car called a "spyder" is invariably an open-top machine and probably a two-seater, then making an existing roadster into a spyder means something extra needs to go on. In the case of this Mazda MX-5 Miata Spyder - on display at the 2011 SEMA show - the "something extra" consists of an elegant cloth roof stretched over a double-bubble decklid.
This is a collaboration between MNAO Design and Magna Car Top Systems and has the happy upshot of making the world's most popular roadster (it's official; it's in the Guinness Book of World Records) seem a little more exclusive, with an even lower roofline that doesn't affect headroom.
Although it's a spyder, there's more to this car than less of a roof. Instead of using plain old gasoline, the 2.0-liter four-cylinder engine here runs on isobutanol, a fuel created from cellulose and which Mazda has used successfully in its motorsport program. Following a sporty theme, the lowered coilover suspension comes from Mazdaspeed's inventory. A more aerodynamically efficient front fascia has been installed, and the stock wheels replaced by 17-inch light-alloy wheels wearing performance tires. In the interests of lightness, the battery is a racing model from Braille, using lithium-ion technology.
SInce this is a concept car, at least that gave Mazda the leeway to splash out somewhat and fit black leather upholstery into the cabin, while a Mazdaspeed short-throw gear shifter provides the finishing touch. Chances are that a production model might end up with a higher price than most people would be prepared to pay for an MX-5 Miata. Which is a shame, because this spyder would look good on the streets.
See more coverage of the 2011 SEMA Auto Show.
| | |
| --- | --- |
| | COLIN RYAN has driven hundreds of cars thousands of miles while writing for BBC Top Gear magazine, Popular Mechanics, the Los Angeles Times, European Car, Import Tuner and many other publications, websites, TV shows, etc. |