RESEARCH SEMA AUTO SHOW BY YEAR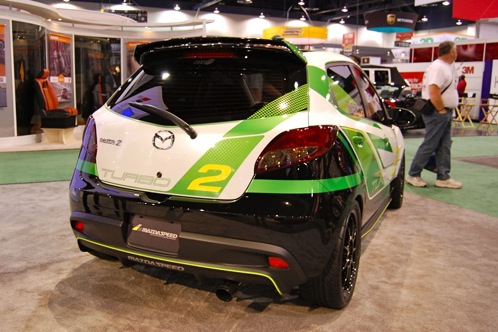 The great thing about this turbocharged Mazda2 concept - called, unsurprisingly, the Turbo2 - is that the company has all the ingredients to make this a feasible machine. Naturally, it can churn out the Mazda2 subcompact in three- or five-door body styles until the cows grow up and get homes of their own, but one of the unsung gems in Mazda's jewel box is its turbocharged 2.3-liter, four-cylinder engine that usually sits under the hood of the absolutely thrilling Mazdaspeed3, the hot hatch version of the previous-generation Mazda3 compact.
The day when a new generation of Mazdaspeed3 comes out will be cause for dancing in the streets, but there would be an extra spring in everyone's step if a Mazdaspeed2 also went into production, after being inspired by this 2011 SEMA show model. Beneath the extra appendages of the body kit and rear wing of what is more or less a racing machine, is an aftermarket sports suspension that includes coilovers and anti-roll bars, plus uprated front brakes (the rear brakes are stock). Lightweight alloy racing wheels are shod in performance rubber, so grip levels have the potential to be outstanding, especially in light of Mazda's ability to tune its road cars with a combination of fun and sure-footedness.
Something this nimble, quick and fuel-efficient in a production machine sounds like a recipe for sales success. Get zooming, Mazda.
See more coverage of the 2011 SEMA Auto Show.
| | |
| --- | --- |
| | COLIN RYAN has driven hundreds of cars thousands of miles while writing for BBC Top Gear magazine, Popular Mechanics, the Los Angeles Times, European Car, Import Tuner and many other publications, websites, TV shows, etc. |