RESEARCH GENEVA AUTO SHOW BY YEAR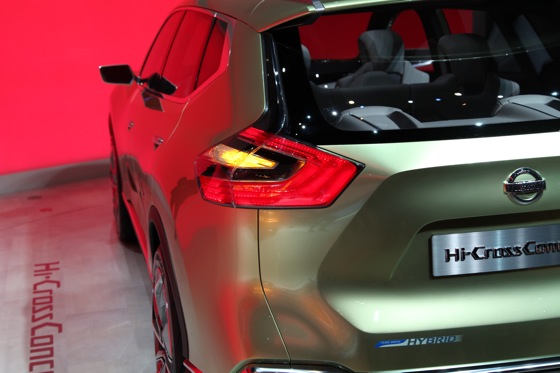 Nissan unveils the Hi-Cross concept vehicle at this year's Geneva Auto Show
Stands as taste of what Nissan's next generation crossover vehicles might look like
The Hi-Cross is a gas/electric hybrid with a next-generation CVT transmission


Nissan is being rather coy with the Hi-Cross' future; they've been very specific with its features-unlike other concept vehicles. Distinguishing itself from other high-concept cars, the Hi-Cross not only has striking looks but practical design elements as well. The Hi-Cross is surprisingly roomy inside and can seat seven passengers and incorporates a "T-wing" shaped dashboard.
Nowadays, most automakers have hybrids. None is really as innovative as the first. But Nissan claims this one is. In the Hi-Cross Nissan has coupled an electric motor with a 2-liter gasoline engine. Together, Nissan claims, the duo can produce the power equivalent of a 2.5-liter gasoline engine while also achieving the efficiency of a much smaller car.
That's not where the cleverness ends. Nissan has adapted its front-wheel drive hybrid design-with a dual clutch system-to provide four-wheel drive as well, making the Hi-Cross highly capable.
On the styling front, a bold character line runs the length of the Hi-Cross and extends into the hood. Up front, the V-shaped Nissan grille is accentuated by a new lighting structure, which is mimicked in the rear end. Nissan is also proud of the Hi-Cross 21-inch wheels, which appear to have been taken straight off the Ford Edge.
Nissan explains the 'Hi' refers to both a tall ride height but also extended value and design innovation, while the 'cross' simply stands for crossover. Ultimately, this new design language demonstration stands as a striking reminder of what Nissan's design gurus are capable of. But, like most concept designs, is surely bound to be watered down a bit before any production model is announced.
What it means to you: The crossover market is projected to make huge sales gains the in the following years. With the Hi-Cross, Nissan shows it, too, is capable of designing a good-looking, capable, versatile, and fuel-efficient crossover.