RESEARCH SEMA AUTO SHOW BY YEAR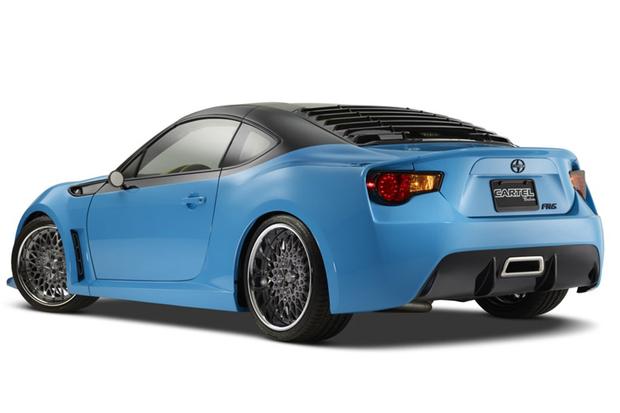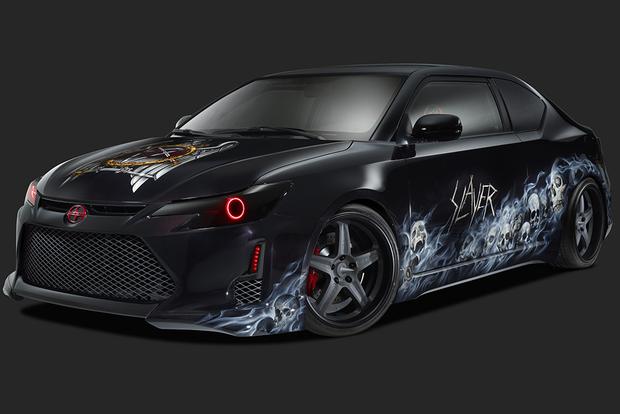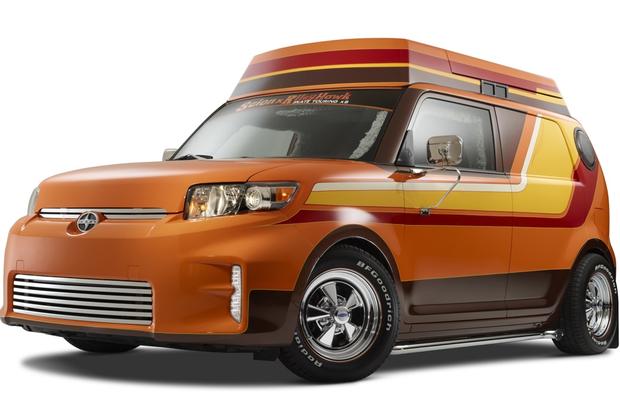 What Are They?
If any brand is truly in its element at the SEMA Show, it's Scion, and Toyota's fun-loving, tuner-friendly division is showing off three concept cars at this year's show.
Targa Top FR-S
You may be tempted to dismiss this one as a designer's pipe dream, but think back to the 1980s and '90s, when parent company Toyota offered not one, but two sports cars with removable roof panels. We're talking about the MR2 and the Supra, of course -- the former with T-tops, and the latter with a true single-panel targa roof. The Targa Top FR-S was built by SEMA veteran Jeremy Lookofsky of Cartel Customs, and we see absolutely no reason why Scion shouldn't fast-track this model to production.
Well, okay, maybe the mainstream market could do without the Targa Top's two-tone paint, "underbite" front-lip spoiler and '80s rear-window slats. But the 19-inch forged wheels look great, and although the GReddy turbo kit under the hood will likely stay in the aftermarket realm no matter what, we love seeing FR-S models that have the power to back up their tough handling. Oh, and it wouldn't be a Scion concept without a ridiculous stereo, so the Targa Top FR-S sports an OEM Audio Plus System 400+ with a feature-overloaded Pioneer AVIC-8000NEX head unit.
Slayer Scion tC
Remember the heavy metal band Slayer? Suffice it to say that they made a lot of noise -- literally -- in the '80s and '90s, and the Slayer tC channels the band's glory days with airbrushed logos and skulls over custom paint, truly bizarre reverse-opening front doors and "sword blade" alloy wheels with "spike-style center caps." Naturally, the sound system is fit for a rock band, featuring Pioneer speaker towers, a custom mixer and a multimedia entertainment center with a 32-in monitor. We'll be witnessing the system's capabilities firsthand on the SEMA floor when Slayer band members plug two guitars into it and start jamming.
Riley Hawk xB
Designed by Scott Kanemura of KMA Productions, the Riley Hawk xB is basically a rolling homage to all the cool stuff that professional skateboarder Riley Hawk grew up with in the '70s. That means a retro paint job, nonfunctional dual side exhaust pipes, old-school brown leather upholstery, generous wood-grain appliques, a mini fridge stocked with festive libations, luxuriant shag carpeting, an 8-track player with big Pioneer speakers and amplification and a Slayer tC-style guitar hook-up -- with an iPad mini as a mixer, no less -- for impromptu jam sessions. Check out the cargo box on the roof, too -- it has an INNO rack system for skateboard storage on the go.
Will They Ever Sell Them?
If Scion's past efforts at SEMA are any guide, then no, they probably won't. At most, we might see elements from the sound systems make an appearance on Scion's options list. But we're holding out hope for the Targa Top FR-S -- because we think that anything that evokes legends like the MR2 and Supra should be built immediately.