RESEARCH LA AUTO SHOW BY YEAR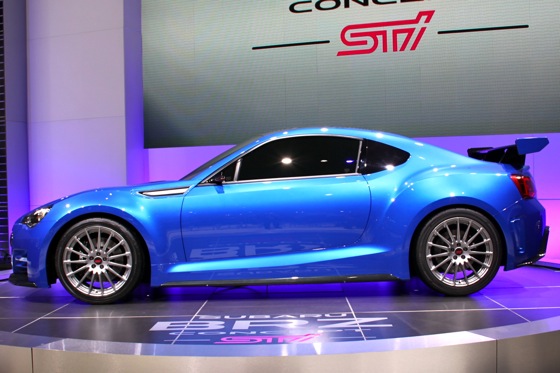 Subaru's BRZ STI is a concept showing a potential STI version of the upcoming BRZ coupe.
Upgrades include lowered ride height, 18-inch alloy wheels, a rear spoiler and iconic "World Rally Blue Pearl" paint.
Interestingly, the BRZ STI offers no modifications to the BRZ's standard boxer four-cylinder.



Subaru chose this week's Los Angeles Auto Show to unveil the BRZ STI, a sporty concept version of the automaker's upcoming BRZ coupe. While the souped-up BRZ STI is considered a concept, its styling previews the production-ready BRZ, which debuts later this month at the Tokyo Auto Show.
Revealed in a striking bright blue dubbed "World Rally Blue Pearl," the BRZ STI - uniquely named for Subaru Tecnica International, the automaker's tuning arm - gives car enthusiasts a chance to revel in what could happen if Subaru decides to build a high-performance version of its upcoming BRZ coupe. As is expected with "STI" models, the sporty BRZ STI features several upgrades over the standard BRZ coupe.
On the outside, the BRZ STI is immediately distinguished from the standard model thanks to a lowered ride height, a larger hexagonal front grille, and a large rear spoiler. More subtle upgrades include a customized lower front spoiler from STI, broadened fender flares, a large rear diffuser and dual exhaust pipes.
Under the skin, Subaru says the BRZ STI adds a carbon fiber roof to reduce weight, unique 18-inch alloy wheels that improve performance and styling, larger Brembo brakes that enhance stopping power and STI-tuned sport suspension that benefits the BRZ's agility through corners. The automaker also says the coupe's lowered ride height improves handling by dropping its center of gravity.
Interestingly, however, the BRZ STI offers no modifications to the standard BRZ's 2.0-liter horizontally opposed "boxer" engine. That's unusual for a model wearing Subaru's STI badge, which is usually reserved for high-performance special editions like the 305-horsepower Impreza WRX STI.
Although it's unknown whether the BRZ STI Concept will see production, it's assured that the standard BRZ will arrive in dealers sometime next year. A radical departure from Subaru's traditional models, the BRZ features rear-wheel drive instead of Subaru's typical all-wheel drive and was co-developed with Toyota, who will offer its own version of the sporty coupe.
What it means to you: The BRZ STI Concept finally reveals the lines of Subaru's upcoming BRZ coupe.
See more LA Auto Show news.