RESEARCH CHICAGO AUTO SHOW BY YEAR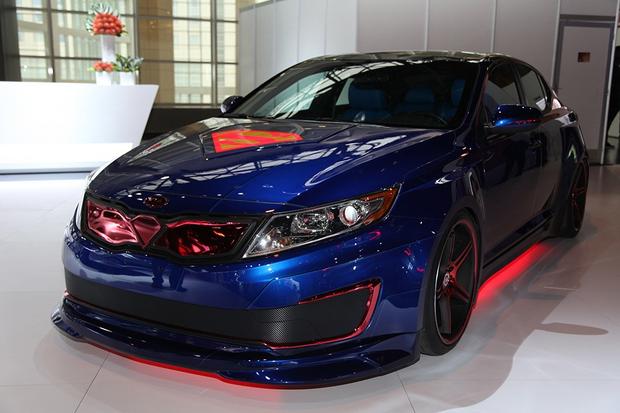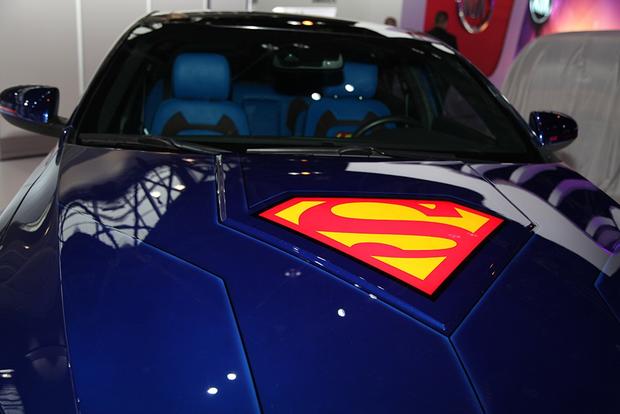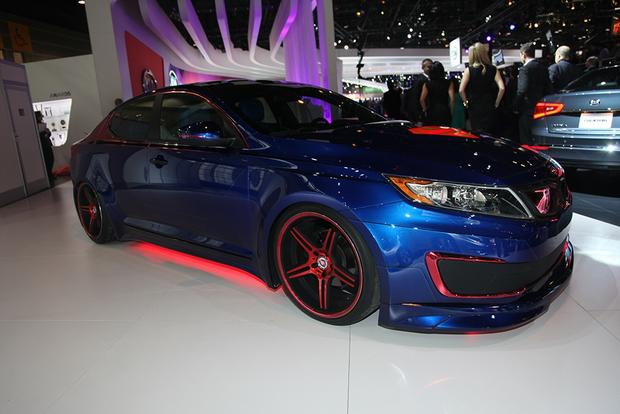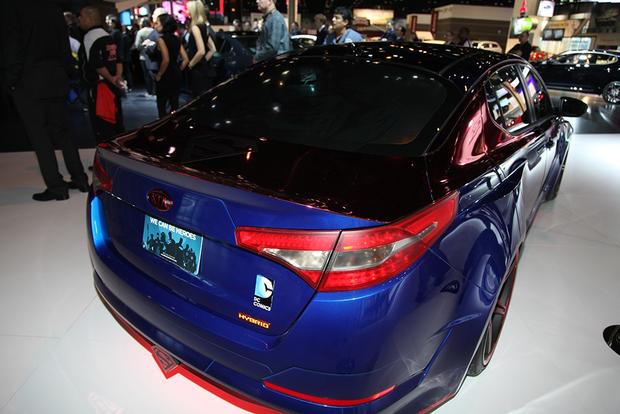 Kia Optima Hybrid gets Superman look.
Sixth of eight Justice League-inspired Kia concepts.
Promotes DC Entertainment's "We Can Be Heroes" relief campaign.
At the 2013 Chicago Auto Show, Kia unveiled a Superman-themed car based on the 2013 Kia Optima Hybrid. The Superman Optima is the sixth in a series of Kia show cars based on Justice League characters. Created in collaboration with DC Entertainment, the Justice League vehicles promote DC's "We Can Be Heroes" campaign, which aims to help people affected by drought and famine in the Horn of Africa.
Finished in blue and red and emblazoned with the iconic "S" emblem on its hood, the custom Superman Optima emulates the Man of Steel with special details like flared fenders for a muscular look and a grille designed to resemble the superhero's belt buckle. Its red headlights suggest Superman's heat vision, while the red-painted decklid and C-pillars evoke his cape. An adjustable suspension gives the driver push-button control of ride height.
Inside, the color scheme is black and blue, but the look is dominated by an oversized red and yellow "S" emblem at the center of the steering wheel. From the rear seat, two monitors mounted in the front seat headrests play a video about the African hunger crisis that "We Can Be Heroes" is working to end.
Including the Superman Optima, Kia has unveiled six Justice League-inspired cars, with two more on the way. This latest one joins the Flash Forte Koup, Aquaman Rio 5-door, Cyborg Forte 5-door, Green Lantern Soul and Batman Optima. A Wonder Woman vehicle will be next, followed by a final vehicle that represents all seven members of the League.
Michael Sprague, Kia's executive vice president of marketing and communications, said the company is proud to be part of the "We Can Be Heroes" effort.
"Each of our Justice League-inspired vehicles are remarkable collaborations between the automotive and comic book worlds, and all for a worthy cause," Sprague said. "To that, Kia is very proud to be partnering with DC Entertainment to raise awareness for the 'We Can Be Heroes' campaign."
The 2013 Kia Optima available at dealerships may be more Clark Kent in comparison to this Suped-up version. But many agree that Kent is handsome, even if he's not a superhero.
What it means to you: You may not be able to get your hands on your own Superman-themed Kia Optima, but you can see it at the Chicago Auto Show and learn how you can help be a hero to those suffering from famine and drought.