RESEARCH GENEVA AUTO SHOW BY YEAR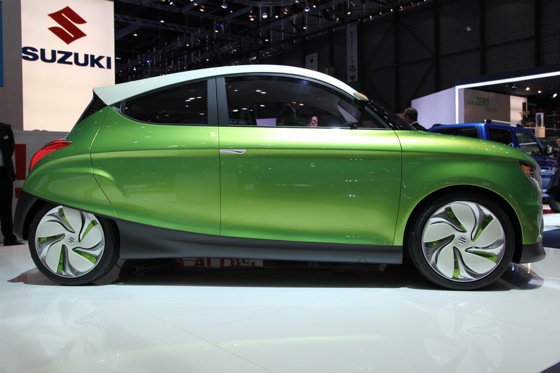 The G70 is Suzuki's global sub-compact car
Powered by a turbocharged 800cc gasoline engine
Produces fewer carbon dioxide emissions than a hybrid


Originally shown in 2011 at the Tokyo Auto Show as the Suzuki REGINA, the G70 has been rebadged as it draws nearer to production.
Weighing only 1609 pounds, the Suzuki G70 is extremely lightweight. It is, in large part, this miniscule weight that allows it to be so fuel-efficient and produce so little carbon emissions. It produces so few emissions; in fact, Suzuki says the G70 is on par with eco-friendly hybrids.
Powered by a turbocharged, direct injected 800cc gasoline engine with an unspecified number of cylinders, the G70 produces no more C02 emissions than 70g/km. It is this emissions goal that gives the G70 its new name. The G70 has also been fitted with Engine Auto Stop and regenerative braking technology, further reducing carbon emissions.
With a drag co-efficient 10-percent lower than any current production Suzuki, the G70 is still able to comfortably seat four passengers. On the inside, Suzuki has included a floating dashboard/console with touch-panel operations that delivers information to the driver.
Only a concept at this time, the G70 stands as an example of the direction Suzuki would like to head with its global compact cars of the future. Suzuki believes compact cars should not only be efficient but also customer-responsive. Suzuki feels the G70 exemplifies that mindset.
What it means to you: If the G70 comes to fruition, the US might see Suzuki sub-compact vehicle in the near future.