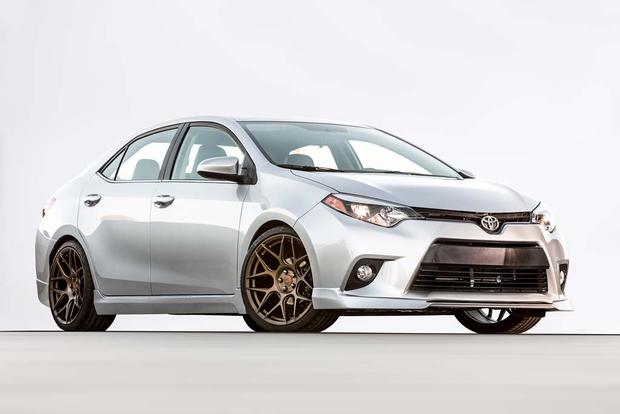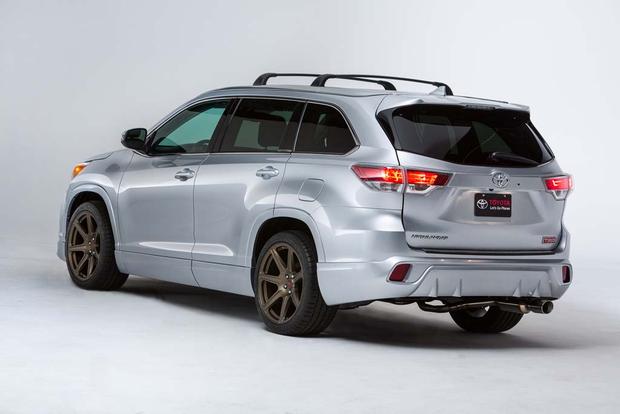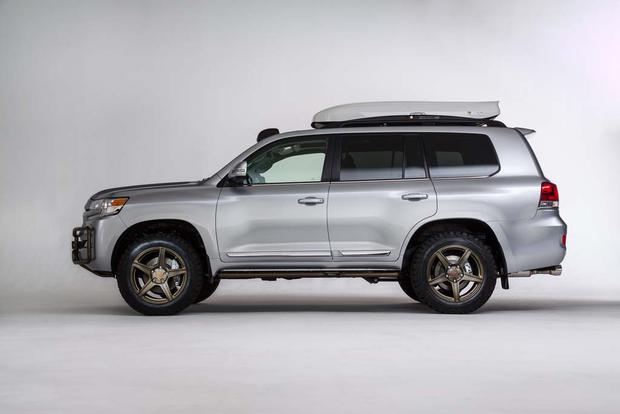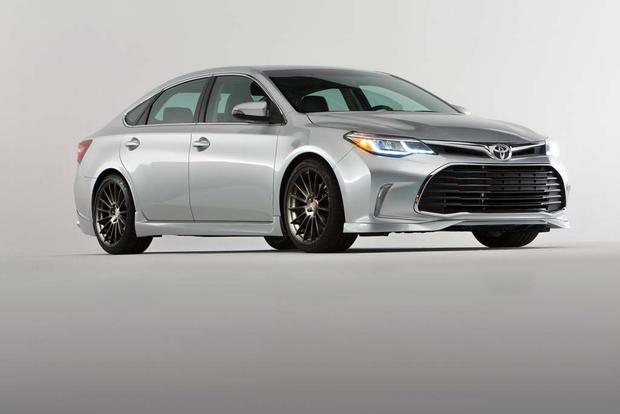 What Is It?
It isn't just one car, but rather five -- five different Toyota TRD concept cars that provide a sporty take on several of the brand's most popular models from its performance-oriented Toyota Racing Development arm.
Most unusual among the five is the TRD Avalon, which has performance suspension, a performance exhaust and TRD performance wheels added to the normally staid full-size sedan. Toyota also showed off a TRD Camry, which touts large 21-inch wheels, lowered suspension and a TRD exhaust, and a TRD Corolla, which boasts a 6-speed manual transmission, 19-in alloy wheels, lowered suspension and an upgraded exhaust.
The TRD performance group also went to work on two Toyota SUVs for the SEMA Show: the popular Highlander and the terrain-tackling Land Cruiser. The TRD Highlander offers a revised interior that's finished in black with red accents, along with lowered suspension and 20-in alloy wheels, while the TRD Land Cruiser boasts off-road modifications that involve a lifted suspension for extra ground clearance, TRD running boards, a TRD snorkel, a TRD exhaust and a pretty serious roof rack.
Will They Ever Sell It?
No matter how much we like the contradictions involved in a sporty Avalon, none of these cars will ever see production in their SEMA Show form.
Why It's Important
When an automaker displays a vehicle at the SEMA Show, its primary goal is to grab the attention of young car shoppers who may not otherwise consider the brand's vehicles. By creating lowered versions of the Highlander family SUV and Avalon full-size sedan, Toyota is doing just that, and showing off the lighter side of running a car company.
But the Toyota TRD concept cars also give the brand another benefit, as they allow Toyota to show off some of the possibilities of the TRD parts catalog. While we suspect that you can't actually buy a lowered suspension for an Avalon through a Toyota dealer, many other TRD parts are available -- and these concept cars are a friendly reminder to Toyota owners that they don't have to settle for a "factory" look if they don't want to.