RESEARCH CHICAGO AUTO SHOW BY YEAR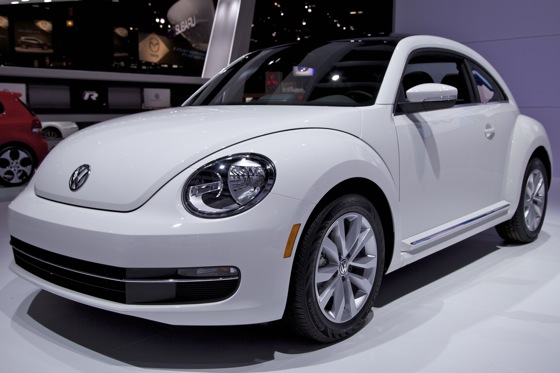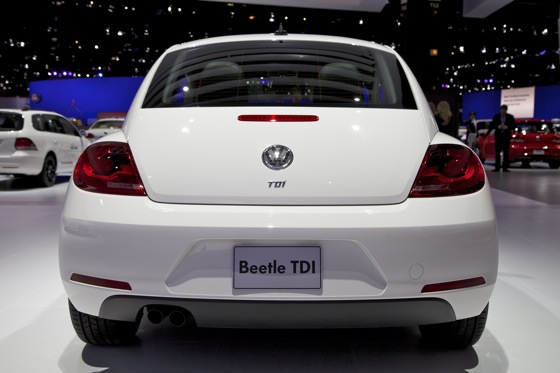 New Diesel Beetle is only diesel coupe in U.S.
VW: people want fun and green, not just green, otherwise green won't be more accepted


The new Beetle diesel-introduced at the 2012 Chicago Auto Show - is a bit of a conundrum: it's the only sporty diesel coupe available in the U.S. and promises to be incredibly fun to drive, yet the market share for diesels here is still small and the case for a diesel coupe is not immediately clear.
In a conversation on the sidelines of the auto show, VW's Vice President of Product Marketing and Strategy in the U.S., Rainer Michel, said he nonetheless expects about 20% of new Beetle sales to be turbodiesels. In a further candid assessment of the state of green cars here-and diesels in particular-he said it's not enough for cars to just be green, but they have to be fun too otherwise people won't buy them.
"In the U.S. diesel acceptance is certainly not where we would want to have it," he told AutoTrader.com. "In Europe there is no debate about diesels at all. These old diesel mantras like 'dirty,' 'loud' and 'slow' don't have any bearing on how our clean diesels perform today. As the diesel leader in this country our diesels are turbocharged, fun, quiet and fuel-efficient-and they have very low emissions."
To Michel, it's not about spreading the diesel gospel or convincing people to be green, however, it's about simply showing people that the car is good-looking and fun to drive and the green aspect then comes along for the ride.
"In the end it's not a diesel market it's a car market," he said. "People want us to deliver on power, fun and fuel economy at the same time and if we can deliver on those things then the diesel becomes less of the focus and people begin to understand the technology. Some might think that putting a turbodiesel in a car like a Beetle doesn't make any sense, but it's actually a great platform. It's incredibly fun to drive, yet can return around 40 mpg on the highway."
Michel said that as a company Volkswagen cares about fuel economy, but in the end it will always err on the side of driving fun. "We don't try and scrape the last mile per gallon out of a car-whether it's a hybrid or a diesel, we always keep the customer's enjoyment in mind," he said. "If you want green cars to have better acceptance, you better make them fun to drive. Otherwise people will simply not buy them; we cannot ignore what the customers want."
What it means to you: More VW diesel options, especially fun ones like the new Beetle TDI, mean you can be green and not have to settle for boring.