If you're like most drivers, you probably spend a lot of time in your car — in many cases, likely several hours each week between commuting, transporting kids or other family members and running errands. As a result, you probably want the interior of your car to be a beautiful, relaxing place to spend your time. With that in mind, we've listed the 10 best car interiors for under $50,000. We've focused on the latest models, which have all been updated in the last year to offer the most modern, comfortable, luxurious or visually appealing interiors on the market. Each of these cars scored a four or better on our 5-point evaluation sheet. Our editors then voted on which cars from that small group should be on the list. The best interiors are listed alphabetically and are not ranked.
Audi A4
Although the Audi A4 has always offered an excellent interior, the recently updated 2017 model takes things further than past A4s. Most obviously exciting is the available full-color gauge-cluster screen, which is an amazing detail that isn't offered on many other cars at the A4's price point. But we also like the small center screen associated with the climate controls, and we love the high-end materials in all A4 interiors, even base models. The A4's cabin is larger this year, too, with enough rear legroom for most adult passengers.
Cadillac XT5
The Cadillac XT5's interior is an excellent place to spend time. While we didn't exactly have any qualms about the cabin in the outgoing Cadillac SRX, the XT5 takes things to a new level with a gorgeous leather-lined dashboard, a more modern instrument panel and a neatly integrated infotainment system. We also like the available wood trim all over the cabin, including in the center of the steering wheel, and we appreciate that the center control stack doesn't bombard front-seat occupants with buttons. Perhaps most importantly, the XT5's seats are comfortable, with especially excellent lower support for occupants. The height of the XT5 and its front seats also make getting in and out easier, which is helpful for those with slight mobility limitations.
Honda Ridgeline
While the Honda Ridgeline's interior is largely utilitarian, it's pretty nice for a pickup truck. With simple controls that are easily within reach of both front-seat occupants — along with an easy-to-reach and intuitive infotainment system — the Ridgeline's interior isn't beautiful but rather durable and logical. More important is the fact that the truck's cabin is comfortable and roomy, even for passengers in back — two traits you don't always get with a pickup truck.
Find a Honda Ridgeline for sale
Infiniti Q60
Even when the newly redesigned Q60 was still called the G37 and G35 Coupe, its interior surprised and delighted car shoppers, and the new model's cabin is no different. In addition to offering supple leather seats, the Q60 touts a futuristic center control stack with two different screens, one for the infotainment controls and another for the navigation system map. The Q60's interior is also stylish, rather than drab, which is important for a sporty coupe, and it boasts a thick, grippy steering wheel. Interior materials have also improved in the Q60 compared to its G37 predecessor.
Kia Sorento
The recently redesigned Kia Sorento boasts a handsome cabin with dramatically improved materials compared to the outgoing model. While the Sorento's cabin isn't as stylish or exciting as some of the models on our list, it's functional and durable, and everything is laid out as expected. Opt for a high-end Sorento SX, and you'll find that it's surprisingly luxurious, too, with a wide range of upscale stitching throughout. And although it's now common for midsize SUVs to offer sliding rear seats that allow greater access to the third row, they're especially easy to use in the Sorento.
Lincoln Continental
If you want any further proof that Lincoln has come a long way from when its models were just slightly restyled Fords with different trim, climb inside the new Lincoln Continental. This is a true luxury car with a true luxury-car interior that boasts excellent materials, comfortable seats and a roomy rear seat and trunk for drivers interested in using the Continental for family car duty. One specific feature we really like is the 50/50-split seat-bottom extender that can accommodate a wide variety of ultracomfy driving positions. If it's been a while since you've spent time in a Lincoln, the Continental's interior may convince you to give the brand a second look.
Find a Lincoln Continental for sale
Mazda CX-9
The Mazda CX-9's interior is surprisingly handsome for a midsize SUV, with upscale materials and roomy rear seats. While some car shoppers don't like the "pop-up" infotainment screen in the middle of the dashboard, we appreciate how simple it keeps things in the center control area, so you won't be confronted with a vast array of buttons the second you climb inside. We also like the thick steering wheel, the easy-to-read gauges and the simple operation of the infotainment system, and we're impressed by the quality of the upholstery from a "mainstream" brand like Mazda.
Mercedes-Benz C-Class
Although recent Mercedes-Benz interiors haven't really wowed us due to an abundance of plastic and less style than rival models offer, the C-Class changes everything. Its center control stack is amazing, elegant and gorgeous, and it looks like it belongs on a far more expensive vehicle. Admittedly, we're not huge fans of the "stick-on" infotainment system — but the quality and look of the center stack, the gauge cluster and the steering wheel more than make up for it. Same goes for the quality of the C-Class's interior materials, which have dramatically improved in the transition to the new model. Finally, the arrival of the entry-level CLA has given the C-Class room to grow — which means its rear seat is surprisingly roomy.
Find a Mercedes-Benz C-Class for sale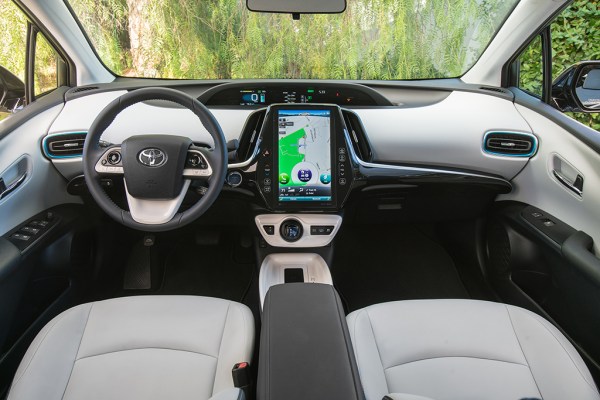 Toyota Prius Prime
The plug-in hybrid Toyota Prius Prime is an alternative-fuel vehicle with an alternative interior to match. While the Prius Prime's cabin isn't as upscale or elegant as any of the other interiors on our list, it's a lot more cheerful than just about any other car interior on the market, with its giant center screen (the largest Toyota has ever made), its white accents and its unusual placement of just about everything. To get the large touchscreen, you'll need to step up the Prius Prime Advanced or Premium trim. The Prius Prime's cabin may be an acquired taste, but we love it — and we suspect most like-minded shoppers will get a kick out of it, too.
Find a Toyota Prius Prime for sale
Volvo S90
In recent years, few automakers have done car interiors quite like Volvo. For one thing, there are the seats: All modern Volvo models, but especially the S90, feature tremendously comfortable seats that make easy work of long trips. There's also the quality of materials, which seems a few steps above most rivals. And then there's that giant infotainment screen, which is easily reachable by front seat occupants, intuitive and handsome. We also love the little touches, like the giant center climate vents and the simple, solitary row of buttons below the infotainment screen, as well as the way you can use Volvo's native controls on that big touchscreen at the same time you're running Apple CarPlay.