Summer is here, and that means it's time for adventures, and more importantly, adventure vehicles that can take you well beyond where the pavement ends. A capable 4×4 truck, SUV or wagon means access to scenic mountain vistas, remote alpine meadows, steep canyon edges — places you never even knew existed — and they can haul all of your gear, too. Here, we've listed some of our favorites attainable at a budget of around $15,000, each one offering a unique value with regard to utility and capability.
1998-2007 Toyota Land Cruiser
The Toyota Land Cruiser is arguably the greatest 4×4 of all time, and the 100-Series, built from 1998 to 2007, is currently one of the best 4×4 values on the market. Built to cover well in excess of 300,000 miles with the appropriate maintenance, a high-mileage 100 Series Land Cruiser is a sound purchase, provided it's been well maintained. The 100 Series' 4.7-liter V8 engine isn't huge on power, but will run without failure for hundreds of thousands of miles. Just make sure that the timing belt has been changed in the last 90,000 miles before purchasing.
Another potential sticking point of the 100 Series design is the windshield frame. Check to see if the windshield has been replaced, and if so, look for signs of rust around the frame, caused by a poor installation of the replacement. 1998 and 1999 models were available with a locking rear differential, while 2003 and newer Land Cruisers offer modern touches like steering wheel controls and side and curtain airbags. Look for an example with 160,000-190,000 miles at the $15,000 mark — as long as the maintenance has been done, a Land Cruiser at this mileage will easily have 100,000 miles left in it. Right now, there are around 200 98-07 Land Cruisers and mechanically identical Lexus LX450s for sale on Autotrader for $15,000 or less.
Find a Toyota Land Cruiser for sale.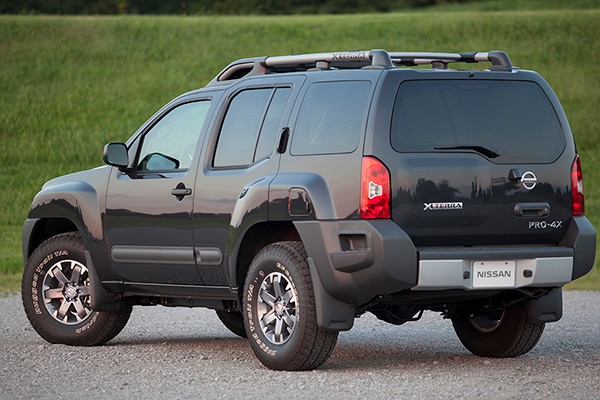 2009-2015 Nissan XTerra
The second-generation XTerra is one of the better used values on the market as far as mid-size, truck-like 4x4s go. As it never gained the popularity of the comparable Toyota 4Runner and is currently out of production, the XTerra has seen significant depreciation since the last examples rolled off the production line in 2015. Sharing components with Nissan's midsize Frontier pickup, the Xterra employs a 261-horsepower 4.0-liter V6 that makes an impressive 281 lb-ft of torque.
The XTerra is meant to go off-road, making a used example perfect for anyone looking for a tough adventure-mobile to put through its paces in the rough stuff. You'll be surprised at how many newer 4-wheel-drive examples you'll find for $15,000 — the majority sell for below this amount, making for a great value.
Find a Nissan XTerra for sale.
2003-2009 Toyota 4Runner
It's a wonder nobody has written a country song about an old Toyota 4Runner, because these things are as reliable and dependable as they come. First introduced in 1984 and now in its fifth generation, the 4Runner is a stalwart in the off-road scene, each generation sharing a number of components with the Toyota Tacoma of the same era. While the 4Runner may not be ideal for the fuel-conscious city dweller, it's one of the few leftovers from when an SUV was little more than a truck with a roof over the bed. With a true low-range transfer case, it will take you on many an adventure.
Like most Toyota products, and old 4Runner will run for ages with the appropriate upkeep, and is unlikely to leave you stranded out in the middle of nowhere. There are over 400 4Runners listed on Autotrader for around $15,000, most of which are the fourth generation model, sold from 2003 to 2009.
Find a Toyota 4Runner for sale.
2010-2014 Subaru Outback
A used Subaru Outback is a great car-based adventure vehicle. For a reasonable $15,000, buyers get the practicality of a 5-seat SUV without all of the drawback. While the Outback won't offer quite the same capability of the more truck-like vehicles on this list, it does offer something quite appealing to anyone going off the grid for a while — fuel economy and fuel range. With an efficient 2.5-liter 4-cylinder engine and an 18.5-gallon fuel tank, the Outback should see around 25 miles per gallon combined, yielding a fuel range of over 400 miles between fill-ups. Pair this with Subaru's standard all-wheel drive and maybe some all-terrain tires, and the Outback starts to look quite appealing when compared to a bigger, heavier truck or SUV.
And did you know that the Outback has more ground clearance than a Jeep Grand Cherokee? There's also a trick roof-rack design that hides cross-bars in the roof rails when not in use. Finally, there are a wide range of accessories on the market for the Outback, meaning that the equipment for carrying your kayak or corralling your pets in the back isn't hard to find. Outback buyers with a budget of $15,000 currently have over 900 to choose from on Autotrader.
Find a Subaru Outback for sale.
2003-2009 Lexus GX470
One of the great secrets of the American automotive industry is that the vehicle sold here as a Lexus GX is a luxury version of the vehicle sold in other parts of the world as the Toyota Land Cruiser Prado. Since the 1980s, the Prado suffix has been given to a smaller, nimbler variant of the Land Cruiser, almost like the 4Runner, but never sold in the United States. That is, until the 2003 model year, when the Lexus GX470 was introduced as a luxury, US-market version of the third-generation Land Cruiser Prado. As a result, the GX offers the best of both worlds — off-road capability and Lexus refinement. This means you get to take to the trails during the weekend and still show up to work in a Lexus on Monday morning.
Rest assured that any vehicle that bears the Land Cruiser name is going to be tough, capable and long-lasting. So if you're looking for something a little different than a 4Runner, Tacoma or Land Cruiser, but still want that Toyota reliability, the Lexus GX is a great alternative to the mainstream. Right now there are over 400 GX470s for sale on Autotrader for under $15,000.
2005-2015 Toyota Tacoma
The Tacoma is the most trusted, longest running compact pickup in the United States, and the second-generation is a great used truck option. Buyers have three cab sizes — regular, extended and double –and either a 5-foot or 6-foot bed to choose from. Anyone serious about going off-road would be wise to look for a Tacoma equipped with the TRD Off-Road package, which brings about such features as a locking rear differential, hill-descent control, off-road suspension, skid plates and a power inverter located in the bed.
Beyond the basics, the Tacoma offers endless possibilities with regard to accessorization thanks to an extensive aftermarket parts catalog. Having a truck bed offers great versatility in general when it comes to hauling gear for the outdoors; but add a simple aftermarket bed cap to your new-to-you Tacoma and the possibilities nearly double. Buyers have around 500 2005-2015 Tacomas to choose from on Autotrader at the $15,000 mark.
Find a Toyota Tacoma for sale.
2006-2010 Hummer H3 Adventure
Before memories of the most recent economic recession return, lets remember one thing — Hummers were made to go off-road, and thanks to depreciation, a now decade-old Hummer H3 is a great off-road value. Offering a solid rear axle, great approach angles and a burly look in even its lowest trim-levels, the H3 took things up a notch with an 'Adventure' package that offered off-road-oriented low-range gearing, heavy-duty shocks and front and rear locking differentials for the 2009 and 2010 model years. To this day, it's one of only a few vehicles on the market to do so (06-08 Adventure models only offered a rear locker). For more power and towing capacity, an Alpha trim level was introduced for 2008 that featured the same 5.4-liter 300-hp V8 that was used in the Chevrolet Colorado pickup of the era.
Hummer turned things up even further with the introduction of a pickup model dubbed the H3T for 2009, although these are much more difficult to come by and command a heavy premium on the used market. Nonetheless, the SUV-bodied H3 can be had today at a relative bargain, with even Adventure models ringing in at under $15,000. Currently, there are around 700 H3s listed on Autotrader, around a hundred of which are the Adventure version. Be careful when browsing though — to be sure you're looking at a true Adventure model, check for the locking differential switches on the far right side of the panel of buttons located above the radio.
1999-2003 Volkswagen Eurovan
While the Eurovan never received the same love as the Volkswagen Vanagon and Type 2 buses, it's perhaps the closest you'll get to a modern day VW camper. As with any Volkswagen from the late 1990s, the Eurovan has its quirks, but that's part of the fun. As it's based on the fourth-generation Transporter — VW's cargo and full-size passenger van sold round the world — the Eurovan offers tons of cargo room while also being pretty efficient and much more enjoyable to drive than the full-size vans common in the States (not to mention the fact that it's eons cooler). We recommend a later, 1999-2003 model for its more powerful VR6 engine. What really makes things interesting are the trim levels that were offered.
GLS models had traditional forward facing seating for seven, but MV models featured two rear-facing seats, a built-in folding table, an under-seat refrigerator and a third-row seat that folds down into a bed. Rare MV Weekender models add a pop-top roof with another bed big enough for two more people, while the full-blown Eurovan Camper by Winnebago adds a longer wheelbase along with a sink, stove, refrigerator, more storage and even an outdoor shower. Like most VW vans, Eurovans have developed a cult following in the United States, and their low sales volume when new makes them difficult to come by today. There are fewer than 100 total currently listed on Autotrader.
Find a Volkswagen Eurovan for sale.
2007-2017 Jeep Wrangler Unlimited
In addition to facilitating all of your summer exploits, the Wrangler offers endless configurability — it can be made into a convertible or a full-blown doors-off beach buggy, all in about 20 minutes with the help of a friend. Wrangler buyers also have a few additional choices to make involving the number of doors (two or four?) and the style of top (soft or hard?). We recommend a 4-door Wrangler Unlimited for its added space for gear and friends.
Trim levels start with the Sport or X model, depending on the year, while the Sahara offers a touch of luxury, and the top-of-the-line Rubicon offers a bevy of off-road features. Additionally, a huge aftermarket parts catalog makes customizing your Wrangler a breeze. Wranglers hold their value quite well thanks to their endless utility and rabid following, but examples of the previous generation JK Wrangler can be had at the $15,000 mark, and there are currently around 600 used examples listed on Autotrader that fit the bill.
Find a Jeep Wrangler for sale.
2005-2009 Land Rover LR3
While maybe not as reliable as the other vehicles on this list, it's impossible to talk about adventure vehicles without mentioning a Land Rover. When the third generation of the Discovery was introduced, Land Rover opted to change its naming conventions to an alpha-numeric structure here in North America, and we ended up with the LR3. While any Land Rover or Range Rover is going to come with a few head-scratchers in regards to design and reliability, most enthusiasts will argue that the LR3 is the most reliable Land Rover ever to be offered in North America. The LR3 was powered by a 4.4-liter V8 making 300 horsepower and was offered with independent front and rear air suspension that could raise and lower the vehicle. The complex suspension is where many of the reliability concerns come from, but it's a great feature as long as it's working properly.
Additional off-road features include hill-descent control and what Land Rover calls 'Terrain Response,' which enables drivers to select from a dial the kind of terrain being traversed and let the LR3's computers do the work. If the brand excites you and you have the time and money to put into maintaining it in the event of mechanical failures, a used Land Rover LR3 can be a lot of fun, and its minimalist design still looks great to this day. Currently, there are around 150 used LR3s on Autotrader for $15,000 or less.