If you feel like it's hard to keep up with all the latest trucks and SUVs, join the club. We write about these vehicles all the time, and we still have our hands full with all the changes from year to year. So for 2014, we decided to put together an all-star team of the best trucks, crossovers, SUVs and minivans on the market. If you're looking to buy any of those kinds of vehicles this year, our 10 Must Test Drive Trucks and SUVs for 2014 will definitely point you in the right direction. If you're in the market for a sedan, hatchback or sporty coupe, be sure to check out our 10 Must Test Drive Cars for 2014.
2014 Acura MDX
Honda is masterful at tweaking successful designs while leaving the essence intact, and that extends to its luxury division, Acura, which offers the all-new 2014 Acura MDX crossover. If you love the outgoing MDX, don't let the all-new part put you off, because the new model just gives you more of the good stuff and less of the rest. Fuel economy, for example, has never been an MDX strength, but the 2014 model sheds nearly 300 pounds and returns up to 28 miles per gallon on the highway. Inside, an attractive touchscreen cuts down on the previous MDX's excessive button count, while the second-row seats now slide forward at the press of a button to facilitate third-row access. And come on, look at those LED headlights; they're just plain cool. Yet from behind the wheel, the MDX feels reassuringly familiar. It's the perfect update for longtime MDX fans. Find an Acura MDX for sale
2015 Chevrolet Tahoe
Did the full-size Tahoe and its corporate cousin, the 2015 GMC Yukon, really need a redesign? Well, yes and no. Yes, because interior quality and technology have rapidly progressed over the past few years, and the outgoing Tahoe was behind the times, but also no, in the sense that the Tahoe was already one of the toughest, most capable SUVs on the road. Accordingly, Chevy has preserved the Tahoe's hardworking essence while dressing it up with all manner of modern luxuries and convenience items. The dashboard has a much more modern look, with tight tolerances and supple surfaces that disguise the Tahoe's truck-based roots. The available touchscreen with MyLink smartphone integration adds a welcome dose of current tech, but underneath, a 5.3-liter, 355-horsepower V8 engine ensures that the Tahoe's capabilities will reign supreme. Just don't be surprised if the fuel economy's a tick or two better than you might expect. Find a Chevrolet Tahoe for sale
2015 Ford F-150
Even if you're not a Ford guy, you must be curious about the all-new 2015 Ford F-150. With its radical aluminum body panels, the F-150 is hundreds of pounds lighter, and we all know that less weight equals more capability. Equally radical is what's under the hood, as the carryover 3.5-liter EcoBoost twin-turbo V6 is joined by a smaller EcoBoost sibling, a 2.7-liter V6 that promises significant fuel savings along with a healthy 8,000-lb towing capacity. Indeed, fuel economy should improve significantly across the board thanks to all of those lost pounds. As for the styling, macho-ness is in the eye of the beholder, but we can't imagine anyone faulting this Ford's brash, powerful looks. Find a Ford F-150 for sale
2015 GMC Canyon
Remember when GM was a serious player in the midsize truck segment, with the Chevrolet S-10 and the GMC Jimmy? You might not, because that was forever ago in truck years. More recently, GM has trotted out the basic GMC Canyon and Chevrolet Colorado twins, which have always taken a back seat to the class leaders from Nissan and Toyota. But that's about to change for 2015 with the debut of the second-generation Canyon and Colorado. Highlights include a standard 2.5-liter 4-cylinder and an available 3.6-liter V6 in both extended-cab and crew-cab body styles, making these smartly styled midsizers fully competitive with the segment-standard Tacoma. As with the Tahoe and Yukon, a touchscreen interface with smartphone connectivity is also offered. If you're looking for something less than a full-size brute such as the F-150, GM's back in the conversation in a big way. Find a GMC Canyon for sale
2014 Honda Odyssey
The Odyssey's been on the market for a few years now, but when a minivan is this good, it's always a must-drive. As usual, the Odyssey is the driver's choice in this segment with its secure, responsive handling, but that's just one aspect of its appeal. Refreshed for 2014 with styling tweaks and new technology, including standard Bluetooth audio and Pandora integration, the Odyssey is more well-rounded than ever. We love the configurable second-row seat, too, which can be removed in sections to create an aisle to the third row or to open up more cargo capacity. And when it comes to fuel economy, the Odyssey has you covered with an impressive highway rating of 28 mpg. Find a Honda Odyssey for sale
2014 Jeep Cherokee
This is definitely not your father's Cherokee. Based on a carlike platform derived from the compact Dodge Dart, the reinvented 2014 Cherokee boasts slick handling and ultra-modern styling to match. Inside, high-quality materials complement the available 8.4-inch touchscreen, which is one of the best at any price. Don't let those Dart roots mislead you; the Cherokee feels substantial on the road, reminding us more of a luxury vehicle than a typical compact crossover. We recommend the hearty 3.2-liter, 271-hp V6 engine, and if you want real off-road ability, check out the Trailhawk package with its unique hardware and appearance. Find a Jeep Cherokee for sale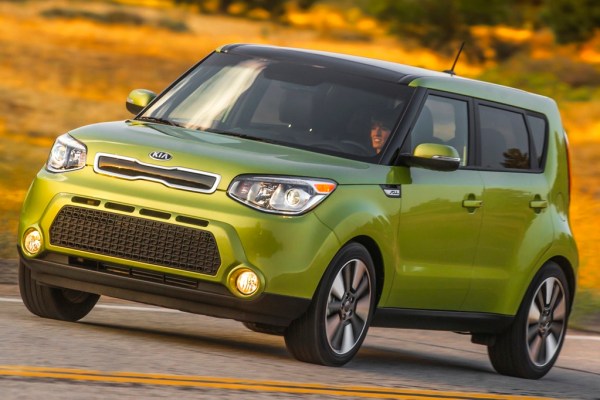 2014 Kia Soul
We're big fans of the redesigned second-generation Soul, which adds a thick layer of refinement and maturity to this hatchback's playful character. The original Soul traded more on style and attitude than anything else, but the new one has all the bases covered. The cabin is genuinely nice now, highlighted by upscale soft-touch materials and plenty of available tech. We've noted major improvements in ride quality, too, with the new model letting in noticeably less noise and vibration than its predecessor. If that's not enough, there's even a Soul EV in the works for 2015 with a projected range of 80-100 miles. If Kia can keep the price down, the Soul EV could be a great solution for urbanites or others with modest commutes and/or charging stations at work. Find a Kia Soul for sale
2014 Nissan Rogue
The Rogue used to trade on its nimble, sporty nature, but not anymore. The all-new, second-generation Rogue is all about maximizing space for families who want a reasonably priced and reasonably sized crossover. The available third-row seat won't endear itself to adults, but a couple of kids can scramble back there with ease. At the gas pump, the Rogue will endear itself to everyone with its Environmental Protection Agency (EPA)-estimated 33 mpg in highway driving. And when you look around the Rogue's revamped interior, you get the sense that Nissan's giving you a premium product at a regular price. There's a lot of crossover goodness here for the money. Find a Nissan Rogue for sale

2015 Porsche Macan
When Porsche's groundbreaking Cayenne first came out, there was much hand-wringing by enthusiasts who couldn't bear the thought of an SUV wearing the Porsche crest. Fast-forward a decade or so, and it turns out that the Cayenne was ahead of its time; these days, sport-luxury crossovers are all the rage, and the all-new 2015 Porsche Macan looks set to capitalize on this trend. Based on the excellent Audi Q5 crossover, the Macan's underpinnings received a thorough overhaul for Porsche duty, and there's a special engine, as well: a turbocharged 3.0-liter V6 rated at either 340 or 400 hp, depending on trim. Best of all, the head-turning Macan will be the most affordable 4-door Porsche, making it an appealing alternative to a wide range of vehicles in its $50,000-plus price range. Find a Porsche Macan for sale
2014 Toyota Highlander
As much as we liked the previous Highlander, it was clear that Toyota's best-selling midsize crossover was ready for a reboot. Enter the fully redesigned 2014 Toyota Highlander, which brings a whole new family-friendly vibe. Standard seating capacity has increased from seven to eight, thanks to a new 3-across third row, and second-row seats with more sliding range make it easier to access that third row. Interior materials are also a significant step forward, and the tried-and-true 3.5-liter V6 gets an excellent new 6-speed automatic transmission that's Lexus-worthy with its smooth, quick responses. Find a Toyota Highlander for sale
AutoTrader Says
See something you like? Keep our 10 Must Test Drive Trucks and SUVs for 2014 in mind, and get going on those test drives! The more vehicles that you try, the more prepared you'll be to make the right decision when it's time to buy.