What's the cheapest car you can get? Well, the literal answer to that is certainly a wretched 25-year-old subcompact rusted to oblivion with more miles than Apollo 11. But what are the best cheap cars you can get? Now that's the question we'll be addressing here.
While you can find an endless supply of great, inexpensive used cars here on Autotrader, we want to tackle the best cheap, new cars available. We looked at base prices, sure, but you have to dig deeper than just the lowest number next to the $ sign. How much equipment do you get for that base price? Is it attached to some special order trim level designed to entice people into dealerships? And, very importantly, is that cheap new car something you'd actually want to drive? Sometimes, the answer is yes — and those are the inexpensive cars we're highlighting here.
So, here are the 14 best cheap new cars and SUVs, plus a minivan and a pickup. You're bound to note common themes like interior space and quality, a refined driving experience, a lengthy warranty, good fuel economy and the inclusion of features like Apple CarPlay, Android Auto and accident avoidance tech.
Kia Rio
The Kia Rio does not have the lowest base price of any car on sale ($13,900), but it's close, and in terms of generous equipment, lengthy warranty and the overall excellence of the car itself, we think the little bit more you'll spend over the rock-bottom price will be worth it. Completely redesigned last year, the Rio has a grown-up feel that most subcompacts lack, and although it doesn't have the space of a Nissan Versa, its interior, driving experience and feature content for the money are ultimately superior.
Ford Fiesta
Now in its last year of production, the Ford Fiesta (base price $14,260) isn't as fresh or as well-rounded as the Rio. But as it's in its last year of production, deals should be plentiful, and you'll still be getting a sharp-looking and sharp-driving little sedan or hatchback. Plus, if you're looking for a cheap fun car, well, the Ford Fiesta ST definitely gives you an almost unbeatable bang for your buck. For less than $22,000, it'll put a bigger smile on your face than cars that cost three times as much.
Honda Fit
In a way, the Honda Fit is the typical car you'd find on a list like this — it's small, curiously cute and certainly inexpensive. However, the Fit is not a pesky little econobox. It's an enjoyable car to drive, surprisingly roomy inside and comes with a 6-speed manual transmission. You could go with the base model for about $17,000 (even this version includes the space-maximizing Magic Seat in the rear). However, for just a little over $18,000 for the Sport, you'll get the much-loved Apple CarPlay and Android Auto phone interface with a touchscreen, cool-looking black alloy wheels, fog lights and the option to add Honda Sensing advanced safety features like forward-collision braking, adaptive cruise control and lane-keeping assist.
Honda also offers several interesting color choices, something you don't always see on low-priced cars. If you want heated leather seats, an automatic transmission and all that Honda Sensing gear as standard, get the Fit EX-L. It's still well under $22,000 and will likely serve you well for many years.
Hyundai Kona
The Hyundai Kona is one of the most appealing subcompact SUVs. It's generously equipped, has a long warranty, is surprisingly fun to drive and looks distinctive inside and out. When you consider that it's also one of the cheapest subcompact SUVs with a base price of $19,990, it's even better. Pricing starts around $20,000 and still includes alloy wheels, LED headlights and a touchscreen that supports standard Apple CarPlay and Android Auto. For the price, the new Kona is bordering on unbelievable.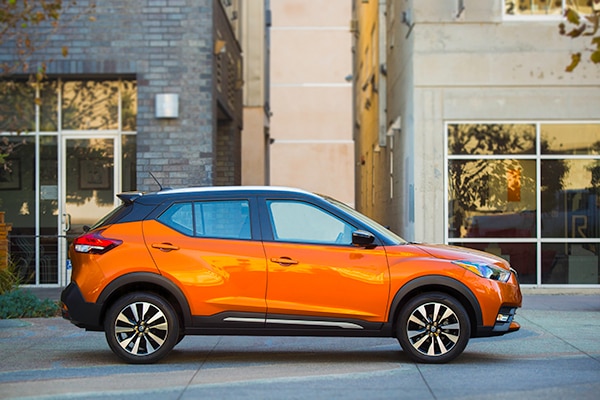 Nissan Kicks
The Nissan Kicks is another subcompact SUV, but goes in a slightly different direction than the Kona. It's not a ton of fun to drive, but what it does possess is class-leading fuel economy, the segment's biggest cargo area and a spacious back seat — in other words, the kinds of things you'll be using on an almost daily basis. You also get a ton of equipment for your money, even with the $17,990 base trim level. You couldn't get a Kicks higher than $24,000, while some competitors approach $30,000.
Hyundai Elantra
Updated for 2019, but still pretty good for 2018, the Hyundai Elantra is arguably the best value bet in the compact sedan class with a starting price of $17,100. It's well-rounded with attractive styling, ample space and an agreeable, easy driving experience. Like every Hyundai, you also get more features for your money and a lengthy 5-year bumper-to-bumper limited warranty.
Find a Hyundai Elantra for sale
Volkswagen Jetta
If you want a lengthy bumper-to-bumper limited warranty, Volkswagen is now the place to look, as its 6-year coverage bests even Hyundai/Kia. That applies to the new-for-2019 VW Jetta, which also provides a truly gigantic interior for a compact car, a punchy turbocharged engine and a more premium look and driving feel than you'll get in some competitors. But, as we're talking cheapness here, the base Jetta for $19,440 still gives you alloy wheels, LED headlights and a touchscreen with Android Auto and Apple CarPlay. You can also equip the base model with accident avoidance tech, which is rare at this price point.
Find a Volkswagen Jetta for sale
Subaru Legacy
Midsize sedans are slowly going out of favor in place of small SUVs, but they're still popular, and if they remain your cup of tea, the Subaru Legacy is a good cheap choice. Despite one of the segment's lowest base prices of $22,545, tech features like forward-collision warning, automatic emergency braking, lane-keeping assist, a touchscreen interface, Apple CarPlay and Android Auto are all standard. Uniquely, so is all-wheel drive — a benefit in snowy climates that isn't a detriment to fuel economy in sunny ones. Other Legacy highlights include a spacious cabin, easy tech controls and solid build quality. A hidden value gem.
Jeep Compass
There are elements of the Jeep Compass that leave much to be desired (the engine and transmission, in particular), but you do get an awful lot for a base price of $21,295 — not to mention the look and character of a Jeep. The current Compass is also a much better little SUV than the model it replaced for 2017. The interior in particular is noteworthy for its space, materials quality and ample user-friendly tech that includes a 7-inch touchscreen, Apple CarPlay and Android Auto. Should you opt for all-wheel drive, Jeep's Selec-Terrain off-road settings are included.
Kia Sorento
The Kia Sorento is a great choice if you're looking for an SUV that has a third row of seats, but would rather not have something so big that it makes parking difficult and your fuel bill hefty. The base 4-cylinder L trim level starts at only $25,990, which is about what you'll pay for a mid-grade compact SUV, but the mid-size Sorento offers considerably more interior space, including enough room for that kid-friendly third-row. You also get the sort of elevated refinement you'd expect from an elevated segment. Plus, as a Kia, you get that 5-year warranty as well as the 10-year powertrain warranty and the sort of standard features you'll be seeing a lot on this list (Apple CarPlay, Android Auto, a touchscreen) that many rivals make you pay extra for.
Dodge Durango
The Dodge Durango is a big, solid and burly type of crossover SUV. It's been on sale for quite a while now, and there are certainly more modern choices. But for the money, the Durango is quite the deal. At its starting price of around $30,000, you get a giant interior with enough room in the third row for even a 6-foot passenger (take note, parents of growing teens). Standard features include this list's Apple/Android usual suspects, plus tri-zone climate control, big 18-inch wheels and a leather-wrapped steering wheel. Altogether, this is a pretty cheap family hauler that just happens to have a lot of personality. Win-win.
Chevy Traverse
Chevrolet is one of those brands, like others from GM, that boast artificially low base price for trim levels you'll never find on a dealer lot and/or only available in white paint. They might as well not even exist except in bulk as a decent company utility car. Nevertheless, even when we ignore the $29,930 base Traverse L, stepping up to the $33,500 Chevrolet Traverse LS still represents a great deal on what is an absolutely enormous family-hauling SUV. No other crossover offers more passenger and cargo space. Standard features not only include Apple/Android connectivity, but a 4G LTE Wi-Fi connection, a big 8-inch touchscreen, OnStar emergency communications and a multitude of USB ports sure to keep the kids happy. So, it may not be as cheap as it originally seems, but there's still a ton of value in the Traverse LS.
Find a Chevy Traverse for sale
Chrysler Pacifica
The Kia Sedona is another cheap minivan worth considering, but we ultimately chose the Chrysler Pacifica as our choice, since we think it's ultimately the stronger minivan overall. Stylish, clever and pleasant to drive, the Pacifica delivers the sort of gargantuan interior space and versatility you expect from this most family friendly of segments. And while you don't get all the flashy toys available on upper trims (sorry, no in-car vacuum), blind spot monitoring, rear parking sensors, a 7-in touchscreen and Apple/Android connectivity are standard. We would, however, suggest going one step beyond the $27,000 base L trim to the $29,800 LX given its alloy wheels, power driver seat, 3-zone climate control and, most importantly, the Stow 'n Go folding second-row captain's chairs. The standard L has an old-school 2-person bench seat. we're guessing your local dealer might not have a ton of Pacifica L's on the lot.
Find a Chrysler Pacifica for sale
Ram 1500
All-new for 2019, the Ram 1500 is a home run of a pickup that checks off every box a traditional truck buyer could want, while sprinkling in a slew of new modern conveniences and technologies. You can read all about it in our first-drive review. Despite this greatness, it offers more standard features for less money than its Ford and Chevrolet competitors (pricing starts at $27,395). Its base V6 engine is perfectly competitive as well, boasting 305 horsepower and a mild-hybrid system known as "eTorque" that boosts fuel economy and improves low-end acceleration. We also think the Ram is better to drive than its competitors, but then, that was the case with the previous-generation Ram that is actually still on sale as the "Classic." Although the new truck is definitely superior, the old truck is still pretty great, and comparable trim levels are available for a few hundred dollars less (or more, given potential discounts).