Top Cars
2016 Mazda MX-5 Miata: 8 Ways It's the Perfect Budget-Friendly Weekend Toy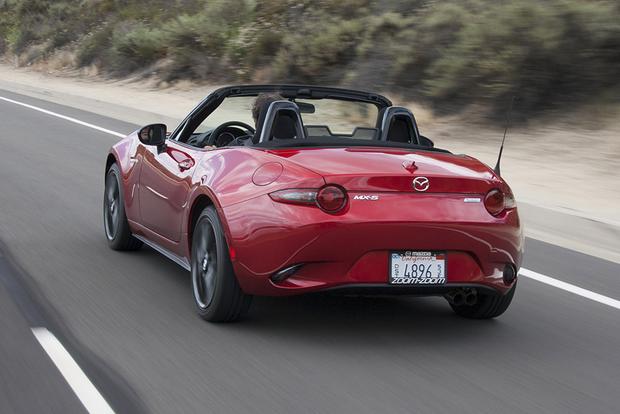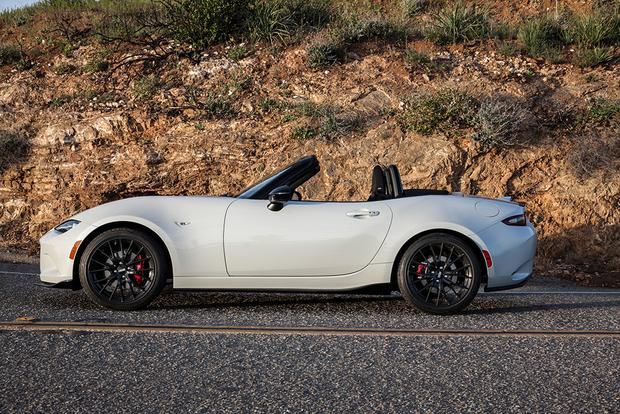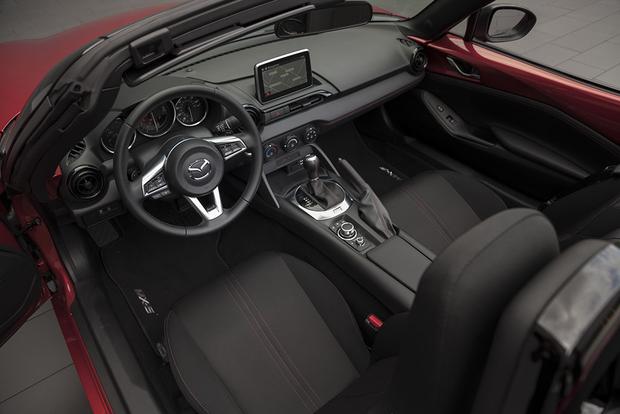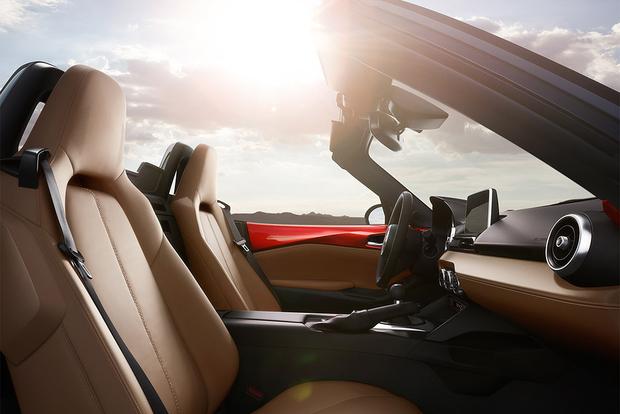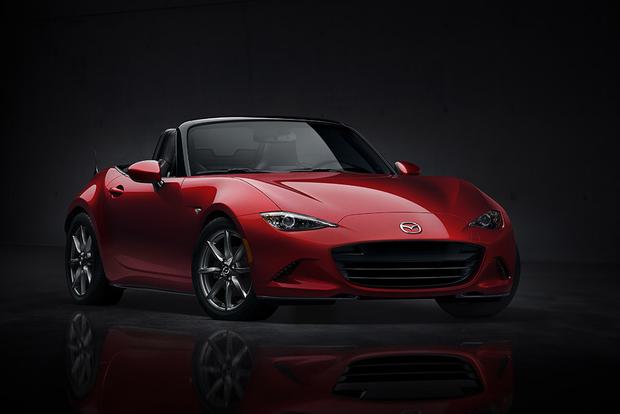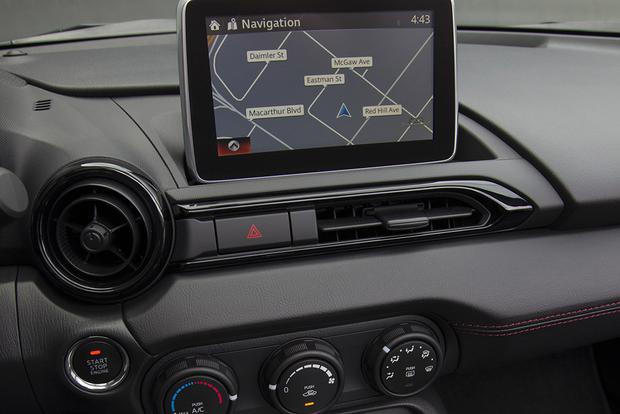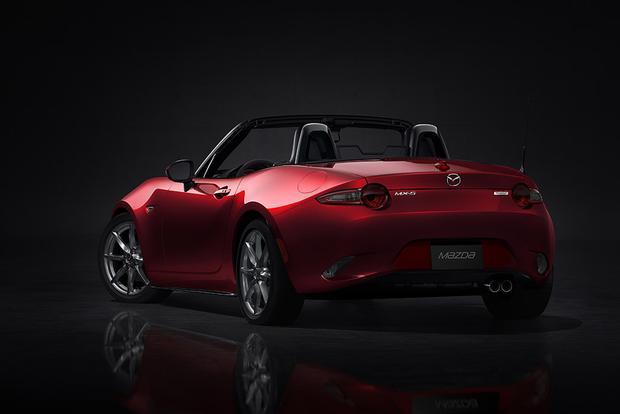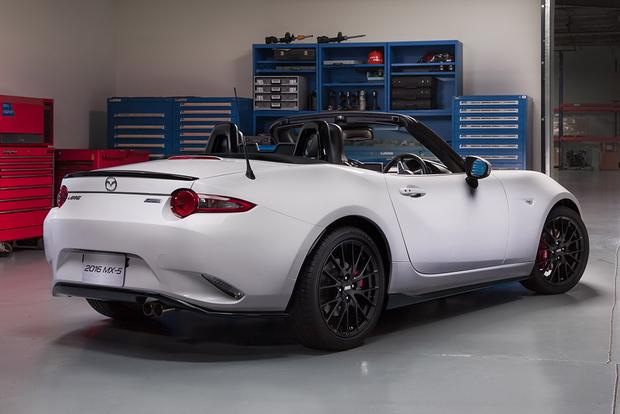 Having an automotive toy to play with on weekends doesn't have to be exclusive to those with bank accounts deep enough to buy exotic sports cars or collectible classics. In fact, such fun can be experienced in reasonably priced abundance. To prove it -- to you and inevitably the family budget-keeper -- here are eight ways the 2016 Mazda MX-5 Miata would make a perfect budget-friendly weekend toy.
1. It's an Absolute Riot to Drive
You really can't appreciate how much fun the MX-5 is to drive until you fit yourself in its snug cockpit and realize just how much you can feel through its various controls and the seat of your pants. You wear the MX-5 -- it feels like it's a part of you, and it behaves accordingly, with astonishing agility courtesy of its tidy dimensions, low weight and spot-on suspension tuning. The steering is quick, its spot-on effort remains consistent, and you can feel what the tires are doing.
The throttle response is immediate, and the manual transmission is one of the best you'll ever sample. Plus, the eager 2.0-liter 4-cylinder engine (155 horsepower and 148 lb-ft of torque) is more than enough to get this 2,332-pound featherweight up to speed with enthusiasm. And since it's rear-wheel drive, you can gently have fun getting the tail loose without having so much power that you get yourself into trouble. The MX-5 is thrilling and forgiving.
2. It's Reasonably Priced
You don't have to buy some fancier engine or performance-option package to enjoy yourself with this car -- even the most basic Mazda MX-5 Miata, for around $25,000, should provide all the fun and equipment you could want. You still get air conditioning, LED headlights, a leather-wrapped wheel and shifter, Bluetooth phone and audio and a USB port. That seems like more than enough for a weekend play thing.
Now, that doesn't mean turning up the dial a bit with the $28,600 Club model is a bad idea if you've got a little extra budget to play with. This trim adds a sport-tuned suspension, a limited-slip differential, performance tires and an engine-sound enhancer, as well as a few cosmetic details and infotainment niceties like satellite radio, a Bose sound system, an extra USB port and Mazda's 7-inch dash-top electronics interface.
3. You Should Expect Excellent Reliability
Sure, there are plenty of compelling used sports cars out there available for the same price as the new MX-5, but there's a pretty good chance there'll be expensive repairs coming your way down the line. Beyond the MX-5's new-car warranty coverage, previous-generation models have demonstrated superior reliability, and owner complaints have been few. It's also a relatively simple car, free from increasingly common performance-enhancing features like turbochargers or adaptive suspensions, and its oh-so-easy manual top means you won't be making repairs on a power mechanism.
4. It's a Convertible
When one thinks about a second or third household car to enjoy mostly on weekends, chances are it will offer the option of al fresco motoring. There's just something about having the top down that can make that Saturday drive through the country that much more enjoyable.
Not only is the MX-5 a convertible, but its soft-top couldn't be easier to operate. Just undo a latch, flick the roof rearward, and reach back to nudge it into place. To put it back up, pulling another latch over your shoulder pops the roof back into your reach allowing you to easily bring it forward and latch it secure. No mutant agility or strength needed, and you wouldn't even think of getting out of the car. Sure, a fully powered top would be easier, but it would also be heavier and pricier to buy and maintain. Many convertible tops also eat into trunk space, but that's not so in the MX-5.
5. It's Shockingly Fuel-Efficient
Cars people buy for fun tend to come with big, thirsty engines that thrillingly fire the vehicle forward with little regard to fuel economy. But because since the MX-5 puts its emphasis on agility rather than brute force and weighs a relative pittance by modern standards, it boasts excellent fuel economy. And not just excellent for a sports car -- legitimately excellent.
We recently took a road trip that saw it get 37 miles per gallon, while the Environmental Protection Agency estimates that it will achieve 27 mpg in the city, 34 mpg on the highway and 30 mpg in combined driving with the 6-speed manual transmission. Opting for the 6-speed automatic (not recommended) returns the same 30 mpg combined. Compare that to the Subaru BRZ, another small, lightweight and modestly powered car -- it returns 25 mpg combined, according to 2016 estimates. At the same time, though, the MX-5 isn't slow: It goes from 0 to 60 miles per hour in the mid-6-second range. That's quick, and it feels quick, too. The best of both worlds? We think so.
6. It Looks Really Cool Now
Let's face it: The Miata has always been on the "cute" end of the automotive styling spectrum, which limited its appeal among those who prefer a more aggressive, clearly performance-oriented aesthetic. Furthermore, the most recent Miata wasn't really that attractive, having collected a hodge-podge of elements over time from multiple corporate design languages.
But the fourth-generation MX-5 is a whole different animal -- and we think it's a wildly cool one, with the more performance-oriented sports-car proportions of a long hood and a short deck. Its face looks meaner, its rear haunches are more athletic, and the car in general is much harder to describe (pejoratively or otherwise) as cute. It has broader appeal now, and we think it looks great.
7. Both of You Can Drive It
We've talked to enough car lovers (and their significant others) to know that quite often the household's automotive toy really belongs to one driver. The other usually has little interest in driving the enormous, brutish muscle car or the aggressive sports car with stiff steering, a stiffer clutch and submarine visibility. The MX-5, on the other hand, is friendly for anyone.
We stand by the notion that an automatic-equipped Miata completely defeats the purpose. In fact, the manual model is a perfect vehicle to teach the one you love about the joys of shifting for oneself. The clutch is easily depressed and modulated; the gearbox is perfection. Heck, buy one without knowing how to row your own -- from personal experience, we know that a Miata makes for a great teacher. Plus, the Miata's tiny proportions, spot-on steering and reasonable power will never overwhelm, and since it's a convertible, it's easy to see out. Fun for the whole family, indeed.
8. It Won't Take up Much Room in the Garage
The 2016 MX-5 is tiny, smaller even than its immediate predecessor and roughly the same diminutive size as the original. Of course, this contributes greatly to its driving brilliance. However, it also means there'll still be plenty of room left in the garage for the lawn mower, the kids' bikes, those enormous city garbage cans and 17 boxes filled with things not seen since W was president. And if you're kicking a daily-driver out of the garage to make room, just think that you'll now have extra room for all that stuff or even additional weekend toys. Score!