From building houses, to transporting construction equipment, to servicing your utilities, heavy-duty trucks are integral for getting stuff done. With the prices of new trucks inching higher and higher with every passing model year, it may seem like an affordable heavy-duty truck is hard to come by. We beg to differ though, and here are four used heavy-duty trucks readily available for someone with a budget of around $20,000.
1. 2011-2016 Ford F-Series Super Duty
The Ford F-Series Super Duty is the best-selling heavy-duty truck in America, and it's easy to find used examples for around $20,000. Buyers interested in a Super Duty from this era have three engines to choose from. The smaller of two gas-powered options is a 6.2-liter V8 making 384 horsepower and 405 lb-ft of torque, while buyers wanting more grunt can opt for the 6.8-liter V10, which puts out 362 hp and 457 lb-ft of torque. The diesel option is a 6.7-liter V8 making 390 hp and 735 lb-ft of torque in early 2011 models, 400 hp and 800 lb-ft of torque from 2011 to 2014, and up to 440 hp and 860 lb-ft in 2015 and 2016. There are currently around 500 relatively modern 2011 to 2016 F-250s, F-350s and F-450s listed on Autotrader that fit the bill, most of which have around 100,000 miles on the odometer. Over half of the 2011-2016 F-Series Super Dutys listed come with 4-wheel drive, around 120 of which come with the diesel engine. Find a Ford F-250 for sale or Find a Ford F-350 for sale or Find a Ford F-450 for sale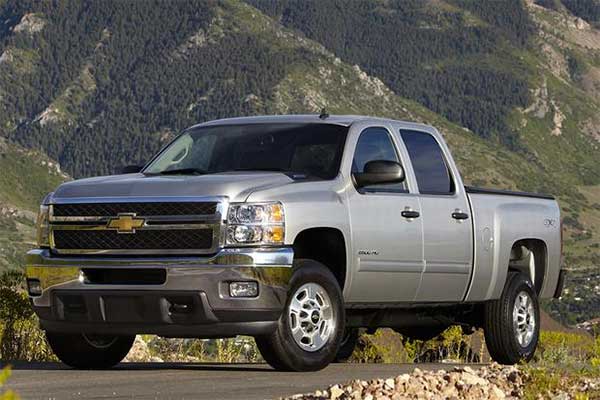 2. 2011-2014 Chevrolet Silverado HD
Buyers can currently find Chevrolet Silverado HDs from the 2011-2014 model years for around $20,000, and there are currently over 300 such examples listed on Autotrader that would meet our criteria. Introduced back in 2007, the second-generation Silverado HD received an updated diesel engine for 2011, good for 397 hp and 765 lb-ft of torque, which were improvements of 32 hp and 105 lb-ft over the 2010 model. As usual, a gasoline-powered engine was available as well, and in this case it was a 6.0-liter V8 putting out 360 hp and 380 lb-ft of torque. A 6-speed automatic was exclusive across the range. Of the 300 2011-2014 Silverado HDs listed on Autotrader for around $20k, close to 250 come with 4WD, while 70 offer the diesel engine. Find a Chevrolet Silverado 2500 for sale or Find a Chevrolet Silverado 3500 for sale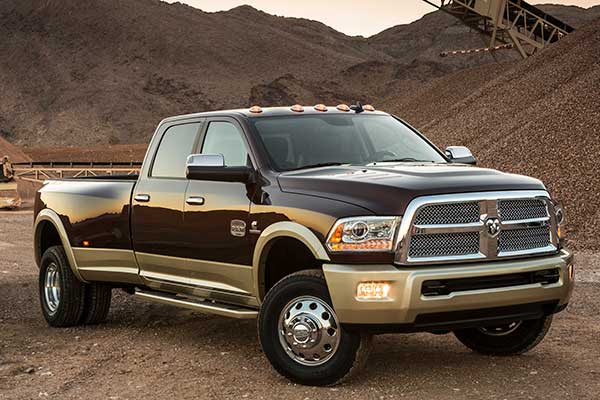 3. 2010-2014 Ram Heavy Duty
The fourth-generation Ram Heavy Duty came out for the 2010 model year and prospective buyers can now find examples from as recently as the 2014 model year for around $20,000. The Ram Heavy Duty from this era was offered in 2500, 3500, 4500 and 5500 guise, each offering an increased level of capability, although the 4500 and the 5500 are available as chassis cabs only. The primary gas engine option was a 5.7-liter V8 making 383 hp and 400 lb-ft of torque, although a 6.4 liter V8 making 410 hp and 429 lb-ft of torque joined the lineup for 2014. The diesel option was a stout 6.7-liter Cummins inline-6 making 350 hp and 650 lb-ft of torque, although in later years the engine was tuned to offer up to 370 hp and 850 lb-ft of torque. The Ram Heavy Duty from this era was also unique in that it offered an available manual transmission.
Right now on Autotrader, there are over 300 2010-2014 Ram 2500, 3500, 4500 and 5500 models listed for around $20,000. Of these, around 250 come with 4WD, 100 come with the diesel engine, and about 75 offer both the diesel and 4WD. You may be out of luck if you're looking for a manual transmission though, as there are only four listed, all of which are dump trucks. or Find a Ram 2500 for sale or Find a Ram 3500 for sale or Find a Ram 4500 for sale or Find a Ram 5500 for sale
4. 2011-2014 GMC Sierra HD
We round out our list of used heavy-duty trucks for a budget of $20,000 with the GMC Sierra HD. For all practical purposes, the Sierra is identical to its corporate sibling, the Chevrolet Silverado. Buyers have the same engines, the same configurations and virtually the same trim levels to choose from when comparing the two. The Sierra HD does differentiate itself by offering the upscale Denali trim, which offers more chrome on the exterior and a slightly more upscale interior inside. Right now on Autotrader there are around 150 2007-2014 Sierras listed for around $20,000. Of these, the majority offer 4WD, while just 25 come with the diesel engine. Find a GMC Sierra 2500 for sale or Find a GMC Sierra 3500 for sale