For most of us, the key to any good adventure vehicle is twofold: durability and lasting value. And all five of these stalwarts of adventure capture those merits in spades. Though each has unique traits that attract different buyers, they're all known for durability. And each is proven to hold value deep into six-digit odometer readings.
Of course, making a smart buy means not being in a hurry. Because each of these adventure vehicles is highly sought after, you'll be best served with patience in the purchasing process. Finding any of these vehicles with the right combination of miles, condition and price will be challenging, but we know just the place.
The guide below is not intended as a deep dive on each of these vehicles, but rather as a primer to show each vehicle's strengths and powertrain basics and to tell which generations of each are most likely to fit into our $15,000 limit.
Honda Element
Sold in the U.S. between the 2003 and 2011 model years, the Honda Element is renowned for its gear- and pet-friendly interior as well as for its huge, usable space. All of the Element's seatbacks fold down, and its rear seats are hinged at the sides and can fold flat against the rear windows to create an unimpeded cargo area. They can also be removed altogether to maximize space, creating a flat floor that's great for sleeping, which helped this practical Honda earn the "hotelement" nickname among many owners.
There's nothing fancy about the Element's powertrain—a 2.4-liter 4-cylinder engine powered every Element—but it was reasonably efficient and made the box on wheels quick enough to not embarrass itself. All-wheel drive was optional, and a 5-speed manual and 4- or 5-speed automatic transmissions were available, though the manual was phased out in later model years.
Honda made few changes to the Element over its 9-year run, but the biggest came it 2007 with the addition of a few more ponies and a swap from a 4-speed automatic transmission to a 5-speed. Find a Honda Element for sale
Jeep Wrangler
It's pretty tough to boil the Jeep Wrangler's vast history down to a few hundred words, but we'll try. The Wrangler has been a dedicated and capable off-roader with solid front and rear axles for all its life. Part-time 4-wheel drive and a transfer case allowing low-range operation for steep, rough and loose terrain are part of its identity. What the Wrangler sacrifices in on-road driving manners and cargo space, it more than makes up for in off-road chops.
Sticking to a $15,000 budget probably means buying either a traditional 2-door TJ (1997-2007) or going to the later JK (2008-2018) Wrangler, which was available as a 2-door or 4-door model called the Wrangler Unlimited.
The truth is that nice Wranglers are in such demand that any worth buying will fall at the high end of our range, and most of those—especially Unlimited models—will be high-mileage examples. Depending on the year, Wranglers built during these generations came with a variety of 4- and 6-cylinder engines, none of which were remarkably powerful or efficient but were adequate for rock crawling. The most popular and best all-around mill was the ubiquitous 3.6-liter Pentastar V6 available in JK models, which offered the best compromise of efficiency and output. A 2.8-liter 4-cylinder diesel was also available in JK models. Depending on the year and engine, these Wranglers were available with 3-, 4- or 5-speed automatics or 5- or 6-speed manual transmissions. Find a Jeep Wrangler for sale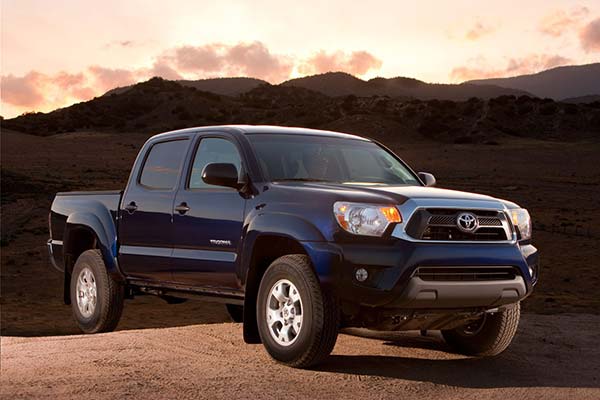 Toyota Tacoma
As with almost every truck, digging into the Toyota Tacoma's configurations opens a Pandora's box of engine, transmission, drive, cab and bed length possibilities. The most coveted Tacoma, of course, is the double-cab short-bed 4×4. That's also the truck best suited to adventuring and the truck with the best resale value. First sold as a 1995 model, the Tacoma is currently in its third generation in the United States. However, when it comes to healthy Tacomas, only the first two generations will stay within the $15,000 budget set here. First-generation trucks were 1995 to 2004 model years, and second-generation Tacomas ran between the 2005 and 2015 model years.
All Tacomas use an independent front suspension with coil springs and live rear axles sprung by leaf springs. Though its independent front suspension isn't as respected in off-road circles as a live axle, the Tacoma nonetheless has a reputation as a capable off-roader. 4WD models were taller and wider and had bigger tires than 4×2 Tacomas. In a brilliant marketing move, Toyota also sold 4×2 models under the PreRunner trim and outfitted them with the same ground clearance, wheel and tire package and other components from 4WD models. Rear locking differentials were available on 4WD Tacomas (usually as part of the TRD package), and PreRunners had the option of a locking rear differential. Toyota also offered a very effective brake-based off-road traction control system called A-TRAC on certain models.
There is one obvious deal breaker on Tacomas, however: rust. Toyota recalled 690,000 2005-2011 model year PreRunners and 4×4 Tacomas for rust affecting the frame rails. So, yes, it's possible to buy one with a terminal rust problem. It's also possible to find one that's had its frame replaced. (Seriously, that's how Toyota fixed it.)
Both generations of Tacomas discussed here came with 4- and 6-cylinder engines. Both also were available with 4-speed automatic transmissions. A 5-speed automatic transmission and 5- and 6-speed manual transmissions were available in second-gen trucks. Find a Toyota Tacoma for sale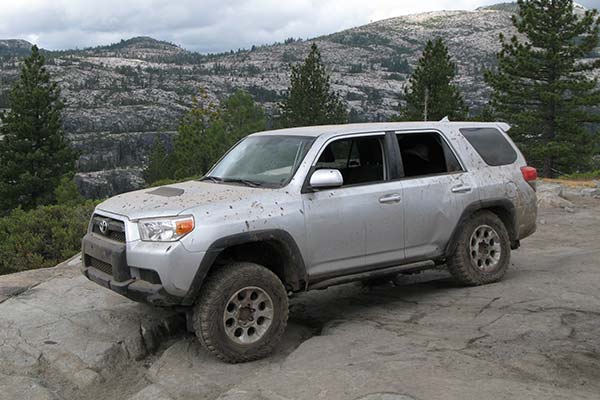 Toyota 4Runner
The big draw to the Toyota 4Runner for most adventure seekers is that it's an SUV that uses an off-road-capable body-on-frame construction similar to a truck, rather than car-like unibody construction, which combines the frame and body into a single structural piece. The 4Runner has used an independent front suspension since the 1986 model year, and coil springs have suspended its rear axle since 1990. These merits, in combination with the 4Runner's proven, durable Toyota powertrains, put it high on our list of easily resold adventure vehicles.
The sweet spot of 4Runner ownership falls in the three generations between 1996 and the models currently on sale. We're ignoring the first two 4Runner generations because they're ancient and hard to find in good condition. Third-gen 4Runners were sold from 1996 to 2002, second-gens from 2003 to 2009, and the current generation went on sale in 2010 and is still leaving Toyota dealers at unbelievable rates. You'll find 4Runners from all three generations at or below the $15,000 ceiling, and the one you choose should be determined by mileage and condition rather than the model year.
Four, 6- and 8-cylinder engines have powered these three generations of 4Runners, though the V8 was only available in third-gen models. All three generations had either a 4- or 5-speed automatic transmission. Locking rear differentials and various varieties of center differentials (locking and limited-slip) were available. A-TRAC, Toyota's brake-based off-road traction control, was also available. Find a Toyota 4Runner for sale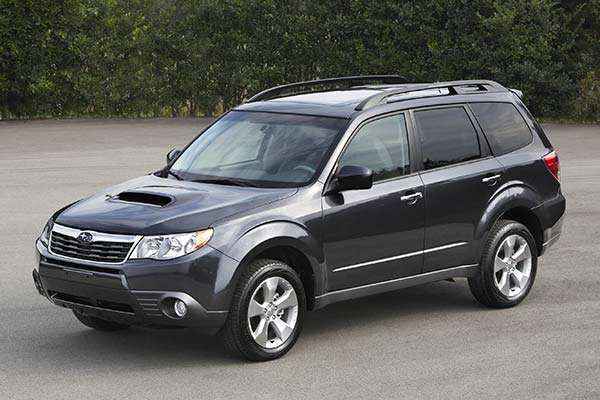 Subaru Forester
The Subaru Forester is an acquired taste among enthusiasts and is only suited to those seeking a unique type of adventure. It is a car, after all, and therefore inherently less capable off-road than a truck. But its unique combination of standard AWD, carlike handling and adequate ground clearance means that Foresters not only end up in some remote places, but their owners have a lot of fun getting there — usually with a rooster tail of gravel behind them. Highly modified Foresters have been known to go the same places as some pretty capable trucks, but the Forester's true specialty is the flowing gravel road.
Now in its fifth generation, the Forester has undergone many changes since its 1997 debut. Though the $15,000 budget we've set for vehicles on this list will buy you a newer Forester, Subaru purists stick with first-generation (1997-2002) and second-generation (2002-2008) cars for many reasons. Third-generation (2009-2012) Foresters left behind the strut-type rear suspension in favor of a double-wishbone configuration that lacked the compliance, simplicity and durability of the strut design. They also became rounder, leaving their wagon roots as they conformed to the crossover SUV trend. Finding a rust-free first- or second-generation car will be a challenge in the snow belt, where they are in demand, but such a car is still the least expensive vehicle on this list.
Like all Subarus, Foresters use horizontally opposed engines. First-generation Foresters were available with normally aspirated 2.5-liter 4-cylinder engines, while second-gen cars came with either a normally aspirated 2.5-liter 4-cylinder or a turbocharged 2.5-liter 4-cylinder. Both offered either a 4-speed automatic or a 5-speed manual transmission. Find a Subaru Forester for sale