Top Cars
5 Fun Small Cars With Manual Transmissions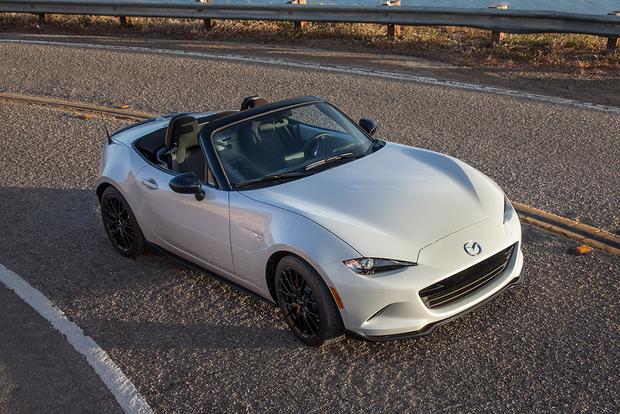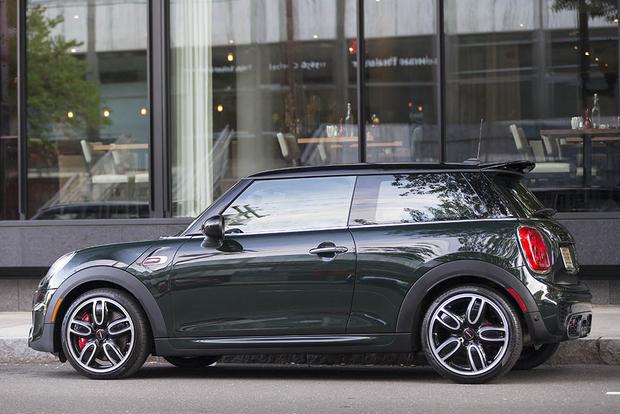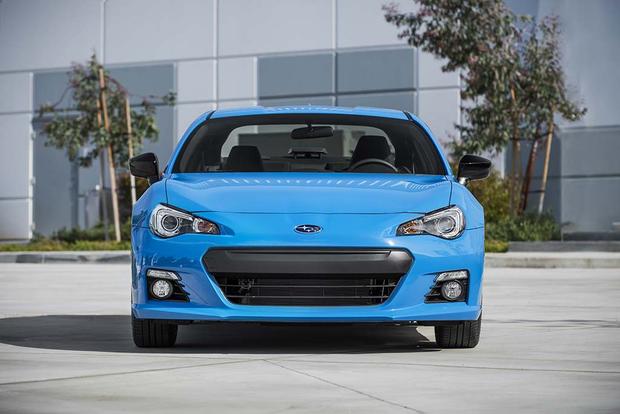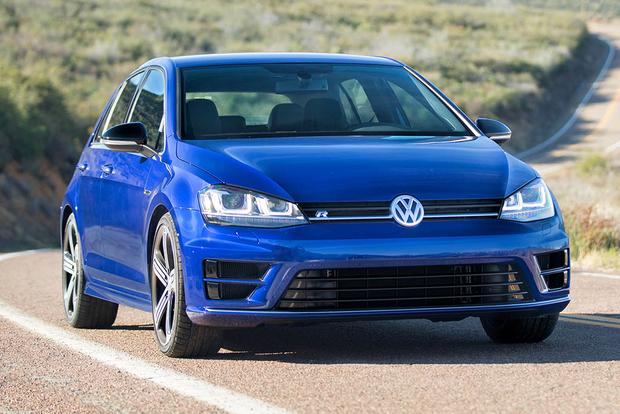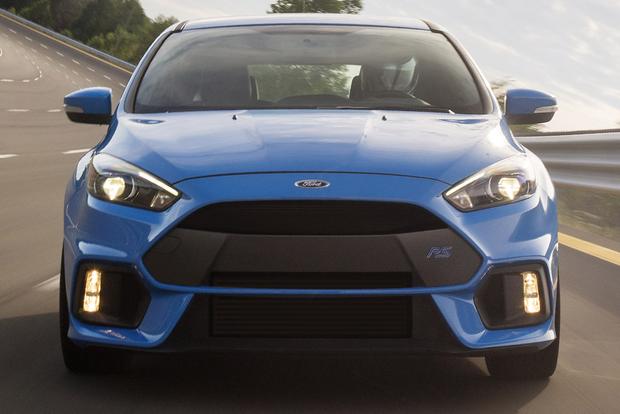 For some people, the only way to achieve oneness with the car they're driving is through a manual transmission. The ability to shift the gears yourself creates a very personal connection to the vehicle and thus a more engaging driving experience. Sure, it takes more effort and is decidedly less convenient, but there's something special about having your hand on the shifter as you drop into third gear on a country switchback in the middle of nowhere. That's even more true when we're talking about small cars with an abundance of acceleration and agility. Here are five compact offerings that are perfect for those seeking the thrills that only a manual transmission can offer.
2017 Ford Focus RS
The Ford Focus RS has been around for years, but only recently did it become available here in the U.S. This little dynamo is motivated by a turbocharged 2.3-liter 4-cylinder engine that produces 350 horsepower and 350 lb-ft of torque, tied solely to a fast-shifting 6-speed manual transmission. The RS also provides loads of grip to handle the tightest corners and the curviest roads. Add all-wheel drive to the equation, and this high-performance Ford Focus becomes one of the most surefooted hot hatchbacks on the road today. The RS has a base starting price of $36,120.
2016 Mazda MX-5 Miata
For more than a quarter-century, the Mazda MX-5 Miata has been the epitome of a lightweight roadster made to be driven spiritedly. Gifted with precise steering and superb driving dynamics, the MX-5 is as comfortable and balanced through fast turns as it is on long stretches of highway. This Mazda's standard 6-speed manual transmission boasts easy shifts with short throws and is an ideal match for the car's 155-hp 2.0-liter 4-cylinder engine. It makes the MX-5 incredibly fun to drive, even at low speeds. Oh, and did we mention a highway fuel economy rating of 36 miles per gallon? Pricing for the 2016 Mazda MX-5 Miata starts at $24,915.
Find a Mazda MX-5 Miata for sale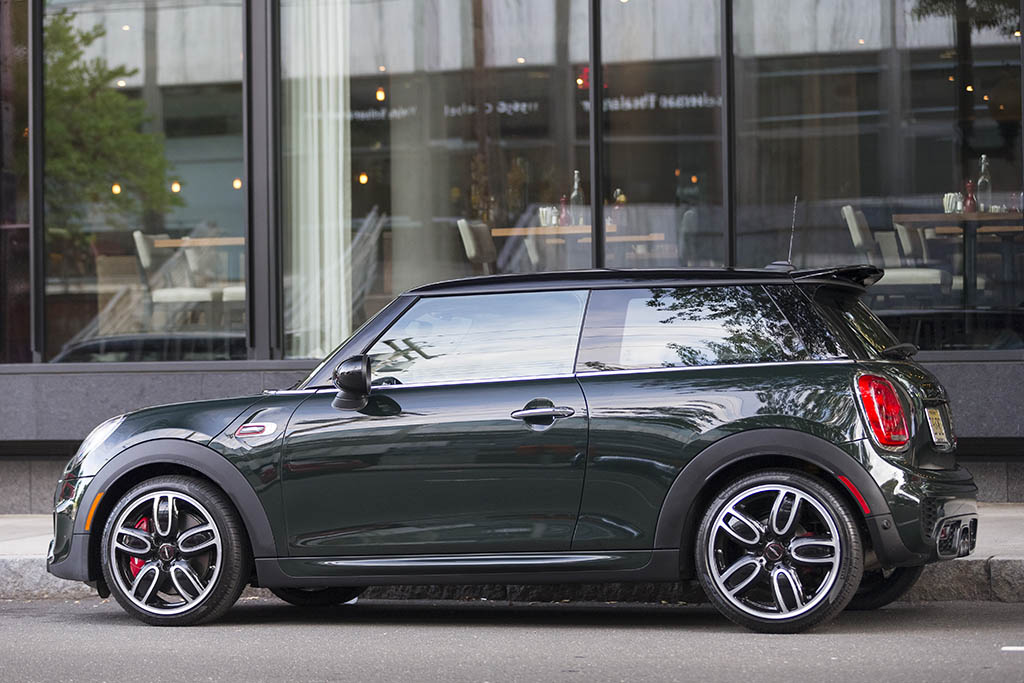 2017 Mini Cooper John Cooper Works
The Mini Cooper is already known as a sporty, fun-to-drive runabout with sharp handling skills, but the John Cooper Works variant takes things to an even higher level of quickness and performance. Available only as a 2-door hatchback, this uplevel model comes equipped with a turbocharged 2.0-liter engine outputting 228 hp, coupled with a standard 6-speed manual transmission with automatic rev-matching for smoother, more precise shifting. The vehicle goes from 0 to 60 miles per hour in just over 6 seconds. Blending power with fuel efficiency, the John Cooper Works delivers fuel economy of 23 mpg in the city and 31 mpg on the highway with the manual gearbox. Available in both hardtop and convertible versions, pricing begins at $35,600.
2016 Subaru BRZ
The Subaru BRZ is a lightweight, rear-wheel-drive sports coupe that offers a well-engineered chassis resulting in outstanding handling and very responsive steering. Design-wise, the BRZ has a sleek, race-car persona that's very appealing to the eye (especially when outfitted with a rear wing). Performance is impressive thanks to a 200-hp 4-cylinder engine tied to a standard 6-speed manual transmission. Manually shifting will get you from 0 to 60 mph in under 7 seconds, a whole second faster than with the optional automatic transmission. The 2016 Subaru BRZ starts at $25,395.
2016 Volkswagen Golf R
Starting at $35,650, VW's Golf R is arguably one of the best performance bargains among small cars. From a standstill position, this hot hatch can get to 60 in about 5.5 seconds. Under the hood lives a robust 292-hp 2.0-liter 4-cylinder engine tied to a standard 6-speed manual transmission. That's a lot of power for a little car like this. Aside from its speed, agility and handling prowess, the Golf offers an advanced all-wheel-drive system and a remarkably smooth ride. Other pluses include excellent interior craftsmanship and an ample amount of cargo space thanks to its practical hatchback design. This one's a winner inside, outside and on the road.