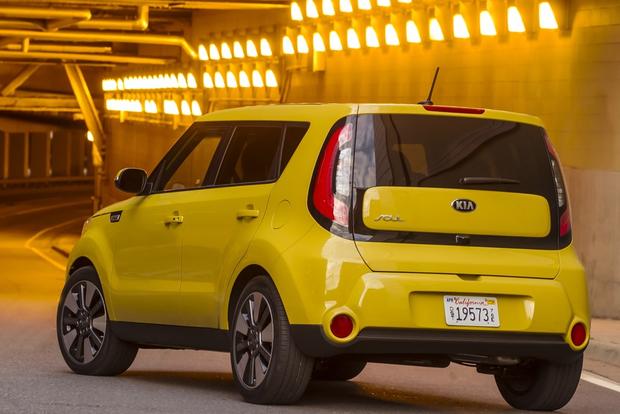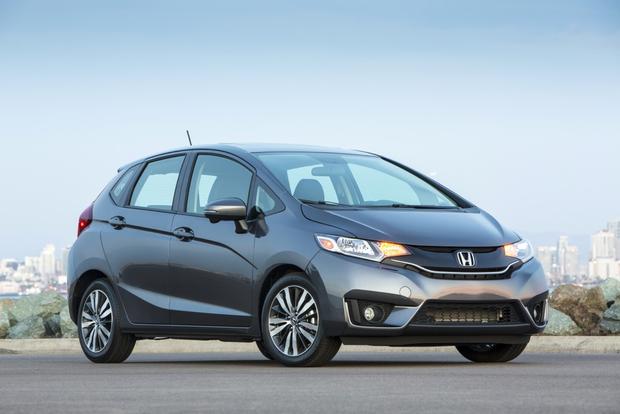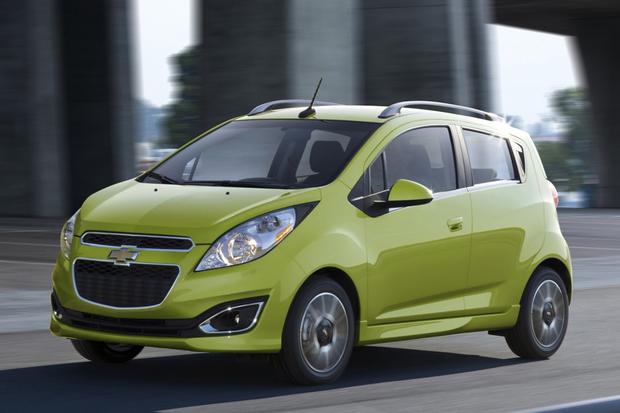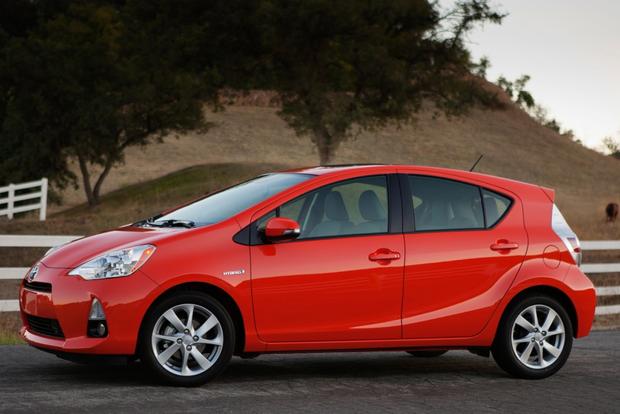 Living in an urban location offers residents many benefits -- and a few automotive challenges. Squeezing into tight parking spaces, darting in and out of heavy traffic, cargo-capacity issues and higher fuel costs are just a few issues that your average city driver encounters. To that end, we've put together a list of the five best cars for city living that you'll surely want to add to your shopping list.
Size was certainly a key factor in our selection process, but we also considered aspects such as usability, transportation of people and pets, cargo conversion, number of doors (including rear hatch), fuel economy, sub-$25,000 base price, turning radius/maneuverability and availability of an automatic transmission or a continuously variable transmission (CVT).
Mazda CX-5
The Mazda CX-5 makes the list due to its excellent handling capabilities and 36.7-foot turning circle. The CX-5 is the largest vehicle in this group, measuring 178.7 inches in length and 72.4 inches wide. SKYACTIV-G 2.0 and 2.5-liter 4-cylinder engines, each equipped with a 6-speed automatic transmission, provide plenty of urban scoot without a gas-mileage penalty. Fuel economy is solid at 26 miles per gallon in the city and 35 mpg on the highway, and pricing starts at $21,545. The CX-5 is available in 2-wheel-drive and all-wheel-drive versions. It offers comfortable 5-passenger volume and 64.8 cu ft. of cargo space, making it easy to get in and out of the vehicle. It comes with push-button ignition and 17-in wheels as standard. Options include collision detection with automatic braking, a 5.8-in color touchscreen, SMS text messaging, Radio Data System (RDS) capability and Bluetooth-enabled connectivity.
Kia Soul
The 2015 Soul has a unique character and nimble drive characteristics supported by a premium interior for five that far exceeds its $17,100 (equipped with automatic transmission) base price. The interior alone would make this one of the best cars for city living. Bright paint hues and crisp boxy styling make the Soul stand out in traffic. The exterior design yields a spacious 61.6 cu-ft. maximum of cargo volume and 39.6 inches of headroom. A 6-speed automatic backs up your choice of either 1.6- or 2.0-liter inline 4-cylinder engines, with 130 and 164 horsepower, respectively. Maximum fuel economy is 24 mpg city/31 mpg hwy. Electric power steering provides a turning radius of 34.8 feet, and combined with a trim 163 inches of length and 70.9 inches of width, allows the Soul to squeeze into tight parking spaces. This front-wheel-drive compact crossover has good acceleration and a well-damped ride over rough pavement. Base models include a new UVO 1 eService package that comes with Geo Fence, Speed Alert, Curfew Alert and Driving Score features. Available enhancements include a panoramic moonroof and heated front seats, rear seats and steering wheel. Also new for 2015 is the Soul EV all-electric model (limited availability), but it starts at $33,700 for the base model.
Honda Fit
A newer-model, the redesigned Fit maintains the previous generation's good visibility, which is a big plus for city driving. Honda's Fit LX, outfitted with a CVT and paddle shifters, starts at $16,450. On the street, the Fit measures 160 inches long and 67 inches wide. Equipped with a 1.5-liter 4-cylinder engine with 130 hp (the only engine offered), power is down from some of the other vehicles listed here, but fuel economy is up with an output of 33 mpg city/41 mpg hwy per the Environmental Protection Agency's (EPA) ratings. The Fit is a small front-wheel-drive vehicle yet has acceptable acceleration and a 35.1-foot turning radius. The Fit also offers a very usable 52.7 cu ft. of interior cargo space and 39.5 inches of headroom. Seating is comfortable for four adults, and you can squeeze in five passengers in a pinch. Standard safety features includes Vehicle Stability Assist (VSA) with traction control, side-curtain airbags with rollover sensors, electronic brake distribution, brake assist and Honda's next-generation Advanced Compatibility Engineering (ACE) body structure.

Toyota Prius c
Hybrid vehicles are at home in urban settings, and Toyota's Prius c (c for city) is at the top of the list. Pricing begins with the Prius c at $19,080. The Prius c checks in with urban-friendly dimensions of 157.3 inches long, 66.7 inches wide and a turning radius of 31.4 feet. Interior dimensions measure 87.4 cu ft. of passenger volume and 17.1 cu ft. of rear cargo volume. The interior has been upgraded with new soft-touch panels and onboard infotainment with a USB port and an available display audio system with navigation and the Entune App Suite. The Prius c model's Hybrid Synergy Drive system (the total hybrid system output is 99 hp) integrates the operation of components that include a gasoline engine, an electric motor within a CVT, a nickel metal hydride battery, a power control unit (inverter), a DC-DC converter, a step-up converter and a hybrid control computer. For urban drivers, the Prius c offers three drive modes: Normal, ECO and EV. In ECO mode, reduced overall energy consumption occurs by governing climate settings and throttle to increase vehicle efficiency. In peak operating mode, the Prius c can achieve 53 mpg in the city. Toyota indicates that, in optimal conditions, EV Mode enables the Prius c to be driven exclusively on electric power for just under one mile while staying under 25 miles per hour.
Find a Toyota Prius c for sale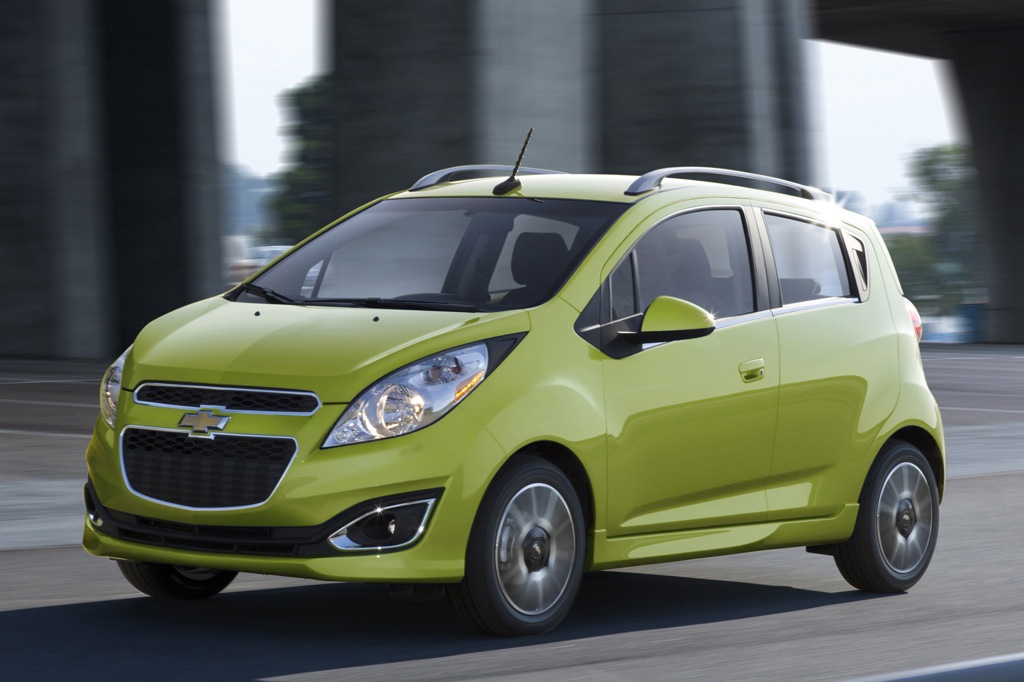 Chevrolet Spark
As the smallest entry on this list, the Spark operates at a high level. Dimensionally behind the other vehicles at a stubby 144 inches in length and 62.9 inches in width, the Spark makes use of every available inch that it has. Base Spark models start at a very budget-friendly $12,300. Seating tops out at four, and maximum cargo volume is 31.2 cu ft. Interior design is modern and very colorful, but that low purchase price means you'll have to live with an abundance of hard (but durable) plastic interior materials. The motorcycle-inspired instrument panel is fresh, and the infotainment system is complete, along with a theft-resistant design. Propulsion takes the form of an 84-hp 1.2-liter Ecotec 4-cylinder engine backed by an optional CVT, providing EPA ratings of 30 mpg city/39 mpg hwy. The Spark is very easy to park in tight places with its precise steering and 32.5-foot turning circle. Ride and handling are average for this front-wheel-drive car, and the engine feels slightly underpowered when driving on the freeway. Additionally, the Spark offers a higher-cost EV model but only in the states of California and Oregon.