Looks can be deceiving, especially when it comes to the size of vehicles. Often, shoppers don't consider buying smaller offerings because they assume there won't be enough room for passengers or cargo, but the notion that a compact or subcompact car will feel cramped on the inside due to a lack of space is not always correct. Thanks to smart and creative packaging, you can enjoy the benefits of owning a small car — like affordability and fuel efficiency — without sacrificing on roominess. These five small vehicles are proof that the old adage "bigger is better" isn't always true.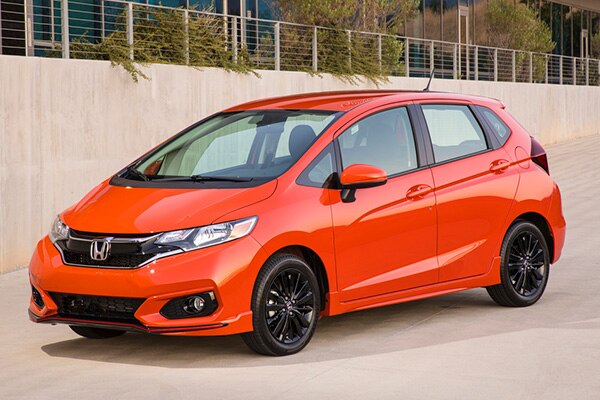 2019 Honda Fit
The Honda Fit has been regarded as one of the most well-built and reliable small cars since its arrival in the early 2000s. This little hatchback is surprisingly roomy and comfortable with lots of cargo space, maxing out at a very remarkable 52.7 cu ft. The front seat folds forward, and the rear "Magic Seat" enables various seating configurations. Thanks to this unique feature, even oddly shaped items can find a place for storage. It's hard to believe that a compact car can be this versatile and spacious inside.
Equipped with an efficient 1.5-liter 4-cylinder engine outputting 130 horsepower, the Fit enjoys a certain spirit on the road. It's easy to maneuver in tight spots due to its minuscule footprint, and it touts impressive fuel economy of up to 36 miles per gallon combined. Safety and technology features are abundant here too. The 2019 Honda Fit has a starting price of $16,190. Find a Honda Fit for sale
2020 Kia Soul
Among small vehicles, this iconic urban passenger vehicle is the epitome of fun, funky and functional. Its stylish and boxy design makes it one of the most recognizable cars on the road. Inside, you'll find a modern and refined space that caters to the youthful set with flourishes such as colorful pulsating speakers. And when it comes to cargo and storage capacity, the Kia Soul's cubic shape makes it roomier than many larger crossovers and SUVs. Cargo capacity ranges from 24 cu ft. to an astounding 62 cu ft. with the second row folded down.
Motivation comes from a pair of capable engines: a new 2.0-liter inline-four engine producing 147 hp or a robust 1.6-liter turbocharged 4-cylinder engine outputting a hearty 201 hp. Fuel economy tops out at 27 mpg city/33 mpg hwy. Available in six trim levels, the 2020 Kia Soul starts at $17,490. Find a Kia Soul for sale
2020 Subaru Impreza
Available in two body styles, sedan and 5-door hatch, the sporty, rugged and well-conceived Impreza delivers a comfortable and spacious cabin that can be described as premium-level. Even when it's full of passengers, the Impreza offers 32.5 cu ft. of cargo space. With the rear seats down, the 5-door hatch delivers a cavernous 55.3 cu ft. of cargo room for all your gear. And for added convenience, there's an available hands-free Power Rear Gate for when your hands are full.
Under the hood, the Impreza is motivated by either a 182-hp 2.5-liter 4-cylinder engine or a 260-hp 2.4-liter turbo. Fuel economy for the 2.5-liter is estimated at 26 mpg city/33 mpg hwy. A compliant ride and spirited driving experience remain the hallmarks of this model. Safety and stability are underpinned by Subaru's revered AWD system, which optimizes traction in bad weather conditions. The new Subaru Impreza has a base MSRP of $18,595. Find a Subaru Impreza for sale
2019 Volkswagen Golf
If good, old-fashioned German engineering is your thing, the little Volkswagen Golf is for you. Despite its concise size, the Golf enjoys plenty of interior space. With the rear seat up, there's a respectable 17.4 cu ft. of cargo room, which nearly triples in size when the second row is folded down. That's more than ample room for golf clubs, camping gear, luggage and even the kitchen sink. Equal parts practical and premium, the Golf offers lots of versatility with an upscale cabin and a long list of standard and available features. The interior materials are high-quality, and the seats are comfortable and well-padded.
The Golf is powered by a turbocharged 1.4-liter 4-cylinder that mates to either a standard 5-speed manual gearbox or a 6-speed automatic. The engine puts out 147 hp, which results in plenty of pep. Quick-footed and agile, the Golf has a tiny turning radius, which makes it easy to navigate narrow city streets. And fuel economy is a fairly thrifty 29 mpg city/37 mpg hwy. The 2019 Volkswagen Golf has a starting price of $21,845. Find a Volkswagen Golf for sale
2020 Volvo XC40
Volvo's smallest SUV offering may be equal parts luxurious and safe, but don't forget that it's spacious too. When it's full of passengers, there's still 20.7 cu ft. behind the second row, and when you have just two people up front, you can fold down the rear seat and and go shopping for small furniture — you'll have 47.2 cu ft. of cargo area to work with. Add the available panoramic moonroof and a 13-speaker premium audio system and you'll enjoy spending time in this cabin. And Volvo's commitment to safety will give you plenty of peace of mind from points A to B.
The XC40 offers two powertrains, both pairing a turbocharged 2.0-liter 4-cylinder engine with an 8-speed automatic transmission. Horsepower ranges from 187 to 247. If you're looking for an extra shot of driving fun, consider splurging for the upgraded sport-tuned chassis. Fuel economy tops out at 23 mpg city/33 mpg hwy. The 2020 Volvo XC40 has a starting price of $33,700. Find a Volvo XC40 for sale