The Consumer Electronics Show in Las Vegas is traditionally known for being a showcase for, well, consumer electronics. Over the years, it's gradually turned into a car show as well, with automakers using it as a way to showcase new automotive technologies. At this year's show, we've seen some interesting concepts and production models from both established and startup car companies that have us looking forward to the future.
Here are six of the best cars of CES 2020.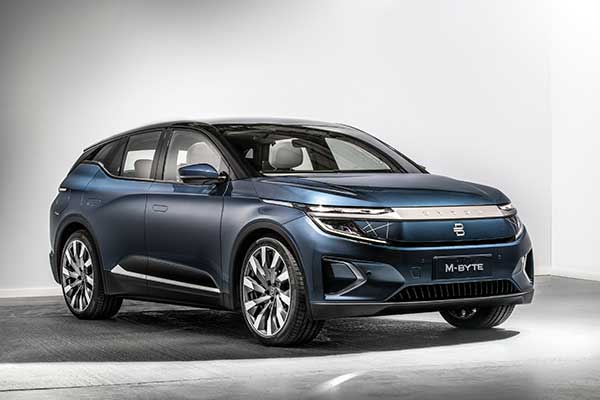 Byton M-Byte
You may have never heard of Byton, but this Chinese automaker has an interesting new car that could make Byton a much bigger name. It's the M-Byte electric SUV, and it's no concept. This crossover is production-ready and it promises to be one of the smartest pieces of tech on the road. It has a massive 48-in LCD screen stretching across the dash, and the production model might even have multiple infotainment screens in the back, making road trip boredom impossible. Byton has an agreement with ViacomCBS to source content for back seat passengers to enjoy. Pricing is expected to start in the mid-$40K range and go up to the $70K range. Deliveries in the U.S. are expected in 2021.
Fisker Ocean
We haven't seen a production vehicle from the Fisker brand since the Karma went on hiatus and came back from a new brand in the form of the Karma Revero. Now, Fisker is coming out with an electric SUV called the Ocean at a price point that may surprise you. The 2012 Fisker Karma has a six-digit price tag, but the Fisker Ocean will start at $37,499 before available tax credits, or you'll be able to lease one for as little as $379/month. You can order one right now from the Fisker website or mobile app with a $250 reservation fee. The electric range is expected to be between 250 and 300 miles, and deliveries are expected to begin in 2022.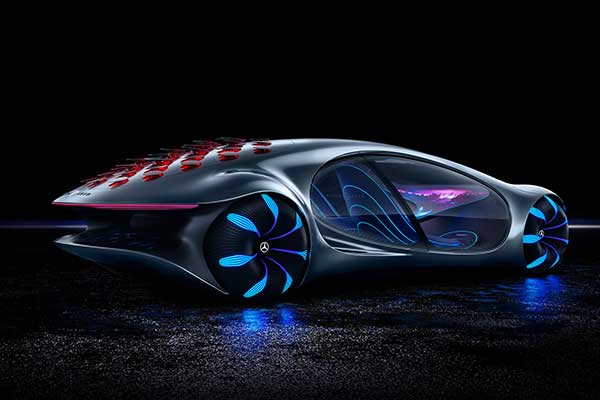 Mercedes-Benz AVTR
Here's something we weren't expecting to see: a Mercedes-Benz concept car inspired by the 2009 film Avatar. As a collaboration with filmmaker James Cameron, the Mercedes-Benz AVTR borrows its name and design cues from the aforementioned movie. AVTR is an acronym for "advance vision transportation." Cameron described the car as feeling "alive" and "organic" in a presentation. It's a futuristic electric vehicle that can drive sideways, as well as forward and backward, and it has 33 scales on it referred to as "bionic flaps," which supposedly communicate with the driver. It also has a glowing "control unit" to the driver's right, in lieu of a steering wheel. This one is pretty far out, even for a concept car.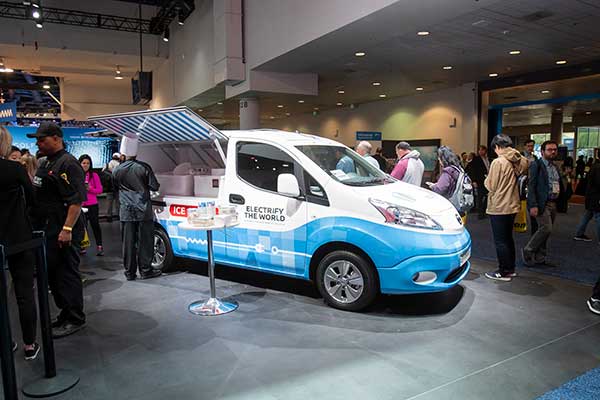 Nissan Electric Ice Cream Van
Here's one we don't expect to see on dealer lots, but it's pretty fun. Nissan brought an electric ice cream van to this year's show in the form of a modified NV200. It was developed in collaboration with Mackie's of Scotland, an ice cream producer that powers its dairy farm with renewable energy. This prototype uses the Nissan Energy ROAM portable power pack to power its refrigeration equipment. The ROAM is made from recovered EV batteries from early electric Nissan cars, giving them new life rather than letting them sit in a landfill.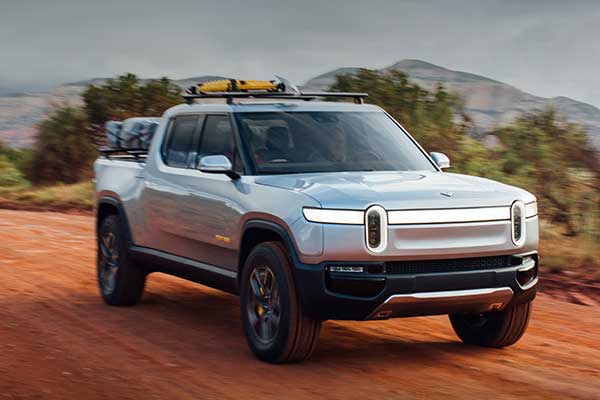 Rivian R1T
We've seen the Rivian R1T before, but it arrives at CES with a new twist. Rivian has teamed up with Amazon to integrate the Alexa voice assistant into the R1T electric pickup truck to not only do what we've seen Alexa do in other cars where it's built into the infotainment system, but it also allows you to control some of the systems of the car with your voice. For example, you'll be able to tell Alexa to adjust the climate control, open the windows, etc. The R1T with Alexa integration is expected to launch in late 2020.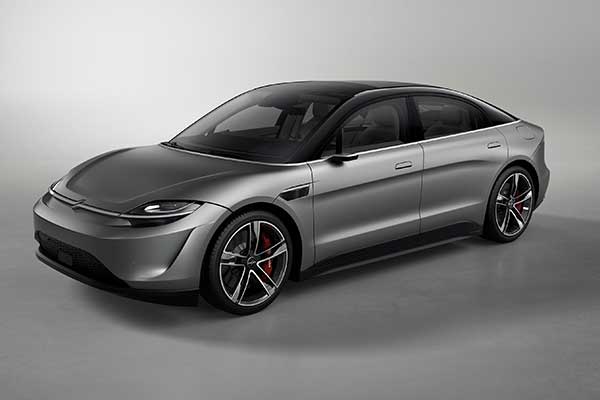 Sony Vision-S
In what might be the biggest surprise of the automotive world so far this year, Sony (yes, as in the electronics company) has brought its first-ever concept car to CES 2020. It's called the Sony Vision-S, and it's a sleek sedan that's as high-tech as you'd expect to be from a company known for making TVs and video games. There's a big, beautiful screen spanning the whole width of the dashboard and screens behind both of the front headrests for backseat entertainment. Sony has made it clear that this is a prototype with no confirmation of a production model, but you never know. Maybe Vision-S will one day become another household name from Sony, like PlayStation and Walkman before it.