If you're interested in a new SUV with some high-end features, you don't necessarily have to buy an expensive new model from an upscale luxury brand such as Lexus, Acura, Mercedes-Benz or BMW. For proof, check out these six compact SUVs, which offer a wide range of luxury features and high-tech gadgets without the luxury-car price premium.
Buick Encore Premium
Think of the Buick Encore as a premium SUV from a premium brand with a very mainstream price tag. That's especially true if you go with the aptly named Encore Premium, which boasts an amazing array of equipment, including forward-collision warning, lane-departure warning, automatic wipers, a Bose sound system, leather upholstery and a heated steering wheel. Think a Buick SUV with those features will cost too much for your budget? Think again: The Encore Premium starts at just $31,700 with shipping, and it includes a fuel-saving 1.4-liter turbocharged 4-cylinder engine, which boasts up to 25 miles per gallon in the city and 33 mpg on the highway.
Ford Escape Titanium
The Ford Escape changed a lot with its 2013 redesign, and one of the biggest updates was an upscale luxury-oriented model dubbed the Titanium. No, it doesn't have a luxury brand's badge on the front, but it does include an 8-inch touchscreen, leather upholstery, heated front seats, a remote starter, a power lift gate with hands-free operation, dual power front seats with driver memory and a 10-speaker Sony sound system. You can even add xenon headlights, an automated parallel-parking system and a panoramic sunroof if you want. The best part? Even with all those features, an Escape Titanium still starts at a budget-friendly $30,500 with shipping.
Honda CR-V Touring
The Honda CR-V Touring offers so many high-end features that it may make you wonder why you should even bother considering an Acura. Admittedly, the CR-V Touring has a high starting price — around $33,000 — but it includes a lot of bang for your buck, offering features including a power lift gate, adaptive cruise control, forward-collision warning with automatic braking, a navigation system, leather upholstery and dual-zone automatic climate control as standard equipment. And if the CR-V Touring is a little over your budget, you might make up the difference at the pump: The crossover's standard 2.4-liter 4-cylinder engine returns an impressive 27 mpg city/34 mpg hwy with front-wheel drive or 26 mpg city/33 mpg hwy if you opt for all-wheel drive.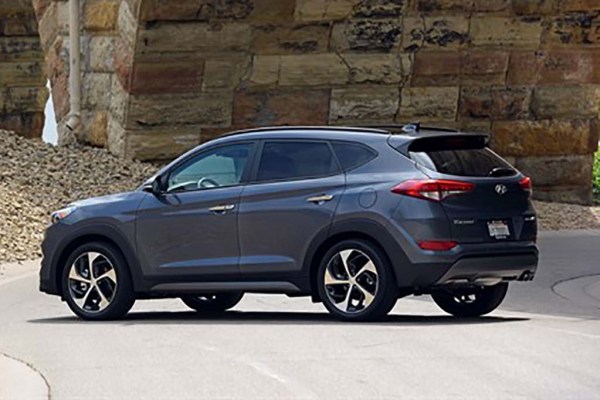 Hyundai Tucson Limited
The Hyundai Tucson is a compact crossover that offers a wide range of trim levels, from a budget-priced base model right up to a highly luxurious Limited version. It's the Tucson Limited that we're recommending, as it offers a long list of features such as an 8-in touchscreen infotainment system with standard navigation, LED headlights, leather upholstery, dual power front seats, dual-zone automatic climate control, a blind spot monitoring system and rear cross-traffic alert. And you can get all those features without spending a fortune: A new Tucson Limited starts at just $30,800 with shipping.
Find a Hyundai Tucson for sale
Jeep Cherokee Limited
Although we never thought we'd associate Jeep with cutting-edge technology, the Cherokee Limited proves us wrong. Starting at around $29,900 with shipping, the Cherokee Limited touts a wide array of modern features, including a remote starter, automatic climate control, leather upholstery, heated front seats and a heated steering wheel. It also offers an impressive list of options that includes an automated parking system, forward-collision warning with automatic braking, a navigation system and ventilated front seats. Option it to the gills, and a Cherokee can be among the most luxurious compact SUVs on the market — and the most capable if you ever plan on making your way to some trails or rough roads.
Mazda CX-5 Grand Touring
Although entry-level versions of the Mazda CX-5 are all about affordability and fuel economy, the high-end Grand Touring trim instead touts a wide array of luxurious options and features. Specifically, the CX-5 Grand Touring comes standard with automatic headlights and wipers, leather upholstery with heated front seats, a push-button starter, a blind spot monitoring system and, if you opt for the Technology package, automatic forward-collision braking, adaptive xenon headlights and a navigation system. Pricing is reasonable too, as a CX-5 Grand Touring starts at around $29,200 with shipping or $30,600 if you add the Technology package.