A used hybrid SUV can be a great way to get a good deal on an efficient utility vehicle. Hybrid crossovers and SUVs are excellent for combining versatility with good fuel economy. SUVs normally come with a slight fuel economy penalty compared to sedans and hatchbacks, but a hybrid drivetrain can seriously mitigate that penalty and even make an SUV more efficient than the average car.
Here are six great used hybrid SUVs you can find on Autotrader for less than $25,000 for 2019.
2016-2018 Toyota RAV4 Hybrid
The Toyota RAV4 is a popular compact crossover for good reason. It's affordable, practical, safe and reliable. If you trow in a hybrid powertrain, the RAV4 becomes even more appealing, getting up to 34 miles per gallon in the city and 31 mpg on the highway. The RAV4 Hybrid also has standard all-wheel drive, which makes it great for snowy climates.
The RAV4 Hybrid was already pretty affordable when it was new, and it has become an even better value after going through a couple years of depreciation. With a budget of $25,000, we recommend the Limited trim, which includes leatherette seating that's heated in the front, smartphone integration, navigation and tech for driver assistance, including blind-spot monitoring and adaptive cruise control. Find a Toyota RAV4 Hybrid for sale
2017-2019 Nissan Rogue Hybrid
One of the top competitors of the RAV4 Hybrid is the Nissan Rogue Hybrid, which is a fairly new contender in the hybrid SUV game. The hybrid version of Nissan's popular compact crossover is slightly more efficient than its Toyota rival, returning up to 33 mpg city/35 mpg hwy. The Nissan Rogue Hybrid also has a roomy, well-trimmed cabin, smooth ride quality and impressive safety scores. AWD doesn't come standard in the Rogue Hybrid like it does in the RAV4 Hybrid, but it is available. Find a Nissan Rogue Hybrid for sale
2010-2015 Lexus RX 450h
If you're looking for something a little more luxurious, one of the best values in used hybrid SUVs today is the Lexus RX 450h. Introduced for 2010 and updated for 2013, this Lexus hybrid delivers a smooth, serene ride in a well-appointed interior and returns up to 32 mpg city/28 mpg hwy in the process. Being a midsize 2-row crossover, it's quite spacious on the inside for both passengers and cargo, which makes it a true utility vehicle. As you might expect from Lexus, this RX Hybrid also gets excellent safety and reliability scores. Find a Lexus RX Hybrid for sale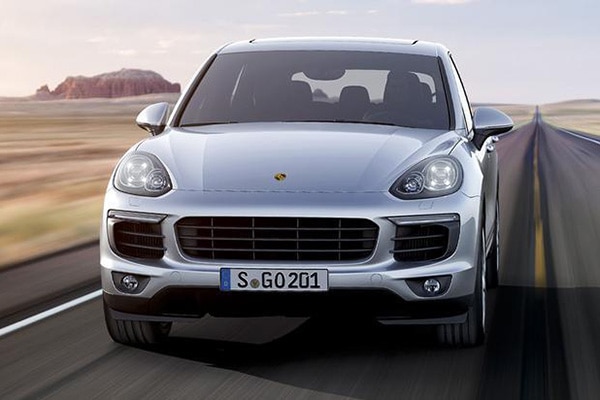 2011-2018 Porsche Cayenne Hybrid
Okay, this one might be a bit of a rarity at this price point, but right now there are a handful of used Porsche Cayenne Hybrid models on Autotrader that can be yours for less than $25,000. If there isn't one near you right now, this is definitely a hybrid SUV to keep an eye out for on the used market. The Cayenne Hybrid aims to deliver both performance and fuel economy with its hybridized, supercharged V6 engine, which produces a total of 380 horsepower, achieves a 0-60 mph time of 5.6 seconds and returns 20 mpg city/24 mpg hwy. AWD is standard, and, as you probably expect from Porsche, the interior is luxurious and the handling is excellent. Find a Porsche Cayenne Hybrid for sale
2017-2019 Kia Niro
The subcompact Kia Niro is the smallest SUV on our list, and it's also the most efficient, returning up to 52 mpg city/49 mpg hwy. Those numbers are almost good enough to rival the mighty Toyota Prius. Yes, the Niro is small, but you might be surprised to learn how much interior space it has for both passengers and cargo. Since the Niro is pretty affordable when it's new, you can get a pretty nice one used, like the Touring trim, which includes a sunroof, leather seats — which are heated and ventilated in front — a heated steering wheel, wireless charging, a bunch of tech for driver assistance, an 8-in UVO infotainment system with navigation and much more. Find a Kia Niro Hybrid for sale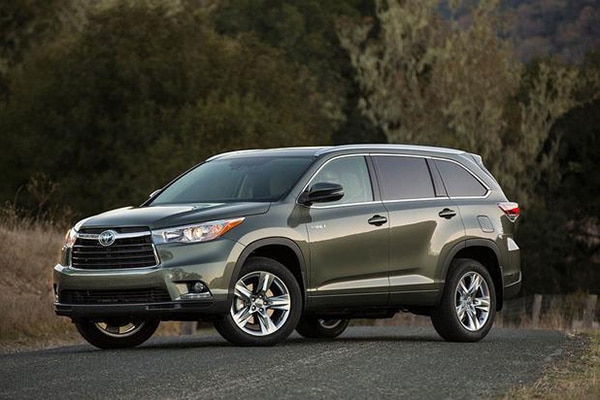 2014-2019 Toyota Highlander Hybrid
This is another hybrid SUV that isn't super common at this price point on the used market yet, but it's starting to creep under the $25,000 mark. The Toyota Highlander Hybrid is an excellent family SUV with three rows of seats and a level of practicality that's similar to that of a minivan. Part of this practicality is in its hybrid V6 powertrain, which returns 27 mpg city/28 mpg hwy and makes 280 hp — enough grunt to tow up to 3,500 pounds. Like the RAV4 Hybrid, AWD is standard for this Highlander Hybrid. A few other things we like about this SUV are its well-appointed interior, good infotainment system and lively acceleration. Find a Toyota Highlander Hybrid for sale