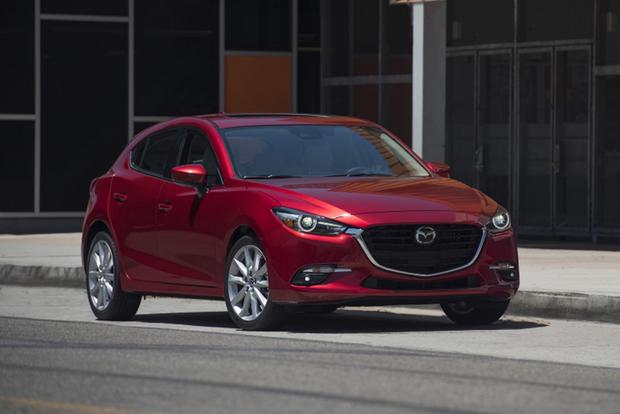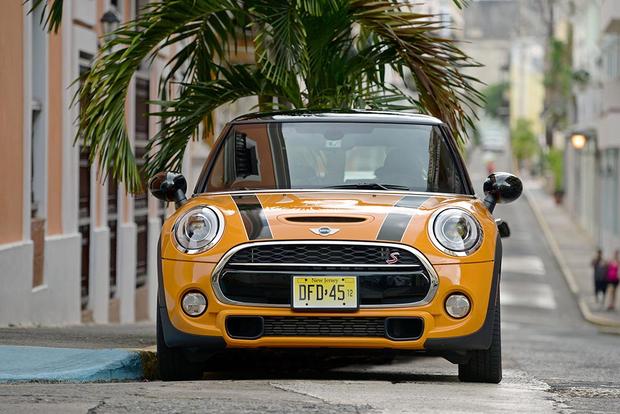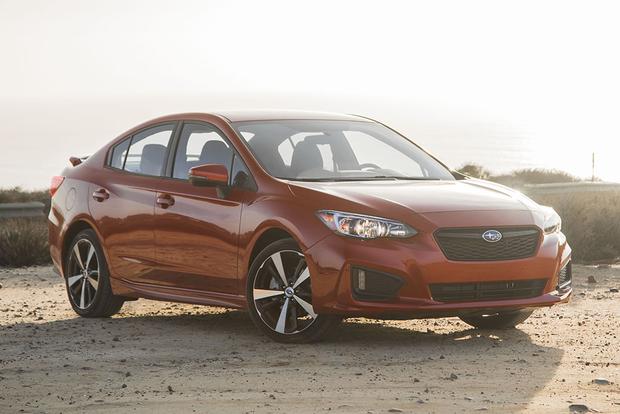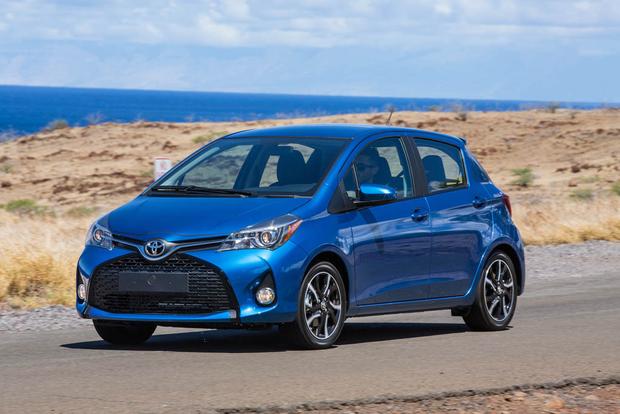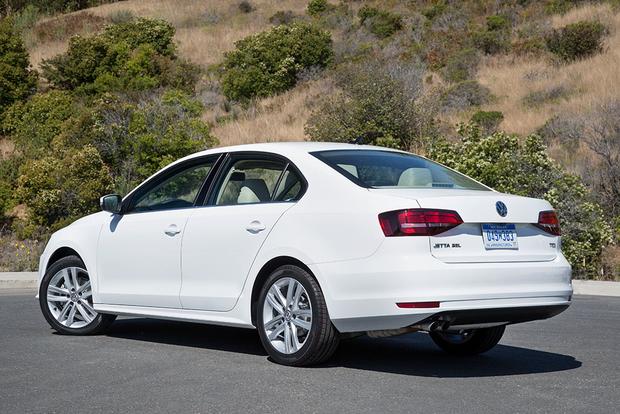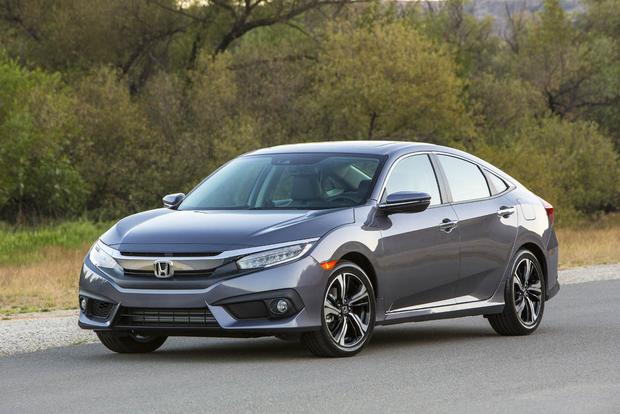 Large cars and SUVs are generally regarded as safer options over smaller vehicles mainly due to the laws of physics. "Bigger is better" is how the saying goes. But that's not always true. We'd take a small newer car over a large older car any day if safety is a top priority. And thankfully, since safety is important to families on all kinds of budgets, many compact or subcompact cars have incorporated systems and technologies that help level the playing field when it comes to occupant protection in a car crash as well as accident avoidance. However, it's important to note that these features may not always be standard. Some require an upgrade or selecting an additional option package to get the best safety tech. We've compiled 6 of our favorite small cars with big safety features, and we've listed the base prices as a reference.
2017 Honda Civic
The Honda Civic now boasts turbocharged power and an edgier exterior design than ever. Its modern and athletic look is met with a refined cabin that's both stylish and feature-rich. And when it comes to passenger space, there may be no compact car that offers this much headroom and legroom. It almost feels like a midsize sedan interior in terms of both size and quality. Confidence is inspired with safety features like brake assist, traction control, lane-departure warning and blind spot monitoring, along with excellent forward and rearward visibility. The 2017 Honda Civic starts at $18,740.
2017 Mazda3
This sporty runabout is fun and youthful inside and out, making it a popular choice among young drivers. Its impressive handling prowess and very responsive steering make curvy roads and canyon switchbacks all the more fun. And the cabin enjoys a roomy layout with good-quality materials and ample cargo space for gear of all kinds. Features like electronic stability control, rollover protection and lane-departure warning make the Mazda3 safer on long road trips and during weekend adventuring. The 2017 Mazda3 starts at $17,845.
2017 Mini Cooper
The 4-5 passenger Mini Cooper is a fun-to-drive little car with sharp handling skills, spirited turbocharged engines and a stylish interior with upscale touches and high-quality materials. Aside from its well-engineered chassis, standout safety features include rollover protection (especially important for the convertible version), blind spot monitoring and lane-departure warning. The 2017 Mini Cooper has a base MSRP of $20,950.
2017 Subaru Impreza
The fully redesigned 2017 Subaru Impreza delivers a more comfortable and spacious cabin as well as a more compliant ride than ever before. The cabin is well-crafted, and the standard equipment list has grown considerably over the previous iteration. As before, safety and stability are underpinned by Subaru's revered all-wheel-drive system, which maximizes traction in bad road and weather conditions. In addition, the Impreza offers lane-departure warning, blind spot monitoring, electronic stability control, forward-collision warning, forward-collision mitigation and adaptive cruise control. The 2017 Subaru Impreza has a base MSRP of $18,395.
Find a Subaru Impreza for sale
2017 Toyota Yaris
The Toyota Yaris is the little car with the strange-sounding name, but this compact hatchback is clearly one of the heavy-hitters in the segment. Offered in three trim levels, the Yaris has a well-contented interior, excellent fit and finish and an impressive array of safety features. In addition to front and rear energy-absorbing crumple zones and a head-impact protection structure, the Yaris comes equipped with Toyota Safety Sense, intended to avoid an accident or mitigate the effects of a crash. Toyota Safety Sense includes a Pre-Collision System (PCS), Lane-Departure Alert (LDA) and Automatic High Beams (AHB). The 2017 Toyota Yaris starts at $15,250.
2017 Volkswagen Jetta
The 2017 Volkswagen Jetta has something for everyone, offering a roomy cabin and wide range of engine choices. Depending on the model you choose, the Jetta can be a fuel-sipping commuter, a practical family car or a sporty sedan for weekend fun. On the safety side, the Jetta boasts a number of systems and features that help keep occupants safe, including rollover protection, blind spot monitoring and lane-departure warning. All of these come together to help reduce the chances for an accident to happen. The 2017 Volkswagen Jetta has a starting price of $17,895.