Top Cars
7 Great SUVs Designed for Towing Heavy Loads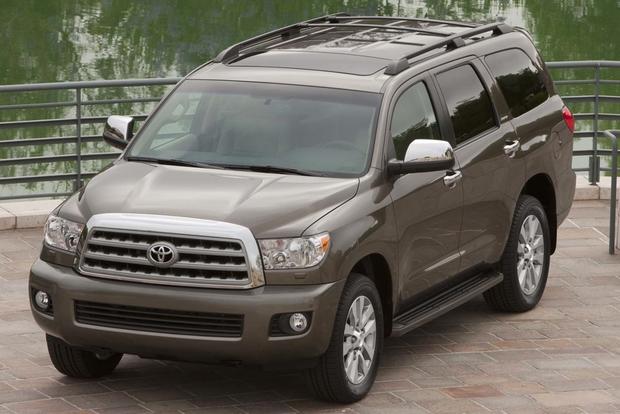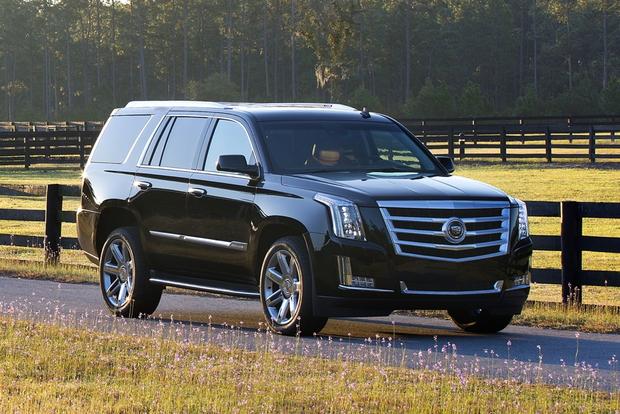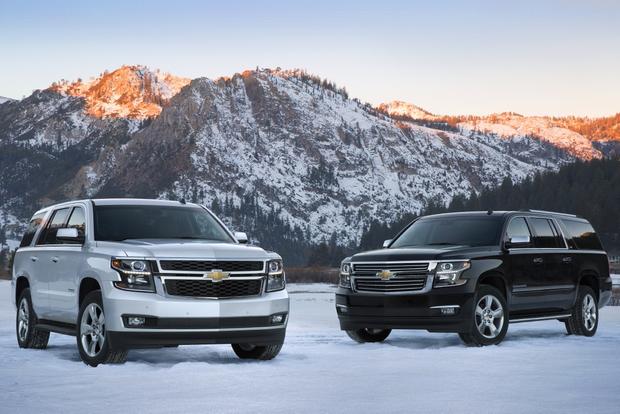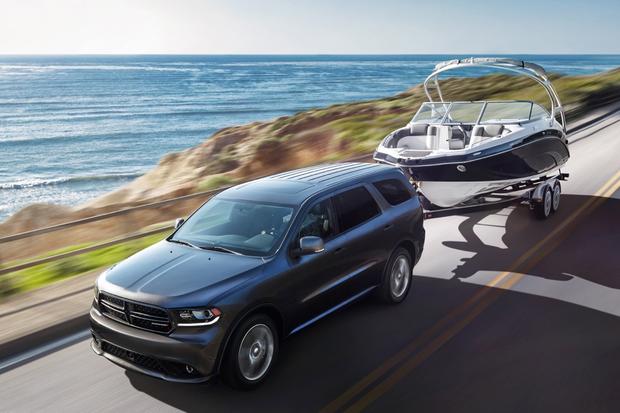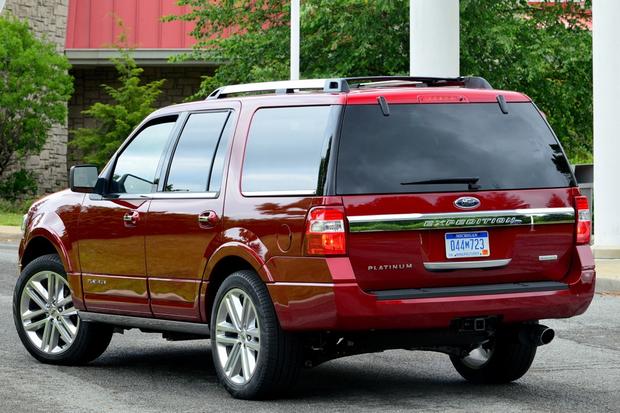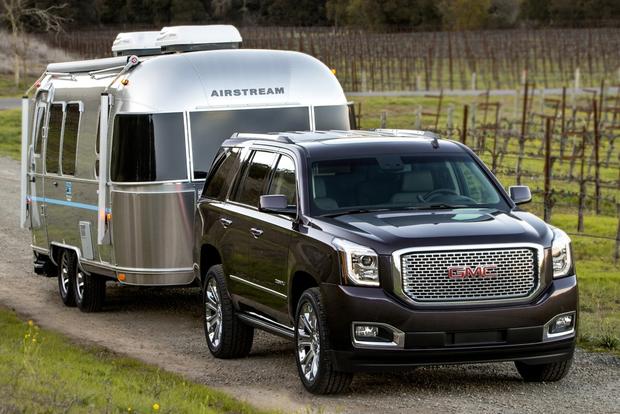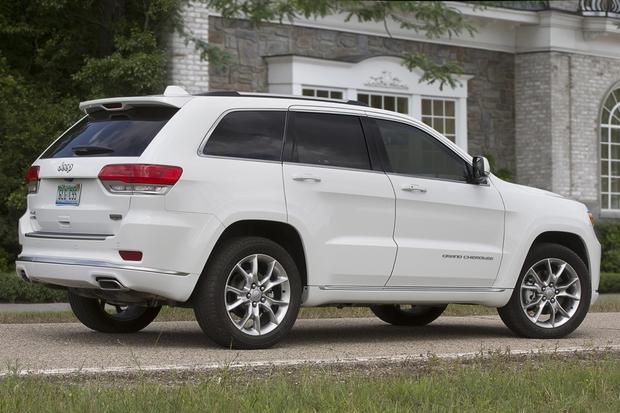 If you're interested in a new family vehicle that can also tow heavy loads, you've probably noticed that the number of tow-friendly SUVs is dwindling. Before you run out and buy a pickup, check out our latest list of today's best sport-utility vehicles that offer room for the whole family and enough towing capacity to pull a good-sized trailer.
Cadillac Escalade
Although you might not think of the luxurious Cadillac Escalade as a tow vehicle, it's certainly capable of exactly that. Rated to pull an impressive 8,300 pounds in its top configuration, the Escalade offers a brawny 420-horsepower V8. It also features a strong chassis and available rear- or all-wheel drive -- not to mention a truly opulent list of equipment that includes trizone automatic climate control, a remote starter, a power lift gate, a Bose surround sound system, heated and ventilated front seats and heated rear seats. The only drawback is that at $72,500 with shipping, the Escalade is an expensive way to get on the road with your family and a trailer.
Find a Cadillac Escalade for sale
Chevrolet Tahoe/Suburban
Like their more luxurious Cadillac Escalade cousin, the Chevrolet Tahoe and Suburban are capable of serious towing. So much so, in fact, that Chevrolet rates the vehicles' towing capacity at 8,500 pounds when properly equipped. They're not just good tow vehicles -- the Tahoe and Suburban also offer huge interiors with plenty of passenger room and a surprisingly large cargo area. No, they don't come standard with the same level of equipment as the Escalade does, but with a starting price of around $45,500 with shipping, they're also far more affordable.
Find a Chevrolet Tahoe/Suburban for sale
Dodge Durango
Although the Dodge Durango finds itself on the smaller end of the vehicles on our list, it's still easily capable of towing some heavy objects. Even with the standard 3.6-liter V6, the Durango can pull 6,200 pounds, but we're most impressed with the SUV's 7,400-lb towing capacity in V8 guise. We also like the Durango's reasonable pricing (it starts at just $31,300 with shipping, or just under $40,000 with the V8) and its long list of available luxury and safety goodies -- a list that includes adaptive cruise control, rear cross-traffic alert and a blind spot monitoring system.
Ford Expedition
Although previous versions of the full-size Ford Expedition SUV have failed to impress us due to their outdated styling and cheap-feeling interiors, we're very excited about the updated 2015 model. The interior has been heavily revised for the latest model year and offers a look that's finally in line with the SUV's $44,400 base price tag. We also like the fact that the Expedition now comes standard with Ford's new EcoBoost turbocharged V6 engine -- a powerplant that puts out 370 hp and helps the Expedition tow a whopping 9,200 pounds. With its latest interior updates -- and its new engine -- the Expedition is competitive once again.
Find a Ford Expedition for sale
GMC Yukon
Like the Chevrolet Tahoe/Suburban and Cadillac Escalade listed above, the GMC Yukon is an excellent towing machine. Available in two wheelbases and rated to carry up to 8,500 pounds, the Yukon retains the Tahoe's impressive 5.3-liter V8, though shoppers can also upgrade to a 6.2-liter V8 in the Yukon Denali. No matter which Yukon you choose, it will have a large interior with room for a wide range of items and passengers. It will also have a long list of standard features such as trizone automatic climate control, 18-inch alloy wheels, Bluetooth, a backup camera, dual power front seats and a remote engine starter. As for pricing, the Yukon comes in three trims. There's a base model that starts around $48,000 with shipping, a long-wheelbase XL model that's closer to $51,000, and an upscale Denali trim that includes more high-end features and a $64,700 base price.
Jeep Grand Cherokee
Although the Jeep Grand Cherokee is the smallest vehicle on our list, it still offers some excellent towing and hauling capabilities. The standard V6 is highly potent, boasting a 6,200-lb towing capacity -- a figure that exceeds nearly all midsize SUV rivals. The Jeep also offers a 5.7-liter Hemi V8 and a fuel-sipping 3.0-liter EcoDiesel V6 -- both of which come with a muscular 7,400-lb towing capacity. While the Grand Cherokee certainly comes at a disadvantage by only offering seating for five passengers, we remain impressed with its capabilities -- especially given its starting price of under $31,000 with shipping.
Find a Jeep Grand Cherokee for sale
Toyota Sequoia
The Toyota Sequoia is a full-size, V8-powered SUV that's designed to rival the Chevrolet Tahoe and Ford Expedition. Although it comes close in price, with a base MSRP of around $45,000 with shipping, it can't quite get there in terms of towing capacity. Even with a 381-hp V8, it still pulls just 7,400 pounds. Still, that's a big number compared to many rivals. That figure, coupled with Toyota's legendary durability, is enough to earn the Sequoia a spot among our favorite SUVs for towing. It doesn't hurt that the Sequoia comes standard with a wide range of features including trizone automatic climate control, Toyota's Entune infotainment system and Bluetooth.