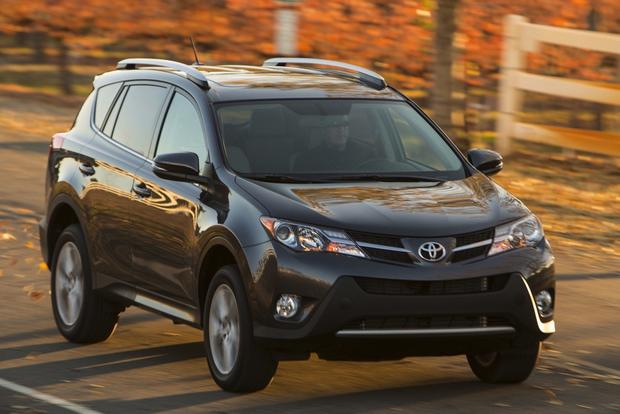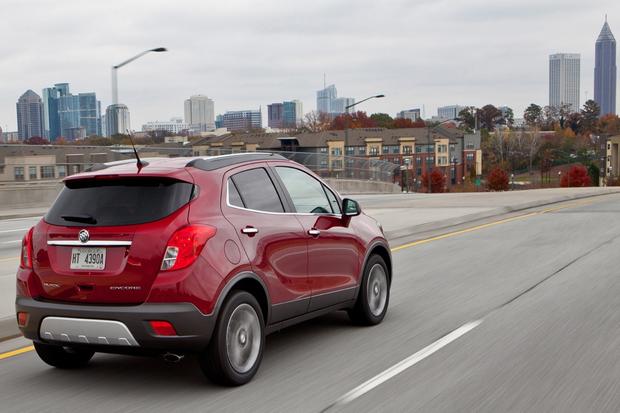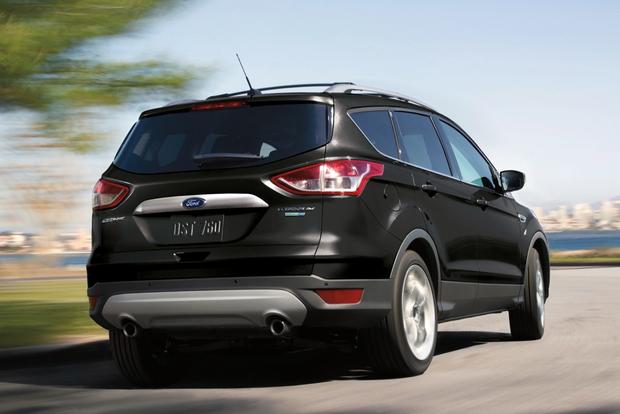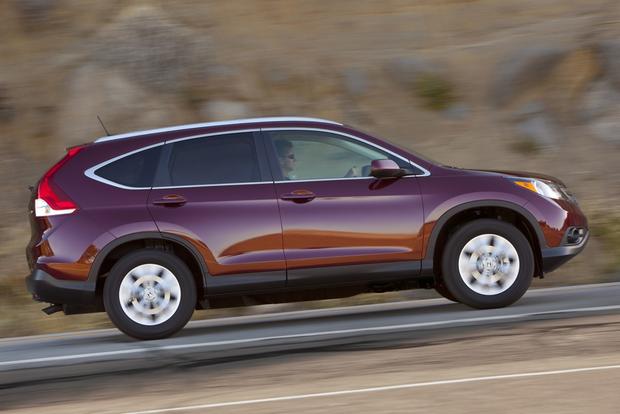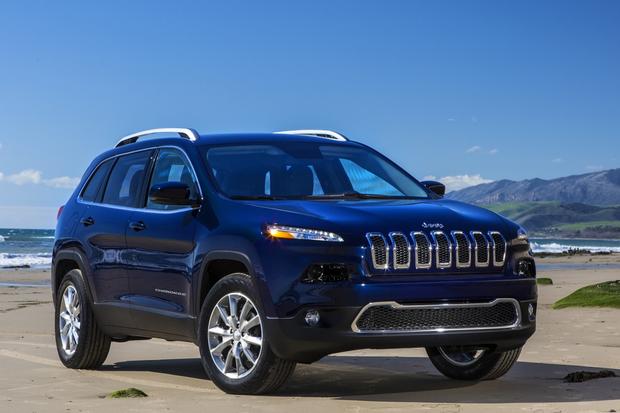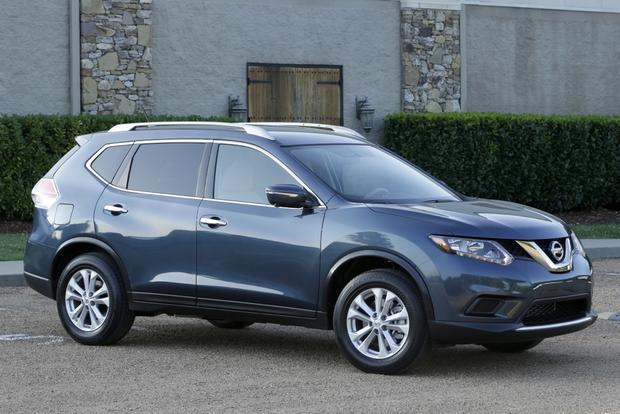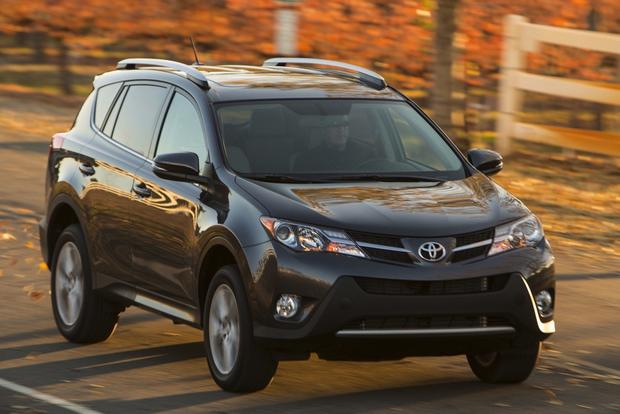 If you're looking for a new SUV that won't break the bank, our latest list is an excellent place to start your search. We've listed seven of our favorite new crossovers and SUVs under $30,000, and we've done our research to ensure that this lineup focuses on affordability, fuel efficiency, cargo space, passenger room and equipment above all else. Most importantly, our list includes a wide variety of makes and models, so you'll have no trouble finding what you want.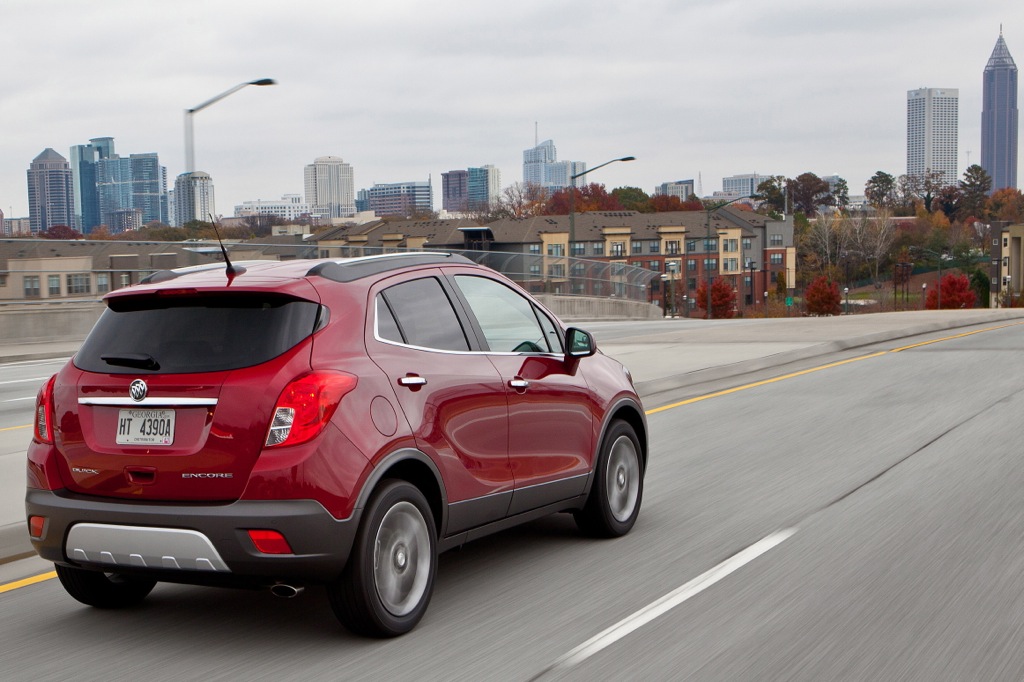 Buick Encore
Although the Buick brand probably isn't on the minds of many shoppers interested in a new compact crossover, we happen to think that the recently released Encore is one of the best SUVs under $30,000. Pricing is one reason, as the Encore starts at just $25,000 with shipping -- a good deal for a new model that features a standard backup camera, 18-inch alloy wheels and a 7-in touchscreen. We're also impressed with the Encore's gas mileage, and although its 138-horsepower 4-cylinder engine may be a bit light on power, it's good for 25 miles per gallon in the city and 33 mpg on the highway. The Encore's only caveat is that it's quite small, even for a small SUV, so you'll want to conduct a thorough test drive before signing the papers.
Ford Escape
On sale since the 2013 model year, the current Ford Escape is one of the most impressive offerings from Ford's latest round of excellent new products. Priced at $24,000 with shipping, the Escape features a muscular 4-cylinder engine, Bluetooth, a backup camera and Ford's SYNC voice command system -- not to mention gas mileage numbers as high as 23 mpg city/32 mpg hwy, depending on your engine choice. We're also excited by upscale Escape models, which are easily available for under $30,000 with a wide range of features such as automatic wipers, an automatic parallel-parking system and a hands-free tailgate.

Honda CR-V
The CR-V doesn't stand out in any one category. Rather, it excels in many, touting a simple, durable and reliable package for shoppers who have come to expect such an offering from Honda. Priced from around $24,000 with shipping, the CR-V comes standard with a 185-hp 4-cylinder engine that returns 23 mpg city/31 mpg hwy -- not bad for a small crossover. It also includes a long list of standard features such as a backup camera, keyless entry and Bluetooth and has optional extras that range from leather upholstery to a rear-seat DVD player. It's not the most exciting choice on the market, but the CR-V remains true to its dependable, easy-to-use Honda heritage.
Jeep Cherokee
The all-new Jeep Cherokee replaces the Liberty for the 2014 model year. There's new styling, a new interior, new engines -- and our favorite part -- a wide range of available technology. Not too many new models offer an available automated parking system, but the Cherokee does, and it works with both parallel and perpendicular parking spots. There's also an available panoramic sunroof, adaptive cruise control and a forward-crash alert system that can stop the car if it detects an impending collision. We also love the optional Uconnect infotainment system, which is among the best in the industry. Best of all, the Cherokee starts around $24,000 with shipping, meaning you can easily score some of these options and stay within a $30,000 budget.
Mazda CX-5
The Mazda CX-5 adds a little sportiness to the world of small crossovers. Handling is its strong suit, with few other SUVs measuring up when it comes to steering feel and driving pleasure. The CX-5 also offers a few other important benefits, including excellent gas mileage (it returns up to 26 mpg city/35 mpg hwy) and aggressive base pricing, which starts around $22,000. We also love the CX-5's long list of available features, which includes advanced items such as a Bose sound system, automatic frontal braking, adaptive headlights and keyless ignition with a push-button starter.
Nissan Rogue
The Nissan Rogue straddles the boundary between a compact crossover and a midsize crossover. While it's roughly the same size as most of its rivals, it offers something unique that other compact SUVs don't: a third-row seat. For some shoppers, that's enough to bring the Rogue to the top of their shopping lists. Others will instead appreciate its excellent pricing (which starts from $23,500 with shipping) and its fuel-efficient 2.5-liter 4-cylinder engine, which manages to return up to 25 mpg city/33 mpg hwy, thanks in part to the crossover's highly efficient continuously variable automatic transmission. The Rogue also touts a standard backup camera, Bluetooth, iPod and USB connectivity, and a 5-in touchscreen infotainment display.

Toyota RAV4
Redesigned for 2013, the Toyota RAV4 remains one of our favorite compact crossovers. One reason is its roomy interior, which manages to offer an impressive amount of space for both passengers and cargo. We also like the RAV4's value, which combines a fuel-efficient 4-cylinder engine (it gets 24 mpg city/31 mpg hwy) with legendary Toyota durability for $24,500 with shipping. Modern safety features such as automatic high-beam control, lane-departure warning and a blind spot monitoring system are the icing on the cake.