Welcome to my favorite "I found these weird cars for sale on Autotrader" list I've done so far. This is a list of seven luxury cars, currently for sale on Autotrader, in seven highly distinctive colors. And no, I haven't picked a yellow Ferrari, or an orange Lamborghini, or something else boring and obvious. These seven cars are in verrrrry different colors from their normal shades of subdued silvers and blacks and grays and dark blues. Check them out.
2013 Audi Q5 — Orange
This 2013 Audi Q5 is probably the most surprising model on this list, as it's neither a sports car nor some aging luxury SUV that's depreciated to the point where strange colors aren't that surprising. Instead, it's a 3-year-old luxury hybrid crossover with 36,000 miles, normal in every single way except, well, it's bright orange. Like the other cars on this list, this isn't a wrap: It's an Audi factory color called Papaya Orange, from the brand's exclusive color program — and you can get it at Greater Chicago Motors in Chicago for $32,995. See the 2013 Audi Q5 models for sale near you
2014 Bentley Continental GT — Yellow
Although it's not unusual to see yellow paint on a high-end exotic car, it's quite unusual to see it on a high-end luxury car like this Bentley Continental GT. It's offered by Bentley Gold Coast, in Chicago, which is one of the largest Bentley dealers in the country: Currently, they have nearly 50 Bentley models available, all in some subdued color like black, silver, white or gray. And then there's this thing. Bentley Gold Coast hasn't yet priced this car because it just entered their inventory — but given that it's only two years old and has traveled just 1,300 miles, I suspect it won't be cheap. See the 2014 Bentley Continental models for sale near you
2002 BMW 745Li — Red
Eventually, when a luxury car gets cheap enough and old enough, the customizers take over. That's certainly what's happened here, as there's no doubt this 2002 BMW 745Li wasn't this color when it left the factory. But here we are, 14 years later, and it's painted a bright shade of "Candy Apple Red," which shines to gold in the sun. Interestingly, the 22-inch aftermarket wheels are also red, though they're a slightly different shade. Offered by a private seller in the Los Angeles suburb of Whittier, California for $20,000, this 745Li also includes one other detail I love: a vanity license plate reading "SICK 745". Indeed. See the 2002 BMW 7 Series models for sale near you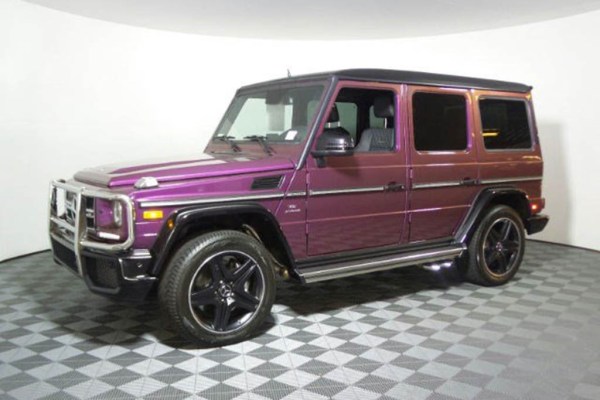 2016 Mercedes-Benz G63 AMG — Purple
Possibly the most perplexing vehicle on this list is this 2016 Mercedes-Benz G63 AMG, painted … purple. This isn't a mistake, nor is it a wrap. Seemingly finally conscious of who actually buys the G-Class, Mercedes-Benz has been offering them for 2016 in a wide range of totally bizarre bright colors like purple, red and yellow. Purple is certainly the strangest, as it's not every day you encounter a bright purple vehicle with a 563-horsepower V8 and a $161,000 price tag — but, well, here you go. It's offered by Mercedes-Benz of Buckhead in Atlanta for a hair under $161,000, actually. A bargain. See the 2016 Mercedes-Benz G-Class models for sale near you
2006 Mercedes-Benz SL65 AMG — Yellow
Mid-2000s Mercedes-Benz wasn't really known for rocking the boat when it came to car designs, styling or colors — except for this. Here's a 2006 SL65 AMG finished in a tremendously bright shade of yellow. It, too, is not a wrap — and according to the Autotrader ad, it came this way from the factory, with yellow stitching to match. The craziest part is that this isn't any old SL-Class but rather the 638-hp twin-turbocharged V12-powered SL65 AMG. The least crazy part is that it's located in Florida. If you're interested, it's offered by a private seller in Cape Coral for $51,999. See the 2006 Mercedes-Benz SL-Class models for sale near you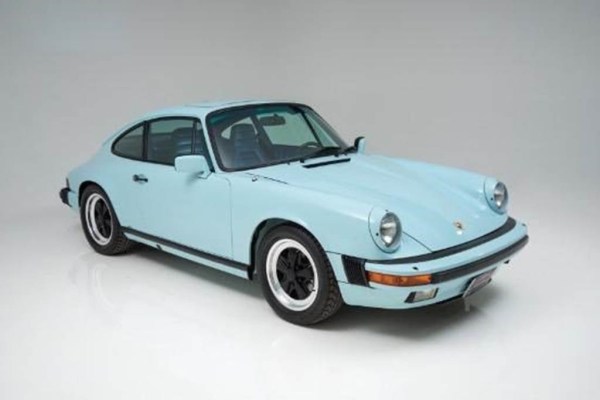 1984 Porsche 911 — Light Blue
Porsche is notorious for offering a "paint to sample" color scheme where buyers can choose whatever color they want — for a price. Thousands of paint-to-sample cars have emerged over the years in thousands of unusual colors, including, presumably, this one, which is 1984 911 Carrera finished in a rare color dubbed "Glacier Blue." Although the ad makes it sound like this is a factory color, I find it hard to believe … but then, it was the '80s. I wouldn't dare call this blue ugly, but it's certainly striking — and if you've got to have it, it's offered by Exotic Classics on Long Island for $74,900. See the 1984 Porsche 911 models for sale near you
2005 Range Rover — Blue
This 2005 Range Rover couldn't possibly have been painted this bright blue color from the factory — but it's bright blue now. Offered by Chris Robin Auto Group in Midland, Texas, this Range Rover has the odd distinction of wearing an ultra-eye-catching paint color but adding no additional adornments like aftermarket wheels or custom trim. It's just … blue. And it can be yours with 157,000 miles on the odometer for just $6,970. See the 2005 Land Rover Range Rover models for sale near you
Doug DeMuro is an automotive journalist who has written for many online and magazine publications. He once owned a Nissan Cube and a Ferrari 360 Modena. At the same time.
MORE FROM OVERSTEER:
The Laguna Seca Pipe Is a Hilarious Workaround for Noise Regulations
Autotrader Find: Pristine 2001 Pontiac Aztek
Here's Why the Lamborghini Huracan Is Worth $250,000