Top Cars
7 Safest New and Used Small Cars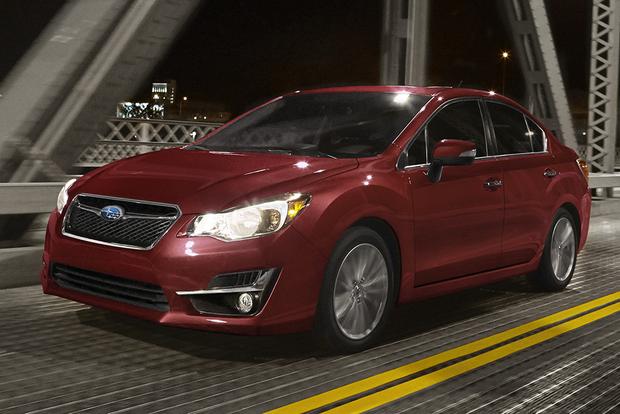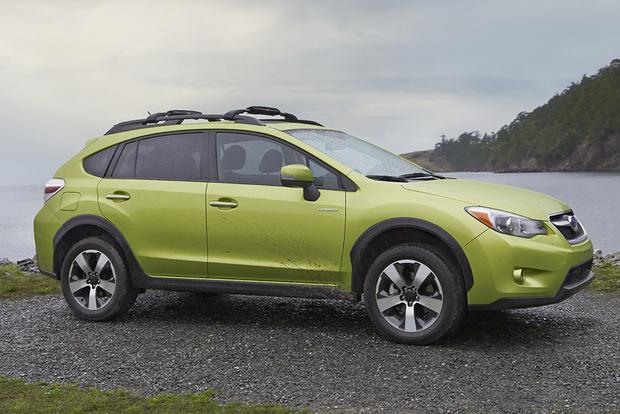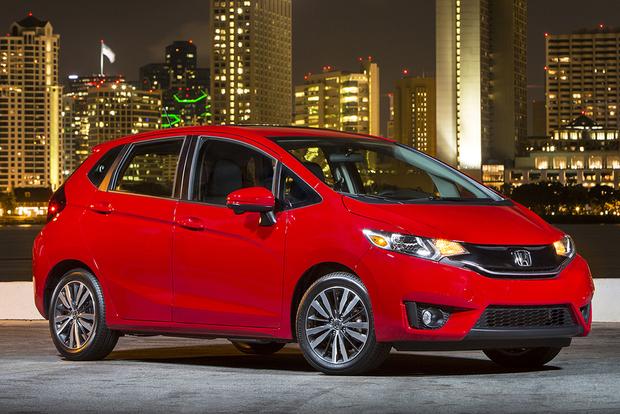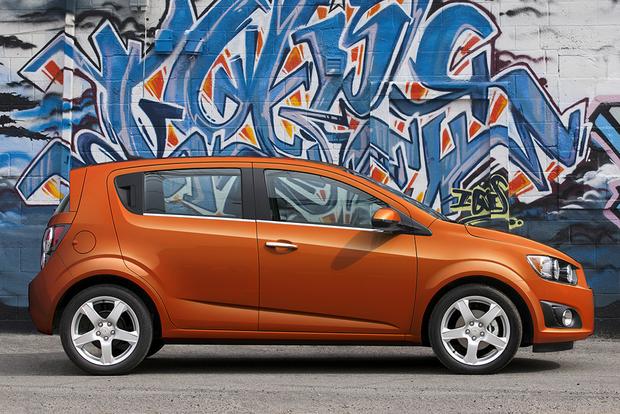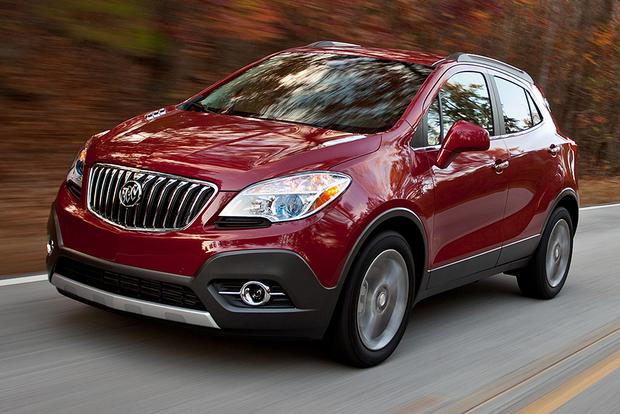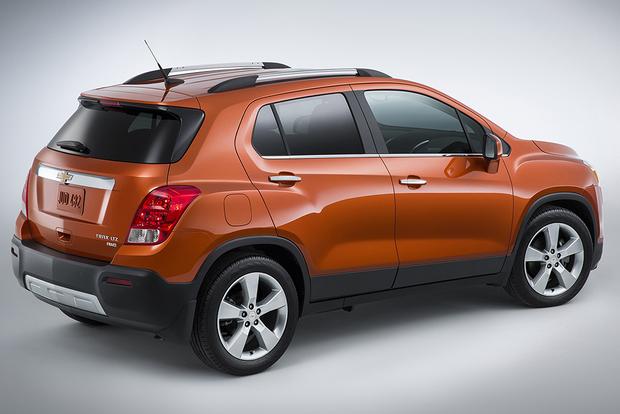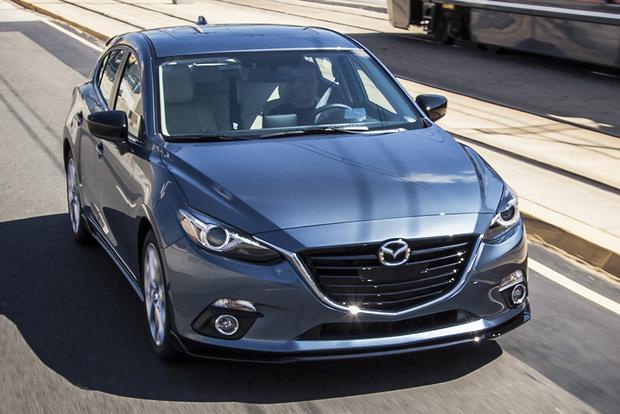 For some drivers, small cars have plenty to offer. Those who value high fuel economy will appreciate the thriftiness of smaller vehicles. City dwellers can appreciate easy maneuverability in tight spots and cramped parking lots. Commuters who often drive alone may not need huge rear seats and cargo space. Price is always a consideration, too, and smaller vehicles are often more affordable to buy or lease than their larger counterparts.
As with any new or used vehicle choice, safety is always an important consideration, too. Fortunately, several small vehicle models prove safe in crash tests, and automakers are always finding new ways to protect occupants in even the smallest, lightest vehicles. Impressive safety ratings for these compact vehicles means that drivers can enjoy the advantages of smaller dimensions without the fear of compromised safety.
These seven vehicles scored highly in both the federal government's crash-test ratings and testing by the Insurance Institute for Highway Safety (IIHS). Most are available as new and used models.
Mazda3
The compact Mazda3 is available in sedan and hatchback versions, both of which scored well in crash tests. The latest Mazda3, in fact, earned the highest Top Safety Pick+ designation from IIHS thanks to high scores in each crash-test category, including the tough small-overlap front crash test. Mazda also offers collision-prevention technology, which is a requirement for earning the top IIHS safety score.
In government testing by National Highway Traffic Safety Administration (NHTSA), the Mazda3 ranked highly, too, earning the top 5-star overall rating. Those high marks extend back only to the 2014 model, though, when the latest version of the Mazda3 arrived. Previous versions received a 4-star rating, although IIHS called the 2011 through 2013 Mazda3 a Top Safety Pick. If the Mazda3 fits your needs, go for the newer 2014 or 2015 model if you can afford the price premium for a newer vehicle.
Subaru Impreza
Like the Mazda above, the latest Subaru Impreza nailed IIHS testing, landing a Top Safety Pick+ designation with high marks across all crash-test categories and a top-rated collision-prevention system. Earlier models from 2012 to 2014 earned a Top Safety Pick, too. And since 2013, the Impreza has achieved a 5-star safety rating from NHTSA.
In addition to the typical array of safety features that help protect passengers if a crash occurs, the Impreza includes standard all-wheel drive, which may help prevent accidents in the first place. Drivers in areas with harsh winter climates may prefer the extra traction of all-wheel drive over front-wheel drive, the standard setup on most of the vehicles on this list.
Find a Subaru Impreza for sale
Subaru XV Crosstrek
Like its sister model, the Impreza, Subaru's XV Crosstrek also gets standard all-wheel drive and high marks for safety. The XV Crosstrek is really a variation on the Impreza, with sportier styling and higher ground clearance. It's an ideal small car for drivers looking for a safe and economical commute during the week and an adventure-ready ride on weekend excursions.
The XV Crosstrek arrived in 2013 and immediately earned a 5-star overall rating from NHTSA and a Top Safety Pick designation from IIHS. It earned a coveted Top Safety Pick+ for 2015, thanks to Subaru's highly praised frontal collision-prevention technology.
Used-car shoppers may be better off with the Impreza, since the model has been around a bit longer and is more widely available in the used-car market.
Find a Subaru XV Crosstrek for sale
Honda Fit
Honda's smallest vehicle is the Fit, a 5-door hatchback with surprisingly useful interior space and excellent safety ratings, at least for the newest version. The current Fit debuted last year as a 2015 model and scored highly in ratings from IIHS and NHTSA, earning a Top Safety Pick and a 5-star overall score from federal regulators.
Used-car shoppers will not find a 2014 Honda Fit; the nameplate took a year off before the redesigned 2015 model hit showrooms. But 2012 and 2013 models scored well in IIHS testing, also earning a Top Safety Pick. NHTSA looked less favorably upon the previous-generation Fit, though, giving it a 4-star safety rating before the redesign.
Scion TC
The only 3-door hatchback on the list, the Scion TC strikes a sporty look that hides its efficiency and affordable price tag. Although it doesn't offer a collision-prevention system to earn the + at the end of its IIHS rating, the TC still offers commendable safety stats, including a Top Safety Pick and a 5-star overall rating from the government.
The TC is a good choice for used-car shoppers, too. The current generation arrived in 2011, so plenty of older TC models are available on the used-car market. Those earned high marks for safety, too, matching the ratings for the 2015 model. If rear-seat accessibility isn't high on your priority list but sporty styling is, consider the small-but-safe Scion TC.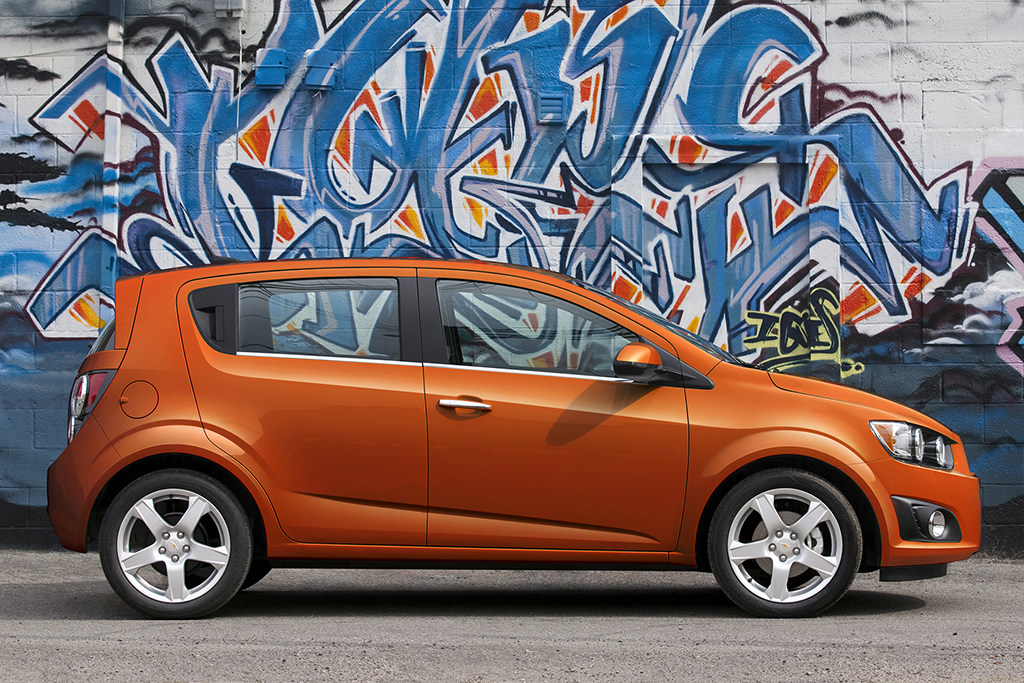 Chevrolet Sonic
Excellent safety ratings are impressive for any small car, but are especially so for the diminutive Chevrolet Sonic, a subcompact model available in sedan and hatchback body styles. This little Chevy earned a 5-star overall rating from NHTSA and, until 2014, also earned a Top Safety Pick from IIHS.
Results from the challenging small-overlap front crash test by IIHS hurt the Sonic's ratings in 2014 and 2015, however. IIHS rated its results as Marginal, the second-lowest score. Earlier Sonic models, from 2012 and 2013, retained their Top Safety Pick rating, while 2014 and 2015 models lost the honor. Still, the Sonic offers a basic collision-prevention system and commendable ratings for such a compact vehicle.
Find a Chevrolet Sonic for sale
Buick Encore/Chevrolet Trax
This pair of compact crossovers from GM, the Buick Encore and new Chevrolet Trax, share a platform as well as high safety ratings from NHTSA. Both are available in front-wheel drive and, for better traction in inclement weather, optional all-wheel drive. The 2015 Encore and Trax earned five stars from NHTSA with either drivetrain option.
The Trax is new for 2015, but the Encore boasts a longer history, introduced for the 2013 model year. Used-car shoppers considering the Encore should stick to the all-wheel-drive version, which earned five stars compared to four stars for the front-wheel-drive models. IIHS has not yet tested the Trax, but 2013 and 2014 Encore models scored a Top Safety Pick, although the lowest rating of Poor in the small-overlap test prevented the Encore from adding a + to that rating. Still, the Encore is offered with a frontal collision-prevention system and scored well in each of the other IIHS tests.
Fortunately for both new- and used-car shoppers, finding an affordable and fuel-efficient small car doesn't mean you have to compromise on safety. Consider one of these seven models and enjoy easy and efficient everyday driving along with good passenger protection in the event of a crash. Automotive safety is always improving, too. In the future, we expect even more small cars to offer outstanding safety as automakers increasingly add collision-prevention technology and rigid body structures that can withstand the demands of rigorous tests such as the IIHS small-overlap front crash.