If you're looking for a new vehicle, chances are you're considering a Toyota. Thanks to legendary reliability and a broad product range, Toyota is one of the most trusted automakers, and their vehicles are typically packed with the latest safety features, making them great for families. Here we'll outline our favorite new Toyotas under $40k.
Toyota Camry
With its redesign for the 2018 model year, the Camry got an infusion of style and personality. Gone were the sloppy driving dynamics and basic low-rent interior of the previous generation, replaced by spry handling and a driver-centric cockpit. The Camry is offered with three different powertrains: an economical 4-cylinder, a potent V6 and a fuel-efficient hybrid.
The base Camry L starts at around $25,000, while fully-loaded XSE V6 and Hybrid XLE trims come in at just over $38,000, meaning that you can have any new Camry you want for under $40,000. Find a Toyota Camry for sale
Toyota RAV4
The Toyota RAV4 was the best-selling non-truck in the United States last year and has been fully redesigned for the 2019 model year. The new RAV4 returns up to 26 miles per gallon in the city and 35 mpg on the highway. Opt for the Hybrid and these figures are an even more impressive 41 mpg city/38 mpg hwy. Three different all-wheel-drive systems are also available. LE and XLE models come with a very basic system, while Adventure and Limited trims get a torque vectoring setup, capable of sending power between not only the front and rear axles, but from the left to the right as well, which helps with handling on-road and traction off-road. The Hybrid will have a unique system controlled by electric motors at the rear. The new RAV4 offers great safety and technology across the board, all but ensuring it will maintain is reign as the best-selling passenger car in the U.S.
The 2019 RAV4 starts at around $26,000. Buyers can choose any RAV4 they want for under $40k, as even top of the line Limited and XSE Hybrid models come in at around $38,000. Hands down, the RAV4 is one of the best new Toyotas under $40k. Find a Toyota RAV4 for sale
Toyota Highlander
The Highlander is Toyota's 3-row family crossover SUV and competes with the likes of the Honda Pilot and the Ford Explorer. The Highlander offers available AWD, room for up to eight and a hybrid trim level. Toyota Safety Sense is standard across the range, meaning that every Highlander comes with features like automatic emergency braking, lane-keeping assist and radar cruise control.
Buyers looking for a sub-$40,000 Highlander should look to an LE Plus or XLE model. The LE Plus comes with tri-zone climate control and Softex seating surfaces, while the XLE adds blind spot monitoring with rear cross-traffic alert and real leather seats, among other things. Find a Toyota Highlander for sale
Toyota Avalon
The Avalon is positioned above the Camry, offering more space and a nicer, more refined interior. Redesigned for 2019, the Avalon now has dramatic new styling inside and out, along with a driver-oriented cockpit. Like the other vehicles in Toyota's lineup, the Avalon comes with Toyota Safety Sense as standard, and a variable suspension and Apple CarPlay are now available as well. The Avalon is offered with either a V6 or an efficient hybrid powertrain.
The base Avalon XLE starts at $36,450 while a fully-loaded V6 Limited model comes in at just under $43,000. The Hybrid costs an additional $1,000 in all trims. For just under $40,000, buyers can choose from either an XSE or Hybrid XSE model. Find a Toyota Avalon for sale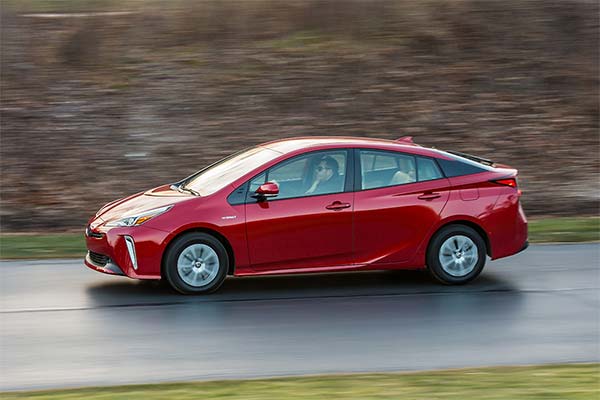 Toyota Prius
Now in its fourth-generation, the Prius was one of the original hybrids to come to market and is still one of the most popular fuel-efficient vehicles on the market. Achieving up to 54 mpg city/50 mpg hwy, or an estimated 133 MPG-e in plug-in Prius Prime form, the Prius prioritizes efficiency above all else. It's more practical than you might expect too, thanks to a wide-opening rear hatchback design.
A base Prius starts at about $24,500, while the plug-in electric Prius Prime starts at about $28,000. A loaded Prius Limited comes in at about $34,000, as does a top-of-the-line Prius Prime. AWD, which is available on the middle LE and XLE trims of the regular Prius, requires a $1,400 premium. Find a Toyota Prius for sale
Toyota Sienna
The Sienna is the oldest minivan on the market, having last been fully redesigned for the 2011 model year. The Sienna seats seven in its standard configuration or eight with an optional second row center seat. The biggest thing that sets the Sienna apart from other minivans on the market is the availability of optional AWD, which is great for buyers in snowy climates. Like most other Toyota vehicles on the market, the Sienna comes with Toyota's suite of active safety features, which includes automatic emergency braking and lane-keeping assist, while blind spot monitoring and rear cross-traffic alert are optional. Crash testing has shown the Sienna's age, as its scores in the more modern tests are less than ideal. Altogether though, while it isn't the newest minivan on the market, the Sienna is still competitive in the segment.
The base Sienna L starts at around $32,000 while a fully-loaded Limited Premium model tops out at around $50,000. AWD costs $2,500 and is available starting on the LE, meaning that the cheapest AWD Sienna costs just under $38,000. For $40k, buyers can expect to find an all-wheel drive equipped Sienna XLE or SE. Find a Toyota Sienna for sale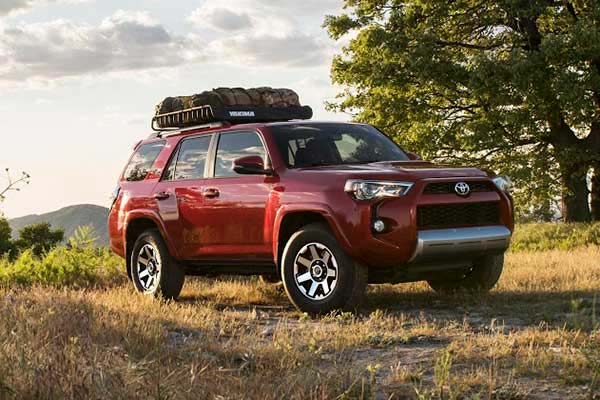 Toyota 4Runner
The 4Runner is a legendary truck-based off-road SUV, and with a starting price of around $36,000, buyers have a few different options when it comes to finding a new 4Runner for under $40,000. Available for under $40,000 are the SR5, SR5 Premium and TRD Off-Road trims. The SR5 Premium offers heated power adjustable front seats, 17-in wheels, Softex seating surfaces and an optional third row. The TRD Off-Road comes with a hood scoop, a locking rear differential and active traction control with hill-descent control, along with Crawl Control and Multi-Terrain Select modes. Every 4Runner also comes with a power retractable rear window that's great for pets or for hauling long items. Altogether, if you're looking for a sub-$40,000 off-road SUV, a 4Runner is a great, reliable option. Find a Toyota 4Runner for sale
Toyota Tacoma
The Tacoma is the best-selling midsize pickup on the market and is offered in a variety of trim levels. On top of fairly basic SR and SR5 models, buyers looking for a sub-$40,000 Tacoma can choose from the TRD Sport, which comes with a hood scoop and 17-in wheels, and the TRD Off-Road, which has a Bilstein suspension, a locking rear differential, and a variety of off-road traction features. Base Tacomas come with a 2.7-liter 4-cylinder engine making 159 horsepower, while a 3.5-liter V6 — found in most models — puts out 278 hp.
In base SR form, the Tacoma starts at around $27,000, while a fully-loaded Tacoma TRD Pro rings in at $47,485. For $40,000, buyers should look to a TRD Off-Road model. Optioned with a 6-foot bed and optional blind spot monitoring and rear-parking sensors, the Tacoma TRD Off-Road comes in at just over $39,000. Find a Toyota Tacoma for sale