Thanks to their go-anywhere capability and spacious SUV body styles, Jeeps are more popular today than they've ever been. But not everybody can afford a brand new one, so here we've outlined eight of the best used Jeeps you can find for around $10,000 in 2019.
2008-2013 Jeep Liberty
The Jeep Liberty came out for the 2002 model year, replacing the long-running Cherokee. Sold over two generations, buyers can currently find a 2008-2013 Cherokee from the vehicle's second generation for around $10,000, and there are currently close to 800 listed on Autotrader that fit the bill. While the original Liberty was offered with a diesel variant, the second-gen model was offered with just one powertrain: a 3.7-liter V6. Transmission options were a 6-speed manual or a 4-speed automatic. One unique feature offered on the Liberty was what Jeep referred to as the "Sky Slider'" fabric roof, which is akin to a canvas, panoramic sunroof that opened over the first and second rows. Find a Jeep Liberty for sale
2008-2010 Jeep Grand Cherokee
The Grand Cherokee is one of the Jeep brand's strongest offerings. Available with a variety of 6- and 8-cylinder engines, buyers have a variety of options to choose from when browsing for a Cherokee. Higher mileage examples from the Grand Cherokee's current generation, which went on sale for the 2011 model year, can be had for around $10,000, although most of these are well-worn 2-wheel-drive only models. The bulk of the $10,000 Grand Cherokees out there are from the model's third generation, offered from the 2005 to 2010 model years. The third-generation Grand Cherokee was available with a variety of V6 and V8 powertrains. The most potent was a 6.1-liter 425-horsepower V8 found in the SRT-8 model, although you'll have a hard time finding one of these for under $10,000. Find a Jeep Grand Cherokee for sale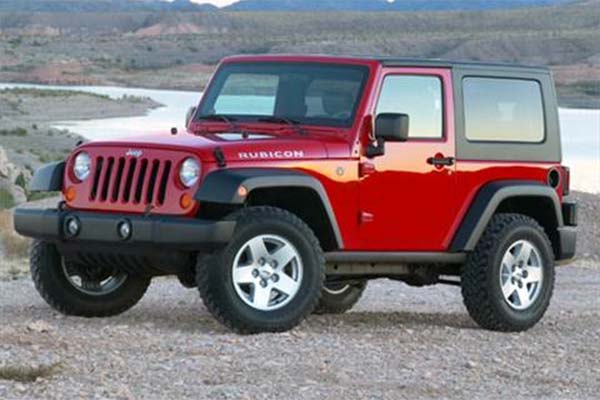 1996-2006 Jeep Wrangler
There are currently over 500 Wranglers listed on Autotrader for around $10,000 or less. Many of these are from the 1996 through 2006 model years, which are from the Wrangler's "TJ" generation, as it's known among enthusiasts. While it's still a competent off-roader, the TJ Wrangler will feel pretty primitive by modern standards, especially when it comes to noise, ride quality and safety, among other things. Still, if you're after a cheap Jeep Wrangler for sale, a 1996-2006 example will fit the bill nicely.
If you're after modernity, it might be worth considering a Wrangler from the 2007-2011 model years, known as the JK generation. There are currently over 100 JK Wranglers listed on Autotrader for under $10,000, although around 25 of these are less-desirable 2WD models. Find a Jeep Wrangler for sale
2006-2010 Jeep Commander
Sold from 2006-2010, the Commander was the last 3-row SUV to be offered by Jeep. With room for up to seven passengers, the Commander came with one of three available engines. Entry-level models came with a 3.7-liter V6 making 210 hp and 235 lb-ft of torque, while the Commander's most powerful engine was a 5.7-liter V8 making 360 hp and 390 lb-ft of torque, offered for the 2009 and 2010 model years. V8 models equipped with the Quadra-Drive II system offered electronic limited slip front and rear differentials along with skid plates for the fuel-tank, front suspension and transfer case. Every Commander came with a unique stepped roof that allowed the second row of seats to sit slightly above the first row, allowing for great visibility for second row passengers. There are currently over 400 Commanders listed on Autotrader for $10,000 or less. Find a Jeep Commander for sale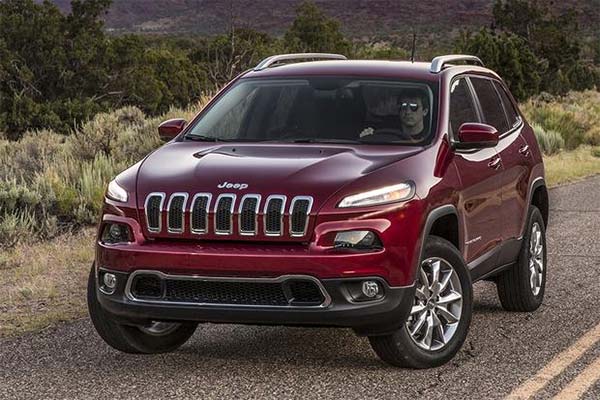 2014-2016 Jeep Cherokee
The Cherokee was reintroduced for the 2014 model year, replacing the Liberty. Offering rounded features and a controversial, unorthodox front end, the Cherokee was a significant stylistic departure from the vehicle it replaced, which featured more traditional, boxy proportions. The modern Cherokee is available with either a 2.4-liter 4-cylinder making 184 hp or a 3.2 liter V6 making 271 hp. Rest assured that just about any you find will come with the basic 4-cylinder.
Since it's fairly new, there aren't a lot of current-generation Cherokees available for under $10,000, with only around 75 listed that would fit within our budget, most of which are lower trim levels with higher mileage and 2WD. Find a Jeep Cherokee for sale
2011-2017 Jeep Compass
The original Compass is Jeep's smaller compact SUV introduced back in 2007 and sold through the 2017 model year, prior to an all-new version launching for 2018. It received a significant update for 2011, gaining styling reminiscent of the Grand Cherokee, along with a new interior, new packaging and an available off-road package. As the Compass offered a pretty weak interior prior to its update, we recommend focusing your search around 2011-and-newer models, as the update brought it more in line with modern standards.
There are currently over 650 2011-or-newer Compass models listed on Autotrader for around $10,000 or less, over half of which offer all-wheel drive. While it isn't the most refined, modern compact SUV on the market, you can't argue with the Compasses' value proposition. Find a Jeep Compass for sale
2015-2017 Jeep Renegade
The Renegade is among the newest used Jeeps on this list, having debuted for the 2015 model year. Jeep's subcompact SUV is built off a car like platform, but offers off-road capability in when its specified in Trailhawk trim, which comes with a slightly raised suspension and more sophisticated 4-wheel drive controls. Still, the majority of sub-$10,000 Renegades you'll find on Autotrader are of the front-wheel drive variety in lower end trim levels. Even these are few and far between, but they're out there, and there are currently around 50 listed on Autotrader for $10,000 or less. Find a Jeep Renegade for sale
2011-2017 Jeep Patriot
The Patriot was built on the same platform as the first-generation Compass and despite having significantly different styling, the two vehicles shared a lot in common. Both were compact SUVs offering around 23 cu ft. of rear cargo room. Both also came with the same basic 4-cylinder engine and available AWD. The Patriot stood out for its boxy styling, and will appeal to fans of old-school SUVs more than the more hatchback-style compass. Like the Compass, the Patriot received an update for 2011, and there are currently more than 1,000 2011-or-newer Patriots listed on Autotrader for around $10,000 or less. Find a Jeep Patriot for sale