With 2011 tax refunds already rolling in, now may be the time to invest in a new car and in America at the same time. We've assembled a list of eight affordable domestic automobiles that range from economical commuters to comfortable cruisers. We even included a few fun choices, too. Each carries an MSRP under $25,000. Maybe your old car is on its last leg, or maybe you just deserve something new. You work hard. Why not reward yourself with one of these excellent American vehicles?
Buick Verano
Those looking for a little luxury from their hard re-earned money should check out the new Buick Verano. It's smaller than a Regal but still packed with the upscale touches we expect from Buick. Technically, the Verano shares some budget friendly Chevy Cruze components, but the Buick gets a larger, more powerful engine. Even the base Verano is a lot of little car for its $23,000 price. Step up two levels to the Leather package with its heated steering wheel, heated seats, keyless ignition and a nine-speaker Bose sound system and you'll still be in the $25,000 neighborhood.
Chevrolet Sonic
Some small cars offer features, some offer attitude. The Chevy Sonic does both. Plus, the Sonic is one of those cars with such a low base price that you can load it up with options and still spend around $20,000. If you want a rock-bottom price, look to the base Sonic sedan for around $14,000. The cooler looking hatchback is a little pricier, but you get 15-inch alloy wheels; tilt and telescoping steering wheel; OnStar; and a six-speaker stereo.
Find a Chevrolet Sonic for sale.
Dodge Dart
The new Dodge Dart will go on sale later this year as a 2013 model. The Dart is the first Dodge to fully integrate parent company FIAT's components. In fact, the Dart is based on the Alfa Romeo Giulietta, also a FIAT product. Although the Dart has an Italian soul, the look is all American. Like the Ford Focus, the Dart is a small car that feels like it's built to a higher standard than compact cars of the recent past. A choice of three engines keeps things interesting. A 2.0-liter 4-cylinder engine is available, as is a more powerful 2.4-liter 4-cylinder engine. Those looking for a fuel sipper should check out the turbo 1.4-liter engine. It should deliver 40 mpg on the highway.
Learn more about the Dodge Dart.
Dodge Journey
Family car shoppers have plenty of crossover SUVs to choose from, but the Dodge Journey comes off a bit different in a good way. It's useful without being too big. And it gives the driver that commanding view of the road without clumsy truck-like driving dynamics. Opt for the American Value package and you'll be rolling in a slick-looking crossover SUV with seating for up to 7 people.
Find a Dodge Journey for sale.
Ford Fiesta
Despite its sub-Focus dimensions, the Ford Fiesta has a surprisingly premium feel. Of course, the price is small, too. A Fiesta sedan is just over $13,000 and the hatchback is just $900 more. Available SYNC for hands-free phone calls and streaming Bluetooth audio contribute the upscale experience. Even if you opt for the top-of-the-line Fiesta SES with turn-by-turn navigation, LED parking lights and satellite radio, you're still well under the $25,000 mark.
Ford Focus
When it comes to small cars, the recently redesigned Ford Focus is the standard bearer. It's the small car we always knew Detroit could build. The base price is just under $17,000 but the interior is filled with quality materials and there are plenty of high-tech options to please even the most ardent technophile. The Focus is also fun to drive. It's no hot rod, but the 155-hp direct-injection 4-cylinder engine paired with a 6-speed, dual-clutch transmission provides more than enough power for most situations. Opt for the Super Fuel Economy package and the Focus returns as much as 40 miles per gallon.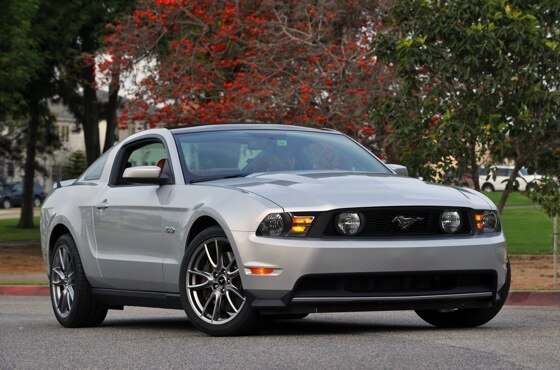 Ford Mustang
The Ford Mustang doesn't look or act like an affordable car, but the base model with a V6 is just under $23,000. And that's not a weak-kneed, skinny-tire stripped model. Even base Mustangs have the same cool look as the pricier versions. Plus, the base V6 makes an impressive 305 hp. If you want a little more bang for your tax-refund buck, get the V6 Premium. It's a hair over our self-imposed $25,000 limit, but you get 17-inch wheels, Bluetooth, leather, SYNC and a power driver's seat.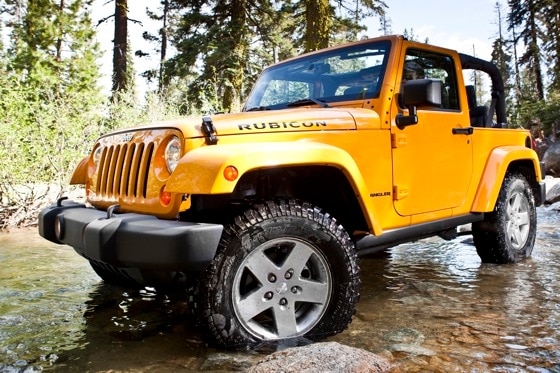 Jeep Wrangler
Offering iconic looks, go-anywhere ability and way more fun than your average economy car, the Jeep Wrangler is great on many fronts. As much as there is to like about the Wrangler, it's the SUV's new engine that really transforms it into something you can live with every day. A new direct-injection, 285-hp V6 gives the Wrangler plenty of kick and smoothes out its formerly rough edges. Base price for a two-door Wrangler Sport is $22,945, including destination fees. Plus, the Wrangler is a resale value champ.
Find a Jeep Wrangler for sale.
Your income tax refund might not be big enough to pay for a new car, but it could provide money for a down payment or cover the first few monthly payments. Low base prices make these American vehicles affordable, but they make economical sense in the long term, too, with good fuel efficiency and a relatively low cost of ownership. This means that, instead of squandering it on a fleeting splurge, you can spend your tax refund wisely and live contentedly with your decision for years to come.