This time of year, most of our thoughts turn to gathering friends and family together, grilling on the BBQ and going gaga over fireworks. And since everyone is in a celebratory mood, why not give a nod to the eight great American-made cars for 2019? Can I get a red, white and blue … whooo hoo!?!
Buick Enclave
The second-generation Enclave, Buick's beloved SUV, is everything a good American car should be — spacious, sturdy and easy on the eyes. Harried, pre-July 4th shoppers juggling unwieldy bags of ice and 12-packs will appreciate the hands-free power lift gate and the roomy cabin space that can seat up to seven of your best firework-loving friends. If toting folks (and summertime gear) is your thing, this large 3-row family crossover is just the ticket — rugged yet refined (thanks to winged headlamps and Buick's signature front grille). It's also tricked out with the latest in safety technology, such as alerts for lane changes, side blind spots and automatic braking. Keep the celebratory mood going with Apple CarPlay (you'll be extra appreciative of the built-in 4G LTE Wi-Fi hot spot, too). Summer hard with the Enclave, folks. Starts at $40,000. The Buick Enclave is built in Michigan. Find a Buick Enclave for sale
Ford F-150
We all know the tagline — Built Ford Tough. Forty-one years after the automaker debuted that phrase, it still rings true — especially for the current F-150. This masculine machine has everything a truck-loving driver could want — six engines to choose from, a lightweight yet high-strength, military-grade, aluminum-alloy cab and bed (which, Ford boasts, is the same high-grade 6000 series used in military and industrial applications). That translates to superior towing capability (perfect for bringing your beloved bowrider on endless boating expeditions). Ford also ups the confidence factor with its Co-Pilot360 — a suite of safety features such as pro-trailer backup assist, pre-collision assist with emergency automatic braking, and a lane-keeping system to keep you (and your American-made awesomeness) in line. From $34,160. The Ford F-150 is assembled in both Michigan and Missouri. Find a Ford F-150 for sale
Jeep Cherokee
There is something inherently American about a Jeep Cherokee. Rugged yet sublime, bold yet not too in-your-face. We love this compact SUV, especially in a brilliantly festive shade like Velvet Red Pearl or the dusty Blue Shade Pearl. The 2019 model has a bold revised front end (with wider distinctive LED daytime running lamps — a big plus), along with available hands-free power lift gate. Like the Chrysler Pacifica, Jeep utilizes Uconnect, so you can fire up SiriusXM Radio, connect via Bluetooth and ask for navigation help via integrated Voice Command. But wait, getting lost in a trusty Jeep may be the most fun you'll have this summer. From $25,045. The Jeep Cherokee is built in Illinois. Find a Jeep Cherokee for sale
Honda Accord
According to HondaInAmerica.com, the Japanese automaker has built 26.1 million cars and light trucks in the U.S. since 1982. And leading the pack of its most beloved models is 100% the Honda Accord (I may be a bit biased — my family relies on our shabby 2003 Accord something fierce). The 2019 model is so, so much of what an American-made car should be — solid, no-fuss, classic, and a total slam-dunk for commuters who need to slide into those 9 a.m. meetings on time and in style. If you opt for a spicy hue like Radiant Red Metallic, be prepared for the ohhhs and ahhhs. Bold hue on a midsize sedan? Baby, you're a firework. From $23,720. The Honda Accord is built in Ohio. Find a Honda Accord for sale
Lincoln Navigator
The fourth generation of this full-size SUV gets props for getting a mini face-lift: more refined and lighter than previous models. This American-made luxury vehicle has a ton of happy dance-inducing power, as its twin-turbocharged 3.5-liter engine is capable of producing 450 horsepower and 510 lb-ft of torque. It's easy to see why this powerhouse is a gem to drive — especially when drivers can choose between six selectable Lincoln Drive Modes, from Conserve to Excite. Another plus? Room. Tons of it. We're talking ample second-row leg room, one-touch tilt-and-slide second-row seats and a power-reclining third row. Throw in a smattering of cutting-edge electronic safety gear, and the American dream just got a whole lot dreamier. Starts at $73,205. The Lincoln Navigator is built in Kentucky. Find a Lincoln Navigator for sale
Nissan Titan
Built in Canton, Mississippi, the Titan is a relatively new full-size pickup. In fact, that plant also builds the Altima, the Frontier, the Murano, the NV Cargo, the NV Passenger, the Titan and Titan XD models. The Titan is offered in both gas and diesel variants. There's even a single cab version with a V8 engine that starts at about $31,000. Extended cab and crew cab versions are offered too. The Nissan Titan also stands out as having the best new car warranty for any full-size truck with an impressive 5-year/100,000-mile bumper-to-bumper limited warranty. Find a Nissan Titan for sale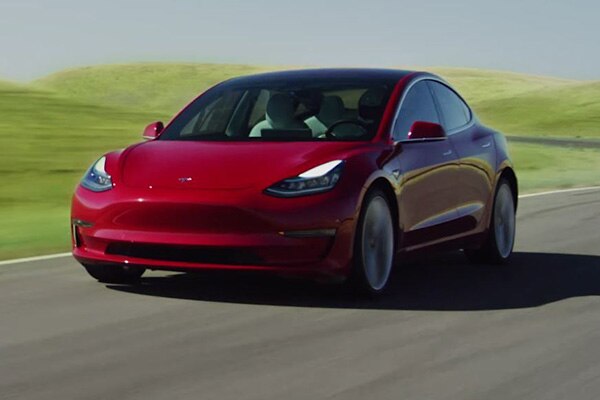 Tesla Model 3
No list of the top made-in-the-U.S. cars would be complete without the darling of the electric car world. The Model 3 is one of the best electric sedans on the roads today — thanks to its price, sporty performance, easy handling and quiet comfort. It gets kudos for being roomier than other vehicles in its class and having a massive trunk (for those last-minute weekend getaways). Those in the market for a Tesla can choose between three models that offer varying degrees of battery life — from 240 miles on a single charge to 310. Plug it in at night, get some zzz's, and wake up to a fully-charged ride. Made in America never looked so sleek, or felt so green. Starts at $35,000. The Tesla Model 3 is built in Freemont, California. Find a Tesla Model 3 for sale
Toyota Camry
The Toyota Camry is built at the Toyota Motor Manufacturing Kentucky (TMMK) plant in Georgetown, KY. The Camry has been built in Kentucky since 1988. For years, the Camry has been the go-to sedan for families, commuters and lovers of reliable stuff. For 2019, the recently redesigned Camry is much sharper looking and has better handling than ever before. There's a fuel-sipping hybrid and the Camry is on the shrinking list of midsize sedans that still offer a V6. If you're looking for a sporty, affordable and reliable sedan, the Toyota Camry should be near the top of your list. Find a Toyota Camry for sale
These top American-made cars may not be quite as synonymous with our country as apple pie, but they are just as sweet.