Buyer's looking for an SUV for around $20,000 have limited options when it comes to new vehicles. The used market, on the other hand, is flooded with 2- to 4-year old used SUVs offering low miles and great features, making this a great route to take in your search for a new-to-you sport utility vehicle. Here, we'll take a look at eight of the best used SUV options available for someone with a budget of $20,000.
Regardless of the vehicle you end up choosing, it's recommended that you test drive a few different models and get a pre-purchase inspection from an independent third party for whatever vehicle you choose before committing to buy.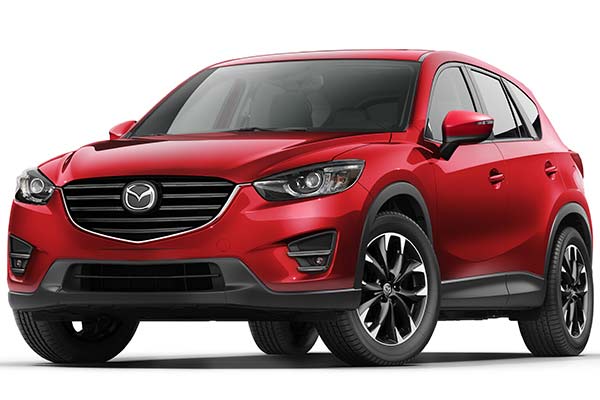 2014-2016 Mazda CX-5
There are plenty of 2013-2016 Mazda CX-5s available at the $20,000 price point, and its probably our favorite all-around vehicle on this list. Through their design and interior quality, Mazda products tend to offer an upscale experience at an economy car price, and the CX-5 is no exception, offering a stylish design and great material fit and finish all around. While the CX-5 technically debuted in the U.S. for the 2013 model year, we recommend targeting a 2014 to 2016 model thanks to its offering of a 2.5 liter 4-cylinder churning our 184 horsepower while still returning 26 miles per gallon in combined driving, making it a better overall engine than what was offered on the 2013 model. There are currently over 1,000 2014-2016 CX-5s listed on Autotrader for $20,000 or less. Find a Mazda CX-5 for sale
2010-2013 Toyota Highlander
The Highlander is a staple in the 3-row family crossover category, a position it's held for almost 20 years now. Buyers looking for a Highlander for around $20,000 are wise to target one from the 2010 to 2013 model years, and there are currently over 250 listed on Autotrader that fit the bill. A Highlander from these years will include a number of nice-to-have features, such as passive keyless entry and rear seat air conditioning. There's also an available hybrid model that returns around 26 mpg in combined driving, although 2010-2013 Highlander hybrids are still tough to come by at our desired price point.
Buyers not in a hurry and willing to tolerate a few more miles on the odometer could target a more modern third-generation Highlander from the 2014 or 2015 model year, just over 100 of which are listed on Autotrader for under $20,000. Find a Toyota Highlander for sale
2007-2017 Jeep Wrangler
The Jeep Wrangler isn't just one of the funnest used SUVs you can buy, it may just be the funnest vehicle you can by, period, thanks to its funky heritage-inspired design, removable top and go-anywhere off-road capability. Given their immense utility, not to mention the fact that their design doesn't change very often, Wranglers tend to hold their value quite well. That said, as the "JK"-generation Wrangler, which went on sale way back in 2007, just ended production, used examples are starting to creep down into the sub-$20,000 range, and there are currently over 1,000 listed on Autotrader. We recommend targeting a 2011 or newer model, though, given its updated interior, but fear not, there are still over 1,000 of these updated Wrangler JKs listed. Buyers have the option of either 2- or 4-door models. If you're looking to stay on-pavement, consider a Sahara model, which offers luxury features like a leather interior. If you're buying your Wrangler primarily for off-roading, consider the Rubicon trim, which offers a bevy of fun off-road features. Find a Jeep Wrangler for sale
2016-Present Mazda CX-3
We're including the Mazda CX-3 on our list not only because it's a great subcompact SUV, but also because its one of the newest SUVs buyers can expect to find for under $20,000. Given that a brand new 2019 CX-3 carries an MSRP of just over $20,000 before taxes and fees, and that the current CX-3 is substantially similar to the model that came out in 2016, buyers will find great value in a used example, and there are currently almost 800 listed on Autotrader that fall within our budget. Close to 200 are of the top-of-the-line Grand Touring trim, which offers luxury features like real leather seats and Mazda's easy-to-use dial-operated infotainment system, along with safety features like blind spot monitoring with rear cross-traffic alert. If you're in the market for a small SUV, you can't go wrong with a used (or maybe even new) CX-3. Find a Mazda CX-3 for sale
2013-2015 Lexus RX
The Lexus RX is one of the most popular luxury SUVs on sale today and many later examples of the third-generation model, which was sold from 2013-2015, are now available for under $20,000, and there are currently close to 350 listed on Autotrader that fit the bill. The regular RX, dubbed the "RX 350" makes use of a 3.5-liter V6 putting out 275 hp, but only returns 20 mpg. Buyers would be wise to look to the RX's hybrid variant, the "RX 450h," which combines a gasoline engine with a hybrid system to return a healthy 30 mpg overall, quite the improvement over the thirsty RX350. Either way, RX buyers also have the option of front- or all-wheel drive, and can also opt for the RX's attractive "F-Sport" trim level, which offers more aggressive looks. Find a Lexus RX for sale
2016-2018 Toyota RAV4
In 2018 the Toyota RAV4 became the best-selling non-truck in the United States. Needless to say, the RAV4 is the perfect vehicle for a large part of the car-buying population in the U.S. With so many sold, the used market is absolutely flooded with pre-owned 2016-2018 RAV4s, and there are currently over 1,000 sub-$20,000 RAV4 listings to choose from on Autotrader, many of which offer AWD. We highly recommend the RAV4's hybrid model, which offers significantly better fuel economy at only a slight price premium, although these are more difficult to come by at the $20,000 mark. Find a Toyota RAV4 for sale
2014-2017 Jeep Grand Cherokee
The Jeep Grand Cherokee is loved by many for its blending of upscale design with go-anywhere capability. The iteration of the Grand Cherokee sold new today first went on sale back in 2011 and received an update for the 2014 model year. Right now on Autotrader, there are over 1,000 2014-or-newer Grand Cherokee models listed for around $20,000 or less. Filtering to show only AWD equipped models still yields over 1,000 results. Filtering further on only the more desirable upper-level trims like Overland, Summit and Trailhawk, and there are still close to 100 Grand Cherokees to choose from. While Jeep reliability can be hit or miss, it's impossible to deny the sheer value packed into the Grand Cherokee, and it's clear from these listings that it makes for an excellent used SUV purchase. Find a Jeep Grand Cherokee for sale
2010-2014 Chevrolet Tahoe/Suburban or GMC Yukon/Yukon XL
Three of the largest, most powerful SUVs you can buy are the Chevrolet Tahoe, the Chevrolet Suburban, the GMC Yukon and the GMC Yukon XL quadruplets, all of which are all built on the same platform. Many updated examples of the previous generation Tahoe, Suburban, Yukon and Yukon XL — sold from 2010 to 2014 — are readily available for $20,000 or less, and a search including all four variations yields over 1,000 results. These trucks offer powerful V8 engines putting out up to 405 hp, great for hauling your family, your gear and your boat. The GMC Yukon is also available in a fancy Denali trim, which includes General Motors' excellent Magnetic Ride Control suspension, which is so smooth that you'll forget the vehicle's wheels are even touching the ground. Filter the list to show only Denali variants of the Yukon and the Yukon XL and you've still got over 350 options to choose from while remaining within our budget. Needless to say, one of these full-size GM SUVs gives you a lot of bang for your buck. Find a Chevrolet Tahoe for sale or Find a Chevrolet Suburban for sale or Find a GMC Yukon for sale or Find a GMC Yukon XL for sale