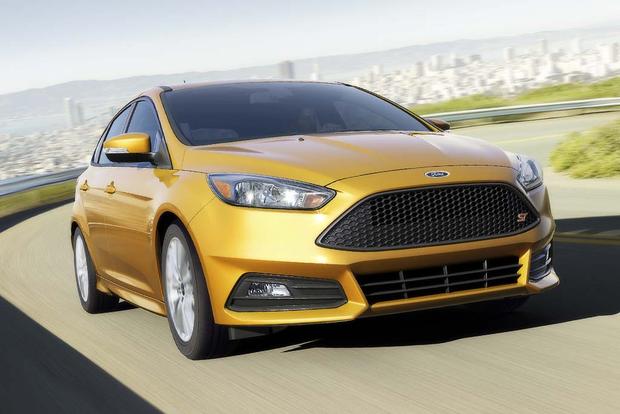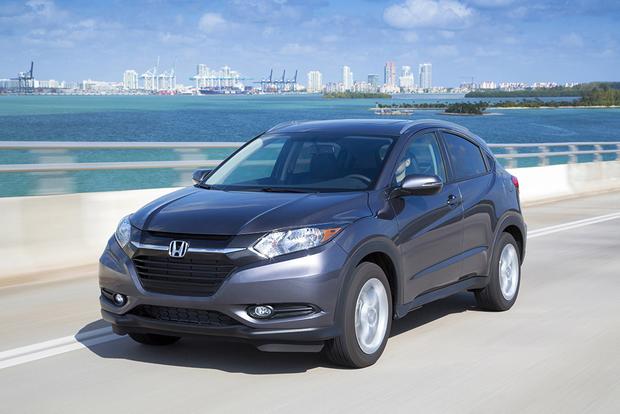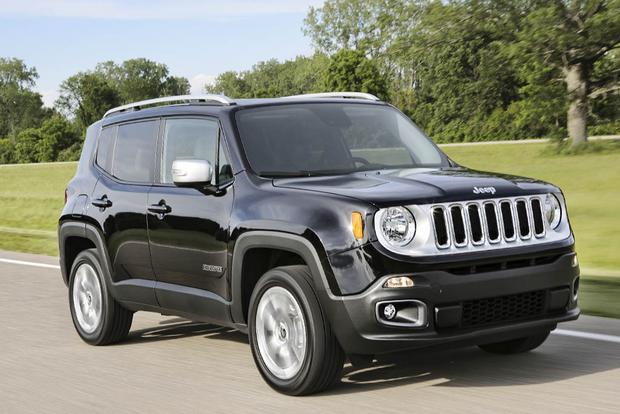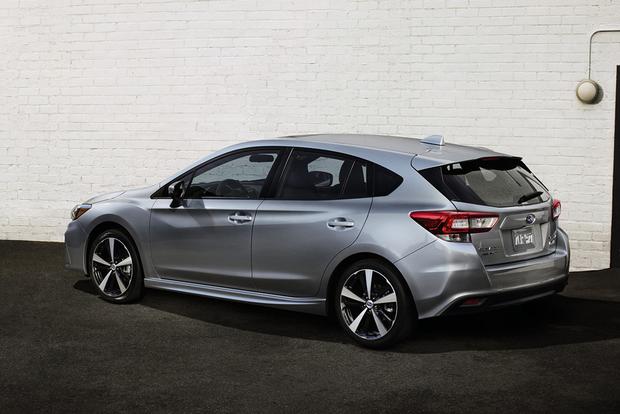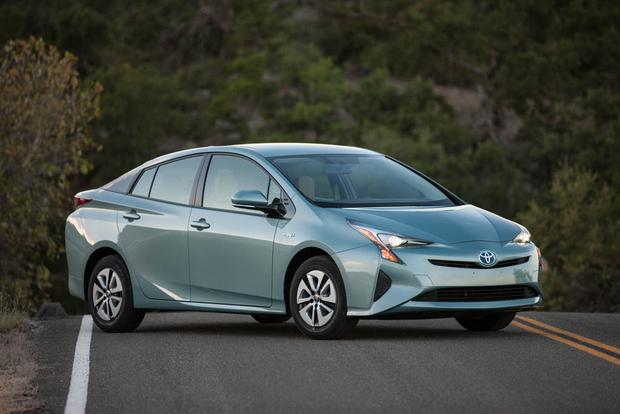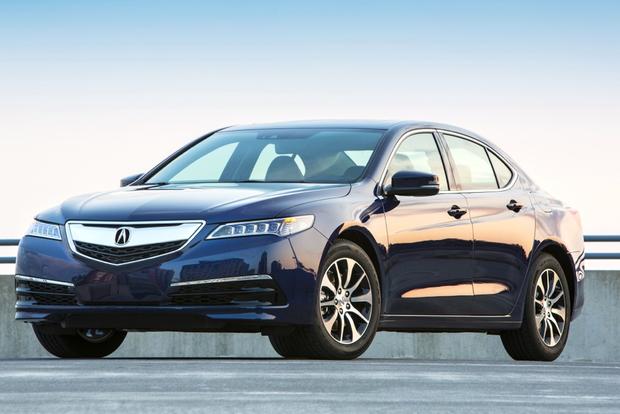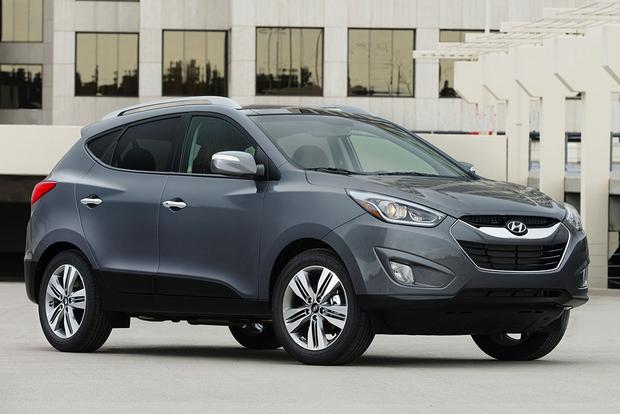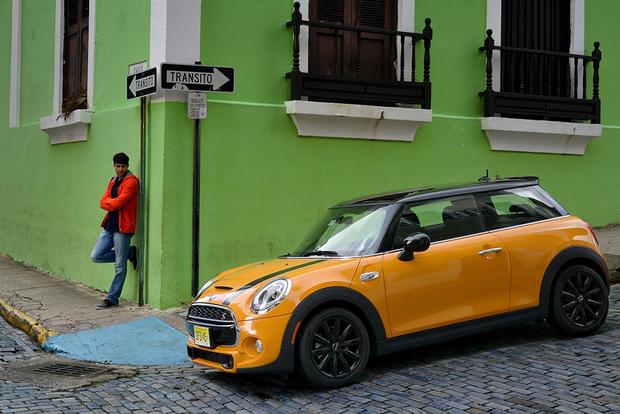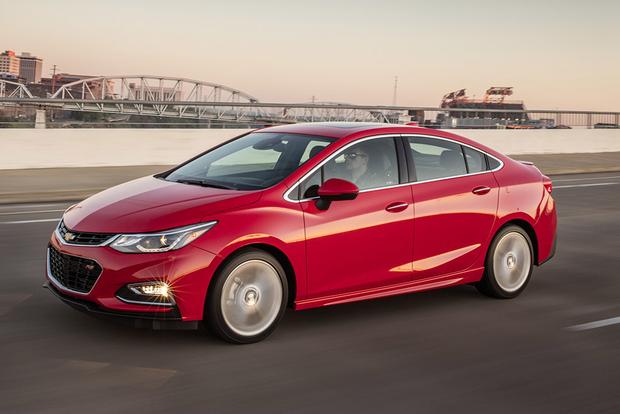 College graduation is just around the corner, and that means you might be interested in buying a brand-new car -- especially if you're a recent grad with a new job you'll have to get to. But most college graduates haven't purchased a car before, and even if you have, the sheer number of makes and models on the market can be intimidating.
Fortunately, we're here to help, as we've rounded up nine great cars that should be perfect for a new graduate -- with an eye on practicality, fuel economy and (of course) a little style. More importantly, we've capped our budget at $25,000, to ensure every car on our list is affordable for someone just starting out in a new job. We've also included both new cars and certified pre-owned vehicles, which are used vehicles with a long, manufacturer-backed warranty to provide excellent peace of mind.
2017 Chevrolet Cruze
Forget what you may have heard about Chevy when you were younger: The all-new Cruze is an excellent car that's an excellent contender in the competitive compact car world. Starting at just $18,000 with shipping, the Cruze boasts two body styles -- a traditional sedan or a practical hatchback. Its turbocharged 1.4-liter 4-cylinder engine returns an impressive 30 miles per gallon in the city and 40 mpg on the highway, and all Cruze models come standard with the desirable Apple CarPlay and Android Auto. Top-level Cruze models even offer luxury car levels of technology, boasting heated rear seats, wireless device charging, forward collision warning, lane keep assist, a navigation system and even automatic high beams.
Find a Chevrolet Cruze for sale
2017 Ford Focus ST
If you're looking for a good time on a $25,000 budget, the Focus ST just barely squeezes in, as its starting price is $24,775 -- though we suspect many drivers can negotiate a reasonably equipped Focus ST to $25,000, or near it. Not that you'll need much more equipment than the base-level Focus ST offers, simply because you'll be having so much fun: The ST boasts a muscular 252 horsepower, it sprints from zero to 60 in just over 6 seconds, and it boasts thrilling sport suspension and a fun manual transmission. The Focus ST also comes standard with a lot of equipment, including a backup camera, a 4.2-in center screen, keyless entry and a push-button starter, Bluetooth with voice controls and a USB port for music.
2017 Honda HR-V
In the burgeoning class of "subcompact SUVs," the Honda HR-V is among the shining stars. Basically just a scaled-down version of Honda's highly popular CR-V, the HR-V offers a little more style -- and far more attractive pricing, as it starts from just $20,500 with shipping. The tiny crossover also boasts a 1.8-liter 4-cylinder that touts an adequate 141 horsepower and an excellent 28 miles per gallon in the city and 35 mpg on the highway -- better than many cars, let alone SUV rivals. Although the interior is a little bland looking, the HR-V comes standard with lots of equipment (a 5-in center screen, a backup camera, a USB port for music, Bluetooth). Drivers who upgrade to the EX model -- base price, $22,500 -- will get even more desirable stuff, like automatic climate control, heated front seats, and Honda's excellent Lane Watch blind spot camera.
2017 Jeep Renegade
Although the Honda HR-V might be the best of the new subcompact SUV models, the Jeep Renegade is probably the boldest. It touts very distinctive styling, especially compared to several lookalike competitors, and it offers some fun interior details like mud splotches on the gauge cluster instead of a redline, and the ability to paint several interior pieces in the exterior color. But the Renegade isn't all about fun, it's actually a highly competent crossover, with prices starting from just $19,000. Admittedly, you probably don't want that entry-level model, as it doesn't even have air conditioning, but $25,000 will buy you a well-equipped Renegade with features like Chrysler's Uconnect system with a 5-in touchscreen, a USB port for music, Bluetooth phone and audio connectivity, alloy wheels and a backup camera. The Renegade also offers a long list of options that include many of today's latest safety features.
2017 Subaru Impreza
The recently redesigned Subaru Impreza is one of our favorite compact cars. One of the reasons is its standard all-wheel drive -- a huge advantage for drivers in cold-weather climates, and a feature that isn't even offered by many rivals. But it isn't just that. The Impreza is reasonably priced, with a starting figure of just $19,400 -- a number that increases to $23,000 if you get the desirable Impreza Sport. Go for that model and you'll have an 8-in center screen, a Harmon Kardon audio system, automatic headlights, heated front seats and alloy wheels -- and you can opt for Subaru's excellent EyeSight system, which boasts high-tech safety features like adaptive cruise control, automatic forward collision braking and lane keep assist. The Impreza also comes standard with Apple CarPlay, and its 4-cylinder engine returns up to 27 miles per gallon in the city and 36 mpg on the highway.
Find a Subaru Impreza for sale
2017 Toyota Prius
If you're looking to save money at the pump, the Toyota Prius is obviously an excellent choice: It now returns up to 58 miles per gallon in the city and 53 mpg highway, which is more than any other gas-powered car on the market. But the Prius doesn't just have a fuel economy advantage over rivals -- It's also a pretty impressive car, touting a base price of $24,400, which includes a long list of features -- like automatic LED headlights, Bluetooth phone and audio connectivity with voice controls, a USB port for music, automatic climate control and a backup camera. The Prius also touts a large backseat and an impressive 65.5 cu ft of cargo space with the seats folded down -- far more than the Mazda3 hatchback or the Volkswagen Golf.
2015-16 Acura TLX
The Acura TLX is a luxury sedan that straddles the border between "compact" and "midsize." While a new TLX is out of our budget range thanks to a $33,000 base price, new graduates interested in a little extra luxury may want to consider a certified pre-owned example. There are currently more than 150 different CPO TLX models listed on Autotrader nationwide for around $25,000 or less, and each comes with Acura's excellent certified warranty, which offers one extra year of bumper-to-bumper coverage and up to 7 years or 100,000 miles of powertrain protection. Of course, the TLX also touts other benefits -- like a surprisingly efficient base-level engine that returns up to 24 mpg in the city and 35 mpg on the highway, a smooth ride, and also a long list of luxury options and features.
2016 Hyundai Tucson
Although you'd have to stretch your $25,000 budget to go from a "subcompact" crossover to a compact model, drivers who choose a certified pre-owned example will have no trouble fitting a compact SUV in that price range. We especially recommend a certified pre-owned version of the latest Hyundai Tucson, which went on sale for the 2016 model year. There are currently almost 450 certified pre-owned examples of the 2016 Tucson listed on Autotrader with a certified pre-owned warranty, and Hyundai's CPO program is the best: It offers 5 years or 60,000 miles of bumper-to-bumper coverage from the original sale date, along with 10 years or 100,000 miles of powertrain coverage. The latest Tucson is also an excellent SUV, as it boasts up to 26 mpg in the city and 32 mpg on the highway, along with a wide range of optional technology features you're likely to find on many certified pre-owned examples.
Find a Hyundai Tucson for sale
2014-16 MINI Cooper
Everyone knows the MINI Cooper for its distinctive styling, its small proportions and its go kart-like handling. But a certified pre-owned MINI Cooper also presents an excellent deal to recent graduates interested in a surprisingly practical car. For one thing, MINI's certified pre-owned warranty is excellent, touting up to 6 years or 100,000 miles of bumper-to-bumper coverage from the original sale date. Then there's the gas mileage: The MINI Cooper now returns up to 28 mpg in the city and 38 mpg on the highway, following its latest redesign in 2014. Get a MINI from at least 2014 and you'll also find a lot of technology, as even base models included Bluetooth audio, a USB port for music, cruise control and adjustable interior lighting. The best part: A certified pre-owned MINI Cooper is highly affordable, as there are nearly 350 examples currently listed on Autotrader from 2014 or newer with an asking price of around $25,000 or less.