Cars on the big screen seem to go in and out of style at the box office and every time they're in style, we get a few gems that really stick with us. From the classics that we've seen a million times to the more modern pictures that show us something new, films where cars are the stars just as much as the actors are always fun to watch. In no particular order, here are a few of Autotrader's favorite car movies.
Bullitt (1968)
No list of car films would be complete without the Steve McQueen classic "Bullitt." We admit, it might not be that great of a crime drama overall and it takes us a minute to remember the actual plot of the movie, but its definitive 10-minute car chase is arguably the best in film history. We see the bad guys in a menacing black 1968 Dodge Charger R/T chasing detective Frank Bullitt in a now-iconic Dark Highland Green 1968 Ford Mustang GT fastback. We see them fly through the streets of San Fransisco to the sounds of roaring V8 engines and squealing tires ending in a fiery crash for the black Charger.
The car chase in "Bullitt" was so memorable that Ford has produced a few special edition Mustangs inspired by the car in the film. The 2019 Ford Mustang Bullitt marks the return of the Bullitt Mustang after a decade-long hiatus with details like a Dark Highland Green paint job, special wheels, no rear spoiler and no Mustang emblem in the front grille to make it resemble the 1968 model that made movie history. Find a Dodge Charger for sale or Find a Ford Mustang for sale
Mad Max: Fury Road (2015)
"Mad Max: Fury Road" was the first new "Mad Max" movie in 30 years when it came out in 2015 and it's every bit as good as the classic trilogy it builds on. Taking place in post-apocalyptic Australia, Furiosa played by Charlize Theron leads the escape of five women from the tyrannical Immortan Joe. Along the way, she forms an alliance with Max Rockatansky, this time played by Tom Hardy rather than Mel Gibson.
Cars have always been a big part of the "Mad Max" series ever since Max's Ford Falcon XB V8 Interceptor stunned audiences in the early films. In the "Mad Max" tradition, Fury Road has a heavy car theme throughout with a big climactic chase happening at the end. We see cars so heavily customized that some of them are almost unrecognizable from what they originally were. One of our favorites is Immortan Joe's "Gigahorse" which is made from two 1959 Cadillac Coupe de Villes. What we love about the extensive car scenes in "Mad Max: Fury Road" is that they're so chaotic and over-the-top while also moving the compelling story along. Find a Ford Falcon for sale or Find a Cadillac Coupe de Ville for sale
The Fast and the Furious (2001)
We could make a whole other list ranking our favorite movies from "The Fast and the Furious" franchise, but the one that started it all is the most important and still one of the best. It's where we first meet undercover cop Brian O'Conner played by Paul Walker and street racing ringleader Dom Toretto played by Vin Diesel. This is the movie that launched both of the aforementioned actors into stardom, but the cars seen in the movie really stole the show.
Just a few of the cars we see in The Fast and the Furious include a Toyota Supra MK4, a Dodge Charger R/T, a Mazda RX-7, a Nissan Skyline GT-R R33 and many more. This is the movie that brought the tuner scene into the mainstream with cars that are heavily modified both mechanically and aesthetically making the cars their own characters. The big personalities, stunning cars, and intense action scenes make for a thrill ride that launched a huge film franchise. Find a Toyota Supra for sale or Find a Mazda RX-7 for sale
Gone in 60 Seconds (1974 and 2000)
Okay, we might be cheating by putting two movies together in one spot. When most people think of "Gone in 60 Seconds," they probably think of the 2000 film starring Nicolas Cage and Angelina Jolie, but the 1974 movie it's based on deserves attention too. The 2000 version had A-list actors and a $40 million budget, but the original 1974 version was made with a budget of just $150,000 and it was written, directed, produced and starred in by the ambitious H.B. Halicki who was tragically killed in an accident while filming "Gone in 60 Seconds 2" in 1989.
Both movies center around large-scale car heists and the star of the show in both films was a Ford Mustang nicknamed "Elanor" and despite both being Mustangs, they're quite different. In the original film, it was a yellow 1973 Mustang SportsRoof and in the remake, it was a more showy, more muscular 1967 Mustang Shelby GT500. The 2000 version was fun to watch being a big-budget action film, but the original has an inimitable charm to it due to its scrappy indie film nature. The original also had a 40-minute chase scene that wrecked 93 cars in the process of filming. Find a Classic Ford Mustang for sale
Cars (2006)
Disney/Pixar's "Cars" is responsible for making a lot of kids more interested in its subject matter. We see Lightning McQueen played by Owen Wilson start out as a hotshot racer and become humbled as he gets lost in the town of Radiator Springs where he encounters Mader played by Larry the Cable Guy and Sally Carrera voiced by Bonnie Hunt. Lightning McQueen helps revitalize the town learning about friendship along the way.
The star-studded cast includes George Carlin, Michael Keaton, Jay Leno, Jennifer Lewis and the legendary Paul Newman in his final role before his death. It also includes voice acting from real-life racing legends including Richard Petty, Dale Earnhardt Jr., Mario Andretti and Michael Shumaker. A lot of the characters in the film either closely resemble or are licensed animations of real cars including the Porsche 996, Volkswagen Bus, Ford Model T, Plymouth Superbird, Willys Jeep and many more. Find a Porsche 911 for sale or Find a Volkswagen Bus for sale or Find a Plymouth Superbird for sale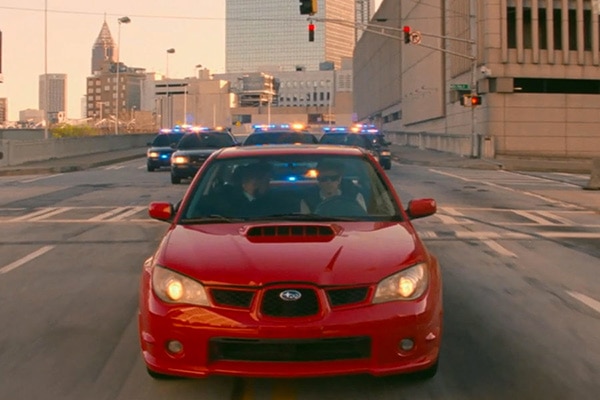 Baby Driver (2017)
The newest movie in our list is Edgar Wright's "Baby Driver" starring the up-and-coming Ansel Elgort as an on-call getaway driver for a crime syndicate kingpin known only as "Doc" played by Kevin Spacey. The title character nicknamed "Baby" has an incredible driving ability that we see on display in his heists with his variety of getaway cars ranging from a hawkeye Subaru Impreza WRX STI to a Dodge Challenger SRT Hellcat to a Chevrolet Avalanche.
"Baby Driver" also has a strong musical theme throughout the fast-paced movie with Baby almost always wearing headphones and needing the perfect playlist to perform his heists. The right tunes making all the difference from behind the wheel is something we can definitely relate to. Find a Subaru Impreza WRX for sale or Find a Dodge Challenger for sale or Find a Chevrolet Avalanche for sale