We get it. Your soccer mom life is stuffed to the gills with errands, appointments and too many sports practices to count. But just because you have the quintessential harried mom life doesn't mean you have to drive a Mom Car. We have a list of rides that will leave you saying "Hurrah!" instead of "Hurry up!"
Audi Q7
Ah, Audi. So luxurious, and yet, so not what you think of when you think crazed parent on the run. That's why we love it. This powerful, 2.0-liter turbocharged or 3.0-liter supercharged SUV has some serious strength, thanks to its 8-speed Tiptronic transmission, which means the driver can shift gears as they would with a manual transmission.
What makes the Q7 so appealing is its looks, plain and simple. It cuts a gorgeous presence, thanks to powerful wheel arches, which emphasize the vehicle's standard quattro all-wheel-drive system, and it has a ton of family-friendly features.
Hands-free tailgate, anyone? Yes, please. The standard power tailgate with programmable opening-height adjustment can feature an available hands-free opening function, where the tailgate releases and raises or closes after you sweep your foot under the rear bumper. No more pulling a muscle trying to juggle an armload of groceries while simultaneously pulling the door shut.
If you're up to your neck in kids and kicks, the split-folding rear seatbacks will be a life saver. You'll get a ton of cargo space — thanks to generous 71.6-cu ft. capacity with the seatbacks folded down — or space for up to seven passengers when the backs are upright. It's a killer way to maximize space without doing away with comfort.
When trying to find your way to yet another soccer tournament, Audi's virtual cockpit can help. The fully digital 12.3-inch instrument display allows the driver to customize information such as navigation and audio, offering classic and infotainment modes, as well as Google Earth. Asking "where on earth..?" just got a whole lot easier. The Audi Q7 starts at $49,900.
Kia Sportage
When you think Kia, you think compact and sporty. Sort of like your kiddos. So when you need to take those littles to ballet classes and tuba lessons, Kia is king. It's a super-modern crossover that's both sleek and functional.
Looks-wise, it has elongated headlights, a tiger-nose grille and available quad LED fog lights for navigating that early-morning haze. The angled console, displays and buttons are all ergonomically designed, so you can find your favorite Sirius/XM station in a snap.
Like the Q7, the Sportage sports a ton of cargo space. Its flat-folding rear seats and dual-level cargo floor give you the versatility to create whatever kind of space you need — whether that be to finagle a slew of ski poles, piles of camping gear or way, way too much dry cleaning. Even better? Roomy smart compartments for even more storage. Love. The Kia Sportage will set you back $23,500.
Ford Flex
Schlepping kids is no easy feat. It gets much easier when your wheels are very reliable, you have a ton of room and you feel confident edging your way into tricky parking spots at the morning drop-off. All of that is pretty simple in the Ford Flex. This sturdy Ford crossover/wagon seats either six or seven (its spacious cabin is ideal for your a cadre of muddy-cleated tweens), and its SYNC 3 infotainment system lets you call the shots, music-wise, no matter how much the kids whine about your taste in tunes.
Awesome, ambient lighting makes the ride a lot more soothing. You'll get downright giddy selecting a hue to match your mood — ice blue or soft blue for some extra serenity, orange, red, purple or green. Who doesn't need a little pop of color in their lives?
The Flex's multipanel Vista Roof is another plus — a power moonroof covers the first row; the second row features two ample skylights, and the third row offers a single, large skylight. Let the sunshine in, moms. The Ford Flex starts at $30,195.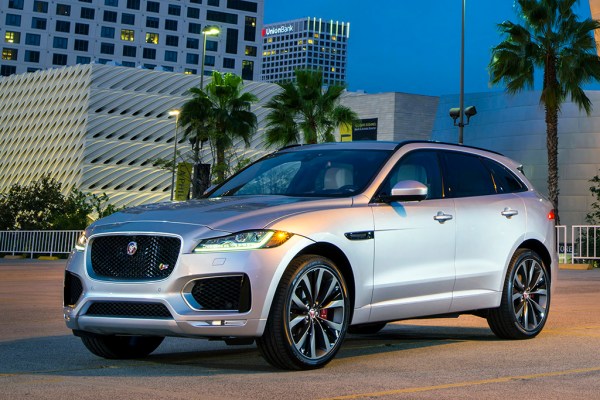 Jaguar F-PACE
We're guessing you probably do not caravan Junior and his fellow bandmates to band practice in a sports car. But if you take the kidlets in a Jaguar F-PACE, it's kinda the same thing. Almost. Jaguar says the F-PACE — its first luxury performance SUV — has sports car DNA housed in a performance SUV. It is powerful and distinctive and has a ton of energy. Get up and go? Jaguar has it, thanks to its sleek aerodynamics and teardrop shape, emphasized by a tapered roof. It's sexy and athletic, and you'll feel extra confident thanks to sharp steering and excellent body control. Like others on this list, the ample cargo space is a huge plus, and you'll love the 11-speaker audio system. Sure, it's standard, but it makes those painful traffic jams much more tolerable. Jaguar's F-PACE retails for $42,065.
Nissan Armada
The full-sized Armada has everything a crazed parent needs: roof rails with crossbars for hauling so much gear (we're thinking of you, mamas of skiers and snowboarders). This large SUV's Intelligent Rear View Mirror lets you switch from looking at those goofy faces in the backseat to a camera screen, with a clear, wide-angle view, no matter what time of day or night. Another smart feature is Intelligent Cruise Control with distance control, a system that watches the flow of traffic to keep the tedium out of seemingly eternal stop-and-go. It'll help you keep an adjustable speed and set distance between you and the car in front of you, warning you if you need to slow down. It can also apply braking as needed. Rushed moms will love how the Armada just gets it. Nissan's Intelligent Key recognizes who's who, then moves the driver's seat, steering wheel and outside mirrors accordingly. A car that knows us so, so well? Every mom's dream. The Nissan Armada starts at $45,600.
A soccer mom's life is kind of a "my cup runneth over" thing. It's a happy yet hurried existence. It's made much easier by these five cars that are all fierce and no frump.