Hybrids get great fuel economy. However, new hybrids are expensive, especially when compared to a similar-sized, gasoline-only car. From a strictly money-saving standpoint, new hybrids don't always make sense. That's where the best used hybrid cars come in. You're probably wondering, "What kind of used hybrid can I get for a really low price?" Thankfully, there are plenty of good used hybrid vehicles for a reasonable price. Even if you're trying to stay under $10,000, you have many excellent choices. If you're taking out a loan, this should be about $200-$250 per month depending on the terms.
To help you get the most for your money, here are the 10 best used hybrid cars under $10,000: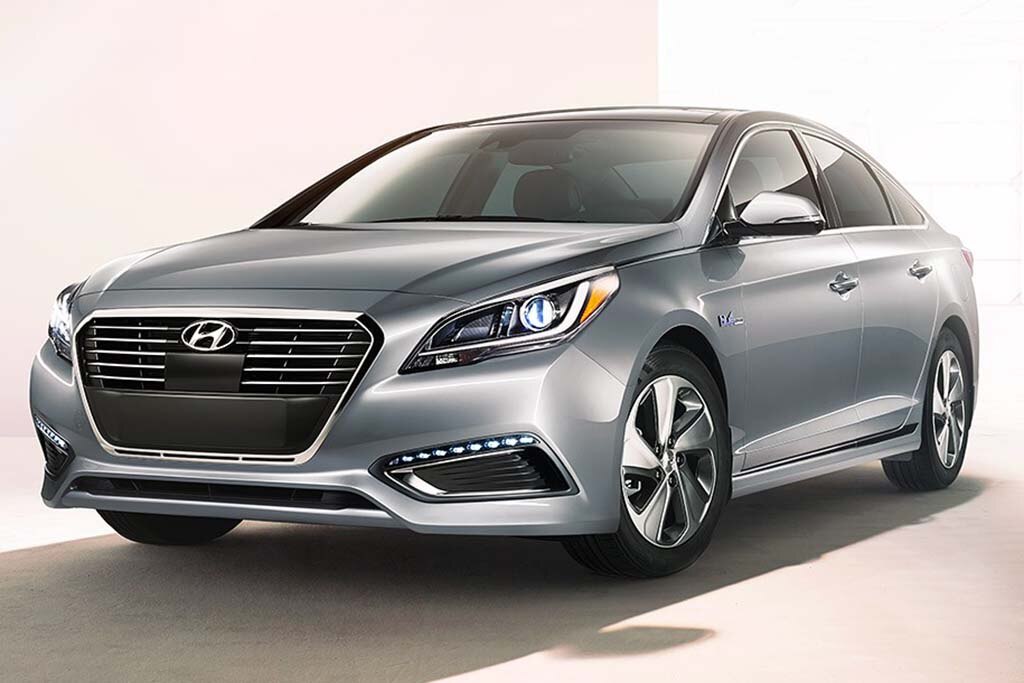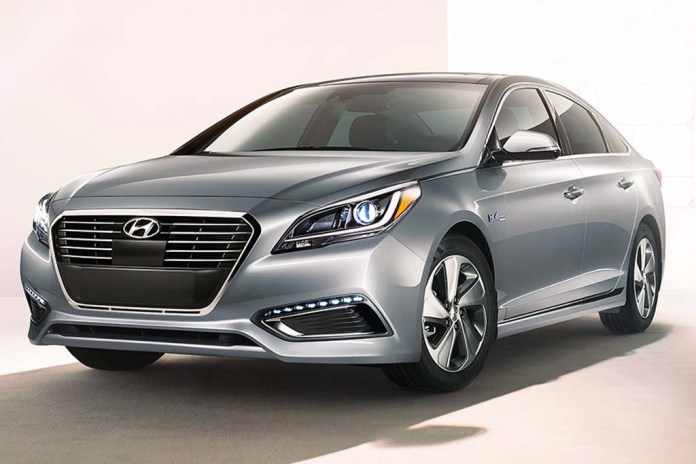 1. 2016 Hyundai Sonata Hybrid
In terms of car for the dollar and good mpg, the Hyundai Sonata is about the best used hybrid you can get. The Sonata doesn't have the name recognition of a car like the Toyota Prius or Camry but it is still a very good car. The Sonata hybrid doesn't feel like "this is all I can afford," yet a good 2015 or 2016 model is just as affordable as most cars on this list. Because it's one of the newer hybrids you can get at $10,000, a lot of "new car" features like push-button start, keyless entry, Apple CarPlay, heated seats, USB port, backup camera and a touchscreen. The ride is tuned more for comfort than sporty handling, but we're OK with that. For $10k, look for a 2016 model with less than 100,000 miles. That's a lot of car for a really low price. Find a Hyundai Sonata Hybrid for sale
39 mpg city/42 mpg hwy/41 mpg combined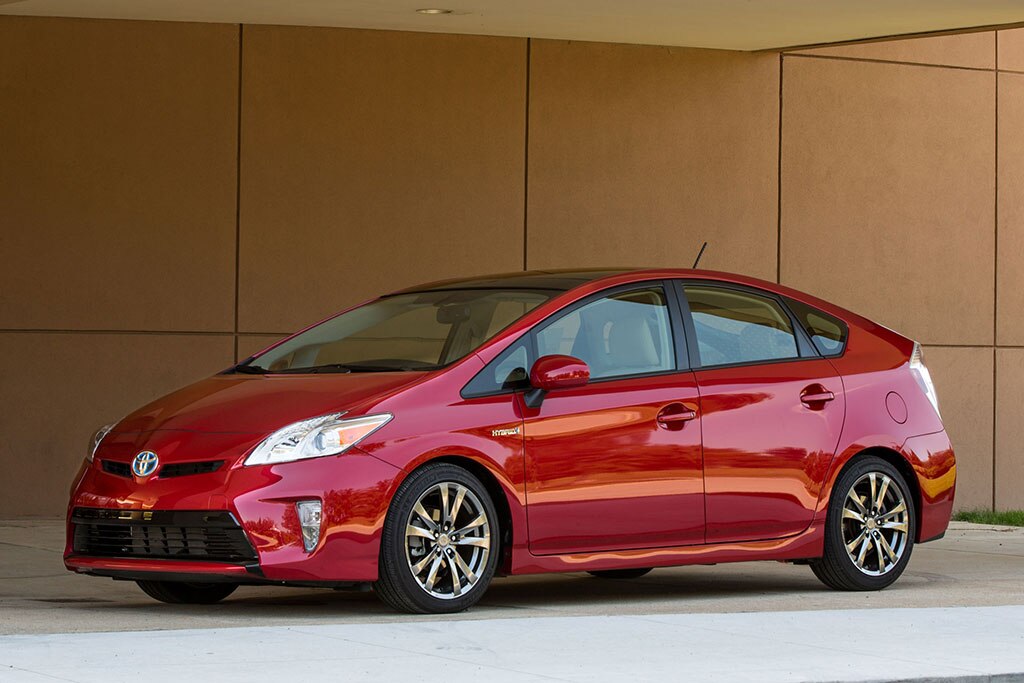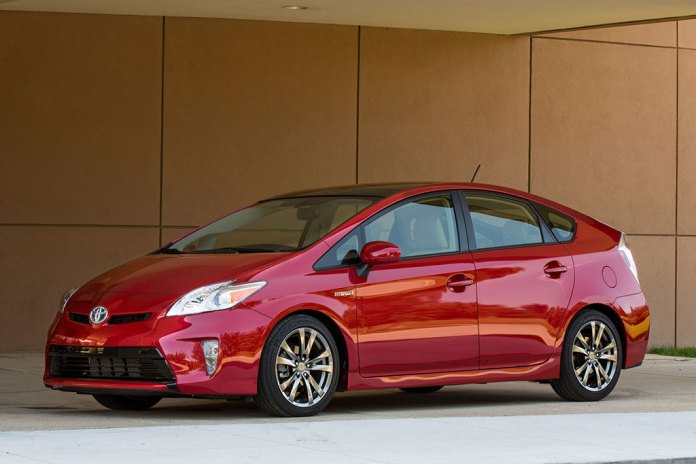 2. 2013 Toyota Prius
There's really no way around it: The Toyota Prius is the go-to car when it comes to affordable hybrids. The good and bad here is that these cars are very popular. That's bad if you really don't like going along with the crowd. However, it's good because it means there are many of them for sale. We chose the 2013 model because it's likely the newest version you can get with reasonable mileage — figure in the 100,000 range. Don't worry: Even with that mileage, a Prius will give you many years of service. Find a Toyota Prius for sale
49 mpg city/46 mpg hwy/48 mpg combined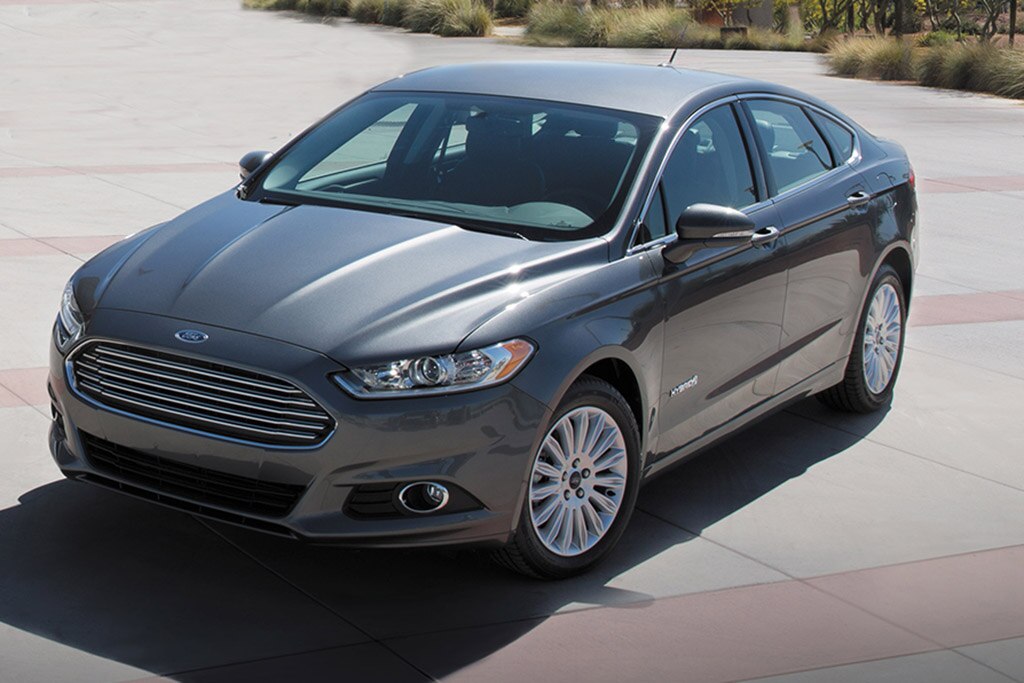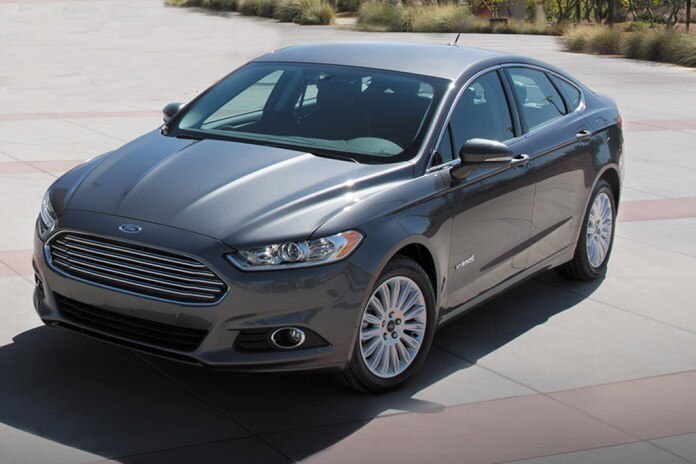 3. 2016 Ford Fusion Hybrid
Talk about an abundance of used cars available. There are plenty of Ford Fusion Hybrids for sale right now. The 2016 model is a newer version of Ford's family-friendly gas/electric hybrid and those are being advertised for $10,000 or just under. It's surprising how new some of the best hybrids under $10,000 can be. Going back a few years doesn't change the price dramatically, so if you find a 2014 or 2015 with fewer miles, that's worth considering, too.
There's also a plug-in hybrid (PHEV) version of the Fusion. Those are named Fusion Energi. The Energi allows you to plug the car in to charge up a small battery and drive about 20 miles on electricity only before the gasoline engine kicks in. Find a Ford Fusion Hybrid for sale
43 mpg city/36 mpg hwy/41 mpg combined. Fusion Engeri is rated at 88 MPGe when fully charged.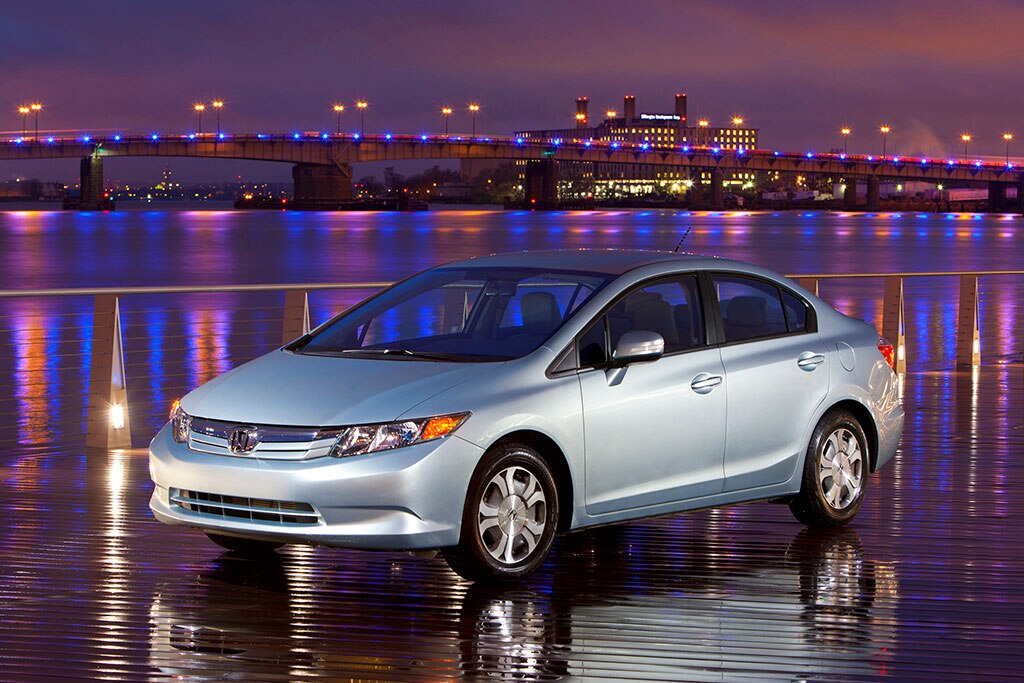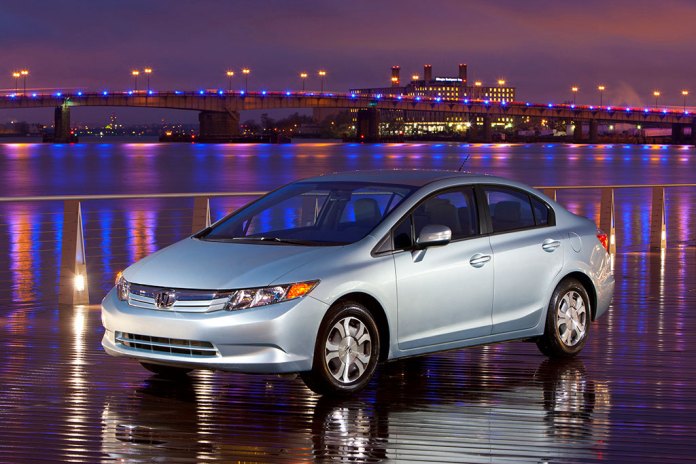 4. 2012 Honda Civic Hybrid
The Civic Hybrid is a good car but there aren't as many good used examples to pick from. Still, a fairly low-mileage 2012 Civic Hybrid is likely to be well below the $10,000 cut-off but still gets decent fuel economy and is just as comfortable or even more comfortable than a Prius. The Honda Civic is also more fun to drive than many other used hybrids and we can't argue with typical Honda reliability. Find a Honda Civic Hybrid for sale
43 mpg city/44 mpg hwy/44 mpg combined
5. 2015 Chevrolet Volt
The Volt is a plug-in hybrid or PHEV. It works like a normal car, but you can charge it up if you want to drive on just electricity. With the 2015 Volt, that electric-only range is 35–40 miles. After that, it works like a normal hybrid using a combination of the gasoline engine and electric motor to get really good fuel economy. We like the 2015 model, as the car was redesigned in 2016 and became a little more generic-looking. Also, the 2016 and newer versions are harder to find under the $10,000 price cap. Find a Chevrolet Volt for sale
98 MPGe first 38 miles/37 mpg for the remaining 318 miles
6. 2015 Toyota Camry Hybrid
The Camry is one of those hybrids that gets good gas mileage but functions like a normal family sedan. It's spacious, comfortable, reliable and quiet. If you want an effortless hybrid, this is the one. We like the 2015 model because it's more contemporary-looking than previous versions. Plus, the XLE versions will have features like heated leather seats up front and satellite radio. Look for cars with commuter-friendly options like a wireless phone charger, sunroof or a premium JBL audio system. If you're really looking for a bargain, check out the 2007-2009 Camry hybrid. You can find those for about $6,500. Find a Toyota Camry Hybrid for sale
40 mpg city/37 mpg hwy/39 mpg combined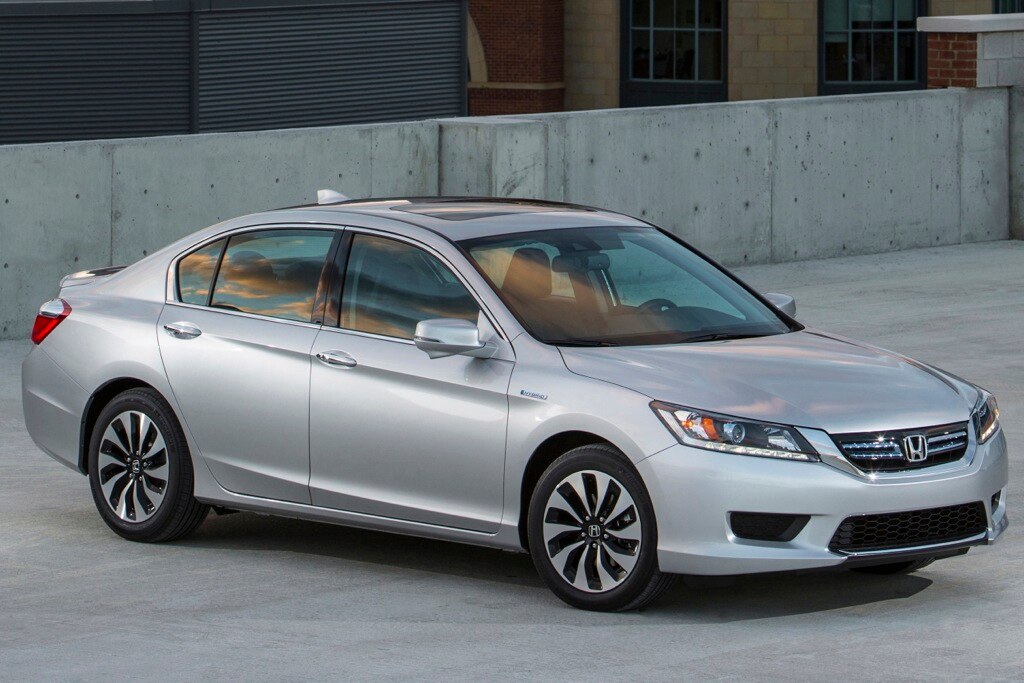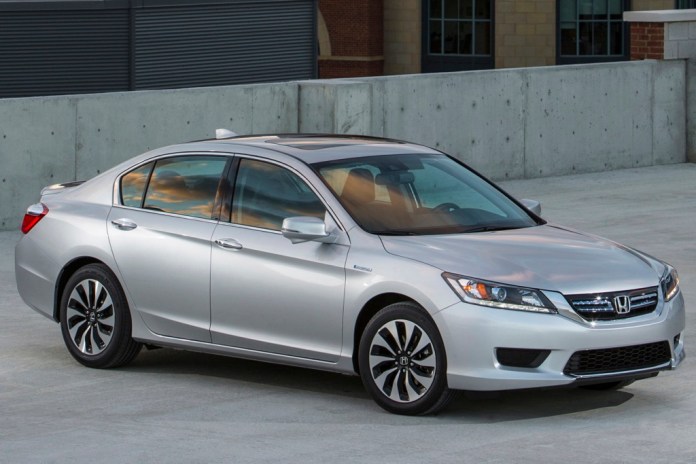 7. 2014 Honda Accord Hybrid
Like the Camry, the Accord hybrid is everything we love about reliable sedans with the added benefit of great fuel-economy, only better. Compared to other hybrids, the Accord feels like it's engineered to a higher standard. The interior has high-quality look and feel. Accords are noticeably more fun to drive than other hybrid sedans and Accords are notoriously reliable. The bad news: Everyone knows this. That means that a 2014 with over 100,000 miles will be at the very edge of that $10,000 limit, and many with low miles will be even more expensive. Still, find a well-cared-for Accord hybrid with, say, 120,000 miles and it should be good for several more years with few problems. Find a Honda Accord Hybrid for sale
49 mpg city/45 mpg hwy/47 mpg combined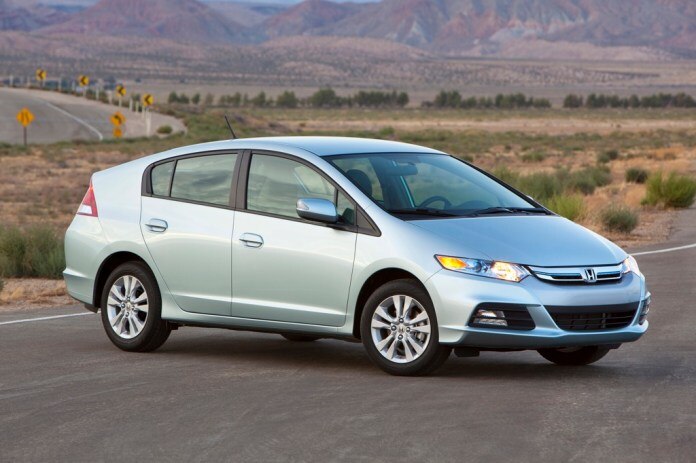 8. 2013 Honda Insight
There are two versions of the Honda Insight: a small, funky 2-door hatchback from the early 2000s and the more contemporary sedan. We're suggesting the newer car since the mileage will be lower and it's a more practical, modern car. For around $10,000, there are plenty of good Insights with less than 70,000 miles. If you want Bluetooth, an upgraded sound system as well as a rear parking camera, look for an EX with factory-installed navigation. Even though the newer Insight sedan is a better all-around car, you still find some good-condition versions of the 2-door hatchback for about $5,000. Find a Honda Insight for sale
40 mpg city/42 mpg hwy/41 mpg combined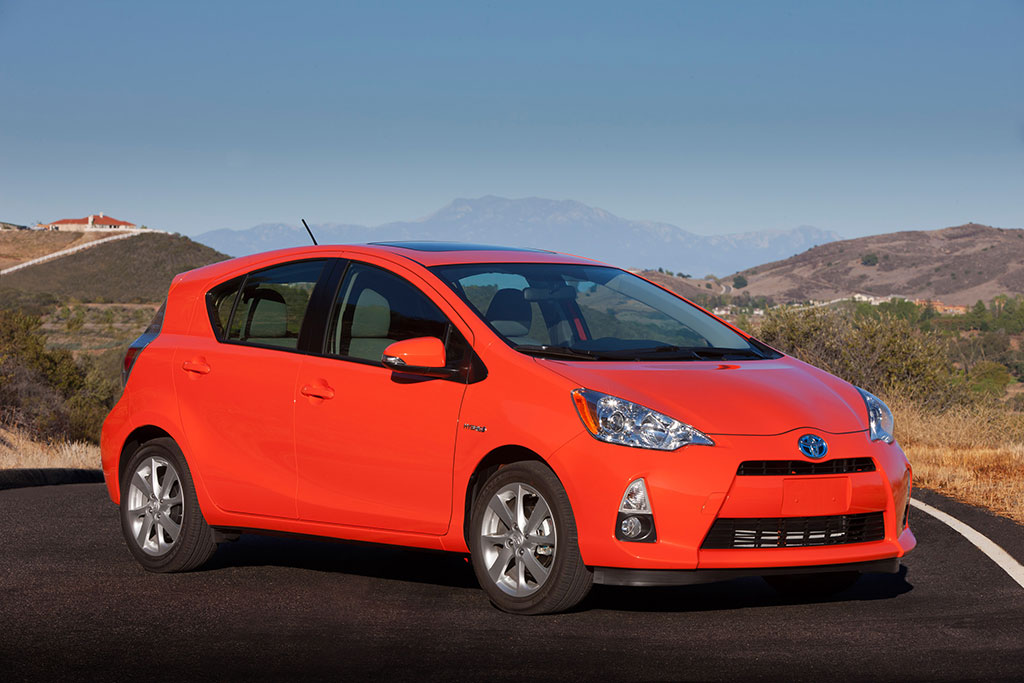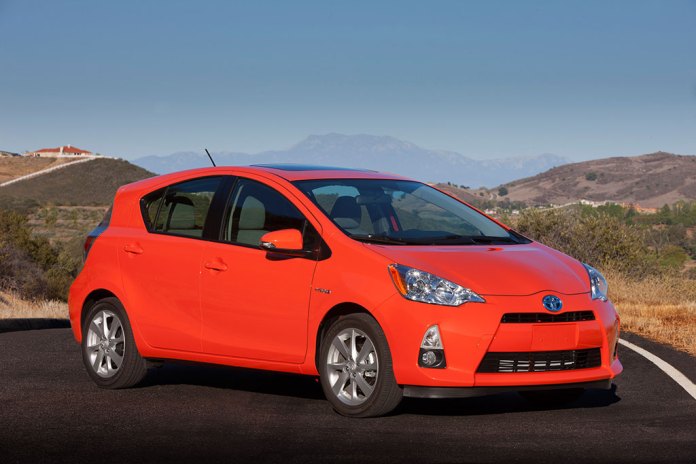 9. 2013 Toyota Prius C
Toyota's Prius C is a different model than the Prius. Imagine a car that's even more basic than the lowest-priced version of a Prius. That's the Prius C. Basic still means air-conditioning, power windows, power mirrors and digital gauges. The Prius C has only two things going for it: low price and great gas mileage. That's about it. If you want anything more than those two things, the Prius C isn't for you. A 2013 with less than 100,000 miles should cost around $7,000. If you're OK with a higher-mileage car, you can find them for even less. If a rock-bottom price plus really good fuel economy are important, the Prius C is worth checking out. Find a Toyota Prius C for sale
53 mpg city/43 mpg hwy/50 mpg combined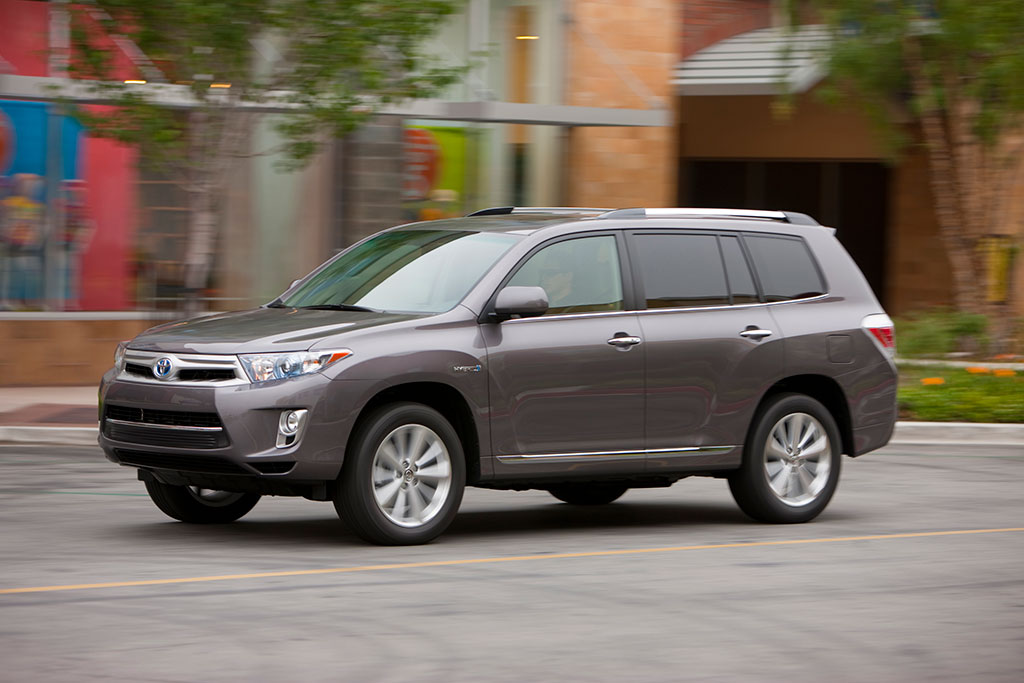 10. 2011 Toyota Highlander Hybrid
Used Toyota Highlander prices are all over the place. A new hybrid limited is more than $40,000. Then again, there are some slightly newer than 2011 for $10,000-$11,000, but those have well over 200,000 miles. On the other hand, a 2013 hybrid Limited with 90,000 miles can be more than $15,000. Our advice is to find a clean 2011 or 2010 with the mileage you can live with and start looking there. For Highlander Hybrids with well under 100,000 miles, start with the 2008 model. Yes, that seems old, but Toyota hybrids have proven they're reliable over the long haul. Find a Toyota Highlander Hybrid for sale
28 mpg city/28 mpg hwy/28 mpg combined