Trucks are used for work and for play, for hauling people and things, for towing, for building — you name it, and a truck has been there, getting the job done. Finding a quality used option can seem intimidating, but we're here to help. Here are our favorite used trucks for 2018 for $10,000 or less.
2005-2012 Toyota Tacoma
For almost 25 years, the Toyota Tacoma has been a leader of the pack when it comes to compact pickups. Early examples of the second-generation Tacoma, sold from 2005 through 2012, are currently a great buy at around the $10,000 mark. With either an economical 2.7-liter 4-cylinder or a torque-rich 4.0-liter V6, the Tacoma offers great powerplant options.
There are a number of configurations available, too. With three wheelbases and two bed lengths to choose from, buyers can opt for a light and maneuverable 2-wheel-drive short bed single cab model, all the way up to a brawny 4-wheel drive, 4-door long bed to meet all of your weekend needs.
Tacomas have also historically had great resale value. While you may find that used options at this price point aren't as diverse as you might have hoped, you can rest assured that any used example you pick up will have held its value if and when it comes time to re-sell. Plus, it's backed by Toyota's legendary reliability, helping to keep cost of ownership to a very manageable level.
Find a Toyota Tacoma for sale.
2007-2014 Chevrolet Silverado
Chevrolet's midsize truck offering for over two decades now, the Silverado, has been battle tested over the years. With well over 400,000 sold on average every year since the late 1990s, the Silverado is at the very core of the American truck industry, meaning that buyers have endless configurations to choose from. Looking for a short-bed, single cab with a V8? How about a V6 with a crew cab? There's a Silverado for everyone.
Opt for the Z71 package if you're looking to go off-road, or look for a heavy duty Silverado 2500 if you've got big things to haul. Models from the 2007-2014 era are the ticket at the $10,000 price point, with 620 for sale on Autotrader for around $10,000.
Find a Chevrolet Silverado for sale.
2004-2012 Chevrolet Colorado
While the similarly-sized Tacoma is attractive for its high resale value, the first-generation Colorado may be enticing for the opposite reason: Its depreciation, meaning a nicely equipped used model can be had today for what feels like a steal.
Similar to the Tacoma, the first-generation Colorado is available with two bed lengths and three cab configurations, with trim levels offered for both on- and off-road use. Sharing a platform with the similar GMC Canyon, the Colorado came with both 4- and 5-cylinder engines, the latter of which rivaled the 6-cylinder engine offered by competitors. Unique to this segment was a potent 5.3-liter V8 engine that was introduced for the 2009 model year and made 300 horsepower.
Remember though, buying a GM vehicle from the mid-2000s does mean compromising a bit on quality, but if that's something you're OK with, there's great value to be found in a used Colorado. Right now, there are around 700 2004-2012 Colorados on Autotrader for around $10,000.
Find a Chevrolet Colorado for sale.
2006-2012 Ford Ranger
The midsize Ranger was a staple in Ford's lineup throughout the 1990s and 2000s. Available in single cab and extended cab configurations, the diminutive Ranger isn't big on features, but it is big on durability and portability. Both 4- and 6-cylinder engines were offered, but the more powerful 4.0L V6 is the one to get. Additionally, parts availability for the Ranger won't be an issue, as Ford built about a zillion of them, with each new model year relatively similar to the last.
Right now, there are over 500 used 2006-2012 Rangers for sale on Autotrader.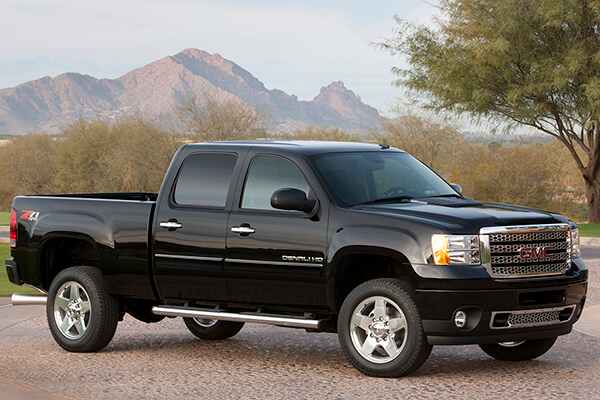 2007-2014 GMC Sierra
The Sierra is nearly identical to its General Motors twin, the Chevrolet Silverado, but offers just a little more style and exclusivity than the mainstream Silverado. To put it simply, the Silverado is more commonly offered as a work truck, while the Sierra is more often bought for commuting and family use. But a Silverado will do just fine as a daily driver, while the Sierra is perfectly suited for work duty. The Sierra also offers a ton of configurability with regard to engines, bed lengths, cab sizes and trim levels.
While the upscale Denali trim level still hasn't quite depreciated down to the $10,000 mark, lesser-equipped Sierras aren't out of the question, with around 200 used 2007-2014 Sierra 1500 models currently for sale on Autotrader.
2002-2008 Dodge Ram 1500
Like its competitors from Ford, Chevrolet and GMC, the Dodge Ram is an all-around workhorse, offering ample power and payload capacity. Unlike those competitors, though, the Ram has always offered an element of style above and beyond the norm. Opt for Chrysler's 5.7-liter Hemi V8 and you'll get 390 hp and 410 lb-ft of torque, enough to haul up to around 1,400 lbs in the bed or tow a trailer weighing up to 8,550 lbs.
At the $10,000 price point, there are currently over 1,600 2002-2008 Ram 1500s on Autotrader for you to choose from.
Find a Dodge Ram 1500 for sale.
2004-2014 Ford F-150
The F-150 has been the best-selling truck in America for years, so this list wouldn't be complete without it. With hundreds of thousands sold every year, the used market is full of examples to choose from. If you don't mind higher mileage, newer 12th generation F-150s sold from 2009 to 2014 are attainable for around $10,000, and there are currently almost 500 such F-150s on Autotrader. The bulk of the listings at the $10,000 mark are for the eleventh generation, sold from 2004 to 2008, and there are over 2,500 listed.
Opt for the newer model, and Ford's fuel efficient EcoBoost engine technology comes into play; go for an earlier model, and you're far more likely to find the exact configuration you're looking for, or close to it.
1999-2007 Ford F-350
As far as heavy-duty trucks go, Ford's F-Series Super Duty lineup is king, although competitors from Chevrolet, GMC and Dodge/Ram are viable alternatives. If you need to tow heavy machinery, a large boat, horse trailers and the like, a Ford Super Duty pickup will get the job done with little fanfare. As these trucks offer immense utility and commercial-vehicle levels of hauling capability, they don't depreciate nearly as quickly as their lighter-duty counterparts. Additionally, they usually come with diesel engines, which also add to their resale value due to the huge advantages when it comes to fuel economy and towing power.
With that said, buyers with a budget of around $10,000 will likely be looking at an earlier, 1999-2007 iteration of the Ford F-250/F-350. Many examples will be well-worn and higher mileage, but fear not, their diesel engines will run and run for years to come. At this price point, there are well over 1,000 1999-2000 Ford Super Duty pickups to choose from on Autotrader.
2004-Present Nissan Frontier
Never as popular as the Tacoma, the Nissan Frontier pickup has soldiered on in its current generation for around 14 years. As a result of flying under the radar, early examples of the current Frontier can be had for a relative bargain, with over 700 currently listed on Autotrader for around $10,000. These aren't all base models with hundreds of thousands of miles on the clock, either. For ten grand, buyers can opt for lower mileage 2-wheel drive models in mid-level trims, or even an off-road Nismo edition Frontier (many of which came with a supercharged V6 engine) with only around 100,000 miles. Any way you look at it, if you're willing to forgo the Toyota pedigree, the Frontier is a great lower-priced alternative to the Tacoma.
Find a Nissan Frontier for sale.
2006-2014 Honda Ridgeline
Sharing its underpinnings with the Honda Pilot and Acura MDX, the Ridgeline is a great option for someone who wants a truck but doesn't want to make all of the sacrifices that come with owning and driving a truck. As the only unibody pickup offered in America in recent years, the Ridgeline combines crossover-like driving dynamics and fuel economy with the utility of a small pickup. Given this, the Ridgeline is perfect for someone who doesn't need to tow large items or haul equipment and materials to and from a work site, and who is instead considering a truck as a commuter vehicle to support their active lifestyle and maybe haul a few large items every year that might not fit into a midsize SUV like a Pilot. With that said, the first-generation Ridgeline was no slouch. With a payload capacity of 1,500 pounds and capable of towing 5,000 pounds, the Ridgeline will serve many of the same purposes as a similar Tacoma or Colorado, but with a few added benefits, like an in-bed trunk, a completely flat bed floor and a tailgate that can be opened like a barn door. Add in Honda reliability, and the Ridgeline is an all-around awesome package. There are currently over 200 listed on Autotrader for around $10,000.