If you're interested in buying a Kia Sedona or any of the other cars on this list, you'd better act fast. That's because each vehicle here is being discontinued for 2013, meaning the only new models left are units currently in stock at dealerships. But while that means new examples of these cars are getting rarer, it also means price breaks are more readily available as stock begins to dwindle and dealers grow increasingly eager to sell out.
Chevrolet Avalanche
While Chevrolet may release an Avalanche at the beginning of the 2013 model year, parent company General Motors already announced it will phase out the four-door pickup soon after. That's bad news for many of the truck's loyal buyers, since its unique configuration–which includes four full-size doors and a removable partition between the cabin and bed–isn't available in any other vehicle. But it's hard to fault Chevrolet for discontinuing the truck, considering its massive decline in popularity: Last year, the automaker sold just over 20,000 units of the Avalanche, down from a high of more than 90,000 sales in 2003.
Dodge Caliber
Dodge is phasing out its once-popular Caliber hatchback after the 2012 model year in favor of the handsome new Dart sedan. While we're quite taken with the Dart–and we certainly had misgivings about some areas of the Caliber, including its noisy transmission and inexpensive interior–we're fond of the Caliber's hatchback body style and practical cargo area. We also appreciated its available all-wheel drive, which is a rare feature on compact cars. Nonetheless, since the Caliber found only 35,000 buyers last year–a shadow of sales numbers posted by rivals like the Toyota Corolla and Ford Focus–we expect that Chrysler is eager to roll out the all-new Dart instead.
Kia Sedona
While the Kia Sedona offered a cutting-edge alternative to rivals from Honda and Toyota when it debuted for 2006, the minivan has grown outdated in the years since. Now, it offers the oldest design in the highly competitive segment, which has led most buyers to shop the competition instead. For buyers who don't mind the dated styling, we think the Sedona offers a great value among minivans, especially considering the deals that are likely available in the face of its impending cancellation. But if you're in the market for a new minivan, you certainly won't be faulted for choosing one of the Sedona's more contemporary rivals.
Lexus HS 250h
Originally pitched as an upscale alternative to the highly efficient Toyota Prius, the Lexus HS 250h hybrid sedan struggled to find buyers since its debut for the 2010 model year. One reason for the sedan's sluggish sales was its base price, which, at nearly $35,000 before options, was a steep hike for hybrid buyers familiar with the Prius's mid-$20,000 price tag. The HS 250h also failed to meet buyer expectations for fuel economy, trailing the Prius by nearly 40 percent and recording just 35 miles per gallon in combined city and highway driving. With just 2,864 units sold last year, the HS 250h was Lexus's least popular model line, surpassing even the rare LX 570 full-size luxury SUV.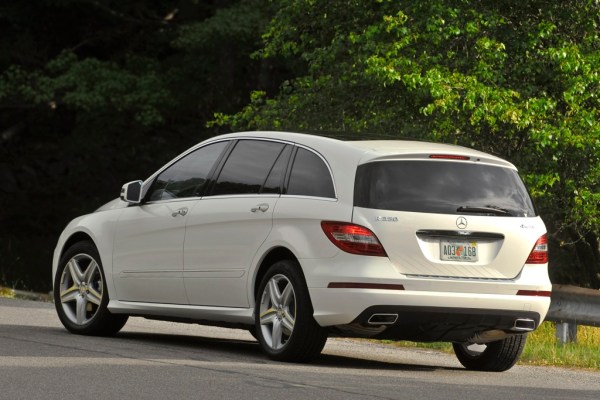 Mercedes R-Class
Originally released for 2006, the R-Class provided SUV capabilities and passenger room but lacked the brawny styling of many modern sport-utes. That, coupled with a base price of around $50,000 before options, sealed the fate of the Mercedes so-called "grand sports tourer" in the US market. And while Mercedes tried to boost sales with a 2011 facelift, shoppers continued to stay away, purchasing fewer than 2,400 units of the unique model last year. Interestingly, the R-Class will still be manufactured at the Mercedes factory near Tuscaloosa, Alabama, and shipped overseas, where it remains highly popular.
Mitsubishi Eclipse
Mitsubishi will soon drop its compact Eclipse sports car after more than 20 years on the market. While the automaker says the Eclipse's cancellation was necessary to make room for the Outlander Sport at its Illinois production facility, waning sales numbers are likely also to blame. Indeed, Mitsubishi sold just 4,455 units of the Eclipse in 2011–a far cry from strong figures that once numbered more than 50,000 units per year. But while the Eclipse's demise is tragic for fans of the popular marque, it also represents a shift in buyer interest away from practical, front-wheel drive hatchbacks and toward true rear-wheel drive coupes like the Chevrolet Camaro and Hyundai Genesis.
Saab 9-5
With the death of the Saab brand, the Swedish luxury manufacturer's futuristic 9-5 sedan was also sidelined after the 2011 model year. While many car shoppers will hardly notice its departure, Saab fanatics will certainly be sad to see the 9-5 go, especially considering that many felt it could've saved the brand if it debuted a few years earlier. It's hard to disagree, considering the 9-5's combination of muscular engines and competitive pricing, which started around $39,000 including destination. Saab's 9-4X SUV was also canceled before it could find mass appeal, reaching only a few hundred buyers before the automaker declared bankruptcy last December.
What it means to you: If you're looking for a car that's on this list, act fast to ensure you get one before it's no longer available.