It can be difficult to own a pickup if you live in a big city. Most pickup trucks are large and ill-suited to the tiny parking spots and narrow streets of metropolitan areas. But many big-city drivers still need — or want — a truck. To help you find a pickup for the big city, we've listed some of the best city trucks on the market.
Chevrolet Colorado/GMC Canyon
Although General Motors discontinued the Chevrolet Colorado and GMC Canyon midsize pickups, hundreds of new 2012 models are still available on AutoTrader.com. For the 2012 model year, the trucks were only offered in a 4-door Crew Cab body style. But despite the full-size doors, the Colorado and Canyon still stretch to just 207.1 inches in length — long for a car, but much smaller than most Crew Cab pickups. At 67.6 inches wide, the Colorado and Canyon are also far narrower than most cars. Our only advice: If you want a new one, act quickly before supplies run out. Find a Chevrolet Colorado for sale or Find a GMC Canyon for sale
Chevrolet Silverado/GMC Sierra
If you absolutely must get a full-size truck, the Chevrolet Silverado — and its GMC twin, the Sierra — are the best to consider. The reason is the regular cab, short-bed versions are smaller than rivals from Ford, RAM, Nissan and Toyota. In fact, at 205.6 inches long, a base-level Silverado or Sierra is the same length as a base-level Nissan Frontier midsize truck. Of course, the Silverado is much wider, at nearly 80 inches. For that reason, we recommend drivers consider midsize trucks first if they're looking for a pickup that can handle city life. Find a Chevrolet Silverado for sale or Find a GMC Sierra for sale
Ford Transit Connect
Ford's small Transit Connect is certainly not a pickup. But as a cargo van, it's far more capable than nearly anything else on the road. Witness, for example, its 130 cu ft cargo capacity, along with its surprisingly bulky 1,600-lb payload capacity. Most important, the Transit Connect is small and fuel efficient, making it perfect for large cities. At just 180.6 inches in length, the Transit Connect is about the size of many compact cars. And fuel economy isn't far off, at 21 miles per gallon in the city and 27 mpg on the highway. Sure, it can't transport some items a pickup can carry, but the Transit Connect is a great truck choice for many inner-city drivers. Find a Ford Transit Connect for sale
Nissan Frontier
Like the Toyota Tacoma, the Nissan Frontier remains one of the few midsize trucks still available. But unlike the Tacoma, the Frontier is no longer offered with a regular cab. Drivers who want the truck now have to choose between extended-length King Cab or 4-door Crew Cab. Both increase length and detract from the truck's ease of operation in a big city. Still, the King Cab, at 205.5 inches in length, isn't so bad. That makes it only about a foot longer than most midsize sedans. It's also only slightly wider than most modern cars. And the base-level 4-cylinder engine returns a miserly 19 mpg city/23 mpg hwy. Find a Nissan Frontier for sale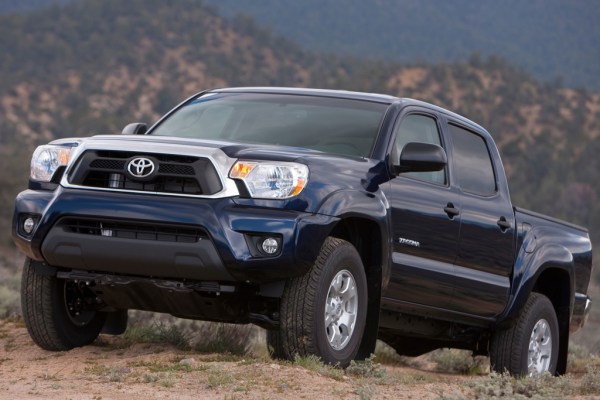 Toyota Tacoma
The Tacoma is one of the few midsize trucks still on the market. It's also one of those pickups best suited to city life, thanks to reasonable sizing and efficient powertrains. A base-level Tacoma is just 190.4 inches long, which makes it only around an inch longer than Toyota's popular Camry midsize sedan. And at 72.2 inches wide, the Tacoma is also only a half-inch wider than the Camry. Finally, the Tacoma makes a case for itself as a city truck with a fuel-efficient 4-cylinder engine that returns 21 mpg city/25 mpg hwy. Find a Toyota Tacoma for sale
What it means to you: Our list of city trucks should help you find the right pickup, even in a crowded area.