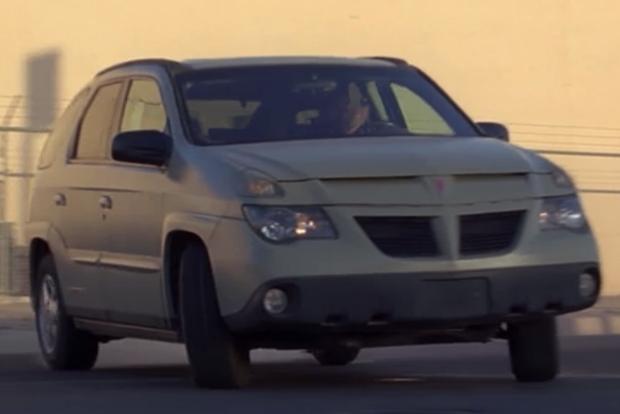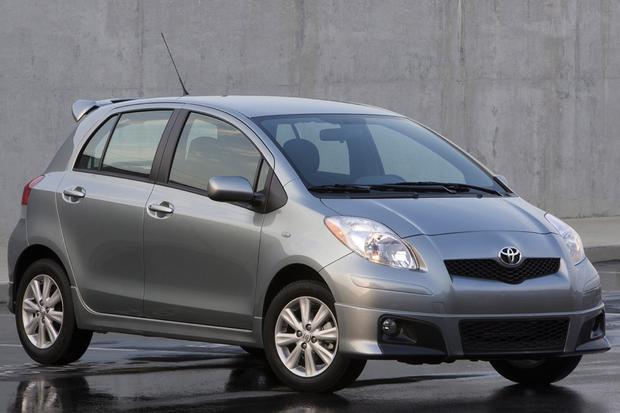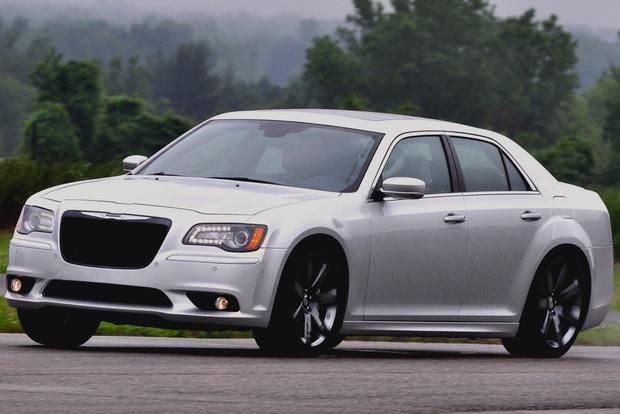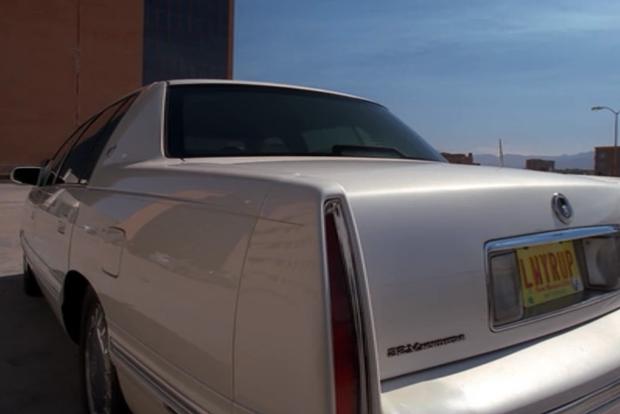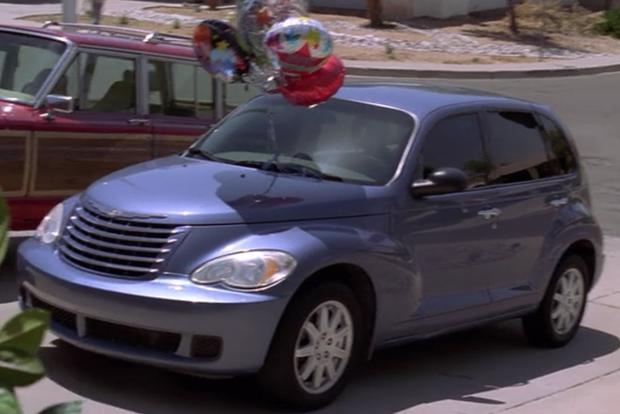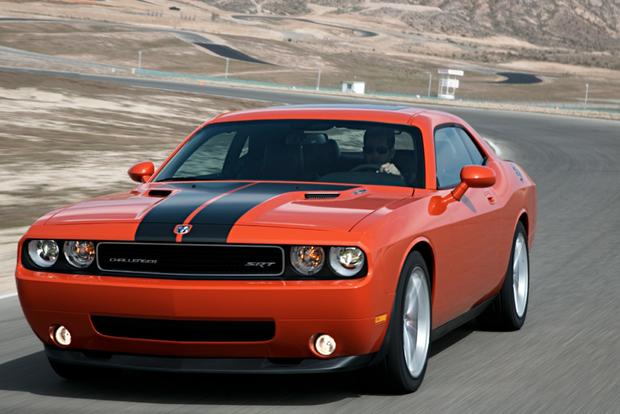 If you're a fan of AMC's smash hit "Breaking Bad," you've probably noticed that cars play an outsized role in the show. Being car nuts, we've found ourselves taking notes while watching, and that's where we got the idea for this top list. But it's not just about trivia. What's cool about AutoTrader.com is that you can search our classifieds for these cars and even buy them, if you're so inclined. So as you're scrolling through our 9 faves, keep in mind that AutoTrader's nationwide Car Finder is just a click away.
Jesse's Toyota Tercel 4-Wheel Drive
Remember when Jesse Pinkman buys this perfectly anonymous Toyota wagon to replace his original gangster-spec Monte Carlo? You didn't know it then, but the little red '84 Tercel would become almost as much of an icon as Jesse himself. Since it's a 4-wheel-drive model, we know it came standard with the bigger 1.5-liter 4-cylinder engine (a 1.3-liter was standard on front-wheel-drive Tercels). It had as much punch as a Tercel could have in those days. And the 4-wheel-drive system was the real deal, believe it or not, boasting a low-range gear of sorts on manual-transmission models.
Gus' Volvo V70
What better car for the founder of Los Pollos Hermanos? Descended from the 100 percent Swedish Volvo 850 wagon, the first-generation V70 represents old-school Volvo values that reflect Gus' own. It's a sensible, prudent, practical vehicle that draws little attention to itself and takes no unnecessary risks. At the same time, it's impeccably trimmed and quite capable when pushed. The downside? You might need to own a fast-food chain to keep it running.
Mike's Chrysler Fifth Avenue
Unassuming on the outside but powered by a don't-mess-with-me 5.2-liter carbureted V8, the maroon Fifth Avenue was basically Mike on four wheels. An upscale version of the New Yorker sedan, the Fifth Avenue was popular in its day, and collector interest has boosted resale values in recent years. Still, you can easily find a low-mileage specimen for $5,000 or less in our classifieds. That's a lot of old-school American luxury for the money.
Walt's Pontiac Aztek
Possibly even more iconic than Jesse's Tercel, the "Breaking Bad" Aztek has single-handedly rehabilitated the public image of Pontiac's black sheep. Although once widely reviled as the ugliest car in America, the Aztek has a growing cult following, yet $8,000 or so will get you into a clean used specimen with attractive miles. Did you know that the Aztek had a removable rear console that could be used as a drink cooler? Cupholders and seating contours built into the flip-down lower tailgate? An available tent package with an air mattress? As the guy at the scrap yard says to Walt, "People like to joke, but I really, really like this car." If only we all could pick up one for 50 bucks.
Walt's Toyota Yaris
Featured briefly as the loaner car while the Aztek got repaired from the crash with Hank, this second-generation Yaris plays a memorable supporting role in the final scene of season 4. After Walt and Jesse shake hands atop the parking structure, Walt hops into the white hatchback and pauses at Gus' car, staring triumphantly at the Los Pollos Hermanos medallion dangling from its rearview mirror. Of course, no Yaris can match Jesse's Tercel for character or versatility, but as a serious used-car prospect, this efficient, practical Toyota has a lot to offer. Note that Walt's 4-door hatchback body style was only offered starting in 2009.
Walt's Chrysler 300 SRT8
Without a doubt, one of Walt's better decisions over five seasons was selling the Aztek for $50 and replacing it with a current-generation (2012-present) Chrysler 300 SRT8. Decked out in menacing black paint with massive wheels, the SRT8 (shown here in white) is roughly as gangsta as Walt himself. If you're wondering what was making all that noise in the epic driveway engine-revving scene, it was the SRT8's 6.4-liter, 470-horsepower Hemi V8, which happens to be one of our favorite motors in any current vehicle.
Saul's Cadillac DeVille
Our staff Cadillac experts peg Saul Goodman's DeVille sedan -- license plate LWYRUP, of course -- as a 1997-99 model, which means it came standard with the excellent 32-valve Northstar V8 (early DeVilles used an older, less-powerful V8). If you can forgive the front-wheel-drive layout, the DeVille is otherwise a hilariously enjoyable example of classic American luxury. You get a pillow-soft ride, plenty of power and a huge backseat. As Saul might say, "They don't make 'em like this anymore."
Walt Jr.'s Chrysler PT Cruiser
Most 16-year-old guys would probably react exactly like Walt Jr. did to this replacement birthday present (for the Challenger discussed below). Not that the PT Cruiser was a bad car; on the contrary, its Neon roots gave it decent driving dynamics, and its upright posture and hatchback body style made it usable for a variety of purposes. But when you're 16, you're not thinking about that sort of thing; you're thinking about doing donuts in the parking lot. Having said that, Chrysler sold so many PT Cruisers during the car's production run that the used-car market is full of them. So if you're old enough to appreciate what the Cruiser has to offer, there are bargains in all corners of the country.
Walt Jr.'s Dodge Challenger
At this point we're starting to suspect product placement worked its way into the "Breaking Bad" formula. Still, everyone's inner 16 year old will approve of this one. Well, everyone except Skyler, who vetoed it and brought the PT Cruiser into play. Here's a fun piece of trivia: Although Walt Jr. excitedly describes the Challenger as having a V8 with 470 hp, the original car -- the one that Walt Sr. ends up crashing in the parking lot and lighting on fire after a series of epic donuts -- is actually a V6-powered SE. You can tell by the single exhaust outlet, if you look closely. However, when Walt Sr. buys his Chrysler 300 SRT8 in season 5 and subsequently replaces Walt Jr.'s PT Cruiser with what's supposed to be an identical Challenger, a proper SRT8 is shown. Another fun piece of trivia: In the aforementioned driveway revving scene, which also features Walt Jr.'s Challenger, the cars are powered by the same 6.4-liter V8.
Of course, there are other cool used cars featured on AMC's "Breaking Bad." Hank's Jeep Commander, Marie's VW Beetle, Skyler's Jeep Grand Wagoneer (that appears to have been replaced by a Ford Edge), several blacked out Tahoes and Suburbans, a Chevy Monte Carol SS Aero Coupe, Badger's Pontiac Fiero and Jesse's original 1980s-era Monte Carlo low rider.
If you're looking for a used car that really stands out, check out AutoTrader's Find Your Car tool and see if you can uncover one that's as unique as the cars featured on AMC's hit TV show "Breaking Bad."