When it comes to luxury hybrid cars, no other carmaker is more prolific than Lexus. It is ground zero for the luxury hybrid. Sure, some other high-end and premium manufacturers like Volvo are committed to beefing up their product line with more electric-based vehicles including hybrids, while others have a couple of hybrids. But Lexus, following Toyota's path in offering consumers a cafeteria-like menu of seven hybrid vehicles by the end of 2018, has developed quite the hybrid stable.
Lexus blew through the green ceiling when it launched the world's first luxury gasoline/electric vehicle in the form of the 2006 RX 400h in 2005. It followed with the 2007 GS 450h in 2006. And the hybrids have just continued flowing ever since. Today Lexus offers four hybrid cars, as well as two hybrid crossovers with a third smaller hybrid crossover hitting showrooms in December 2018. Despite Toyota offering some plug-in hybrids, Lexus hybrids continue to be conventional ones.
When we asked, Lexus Vice President of Marketing Cooper Ericksen summed up the brand's affinity for hybrids this way: "Lexus was a pioneer in electrifying our products. For over 14 years, we have been committed to providing our customers with a vehicle option that reduces smog-forming emissions, delivers a significant improvement in fuel economy and saves time thanks to greater range. This strategy makes sense for our guests and society."
ES 300h
This midsize hybrid sedan took its first bow in 2012, as a 2013 model. In 2018, it continues to soldier on with a mild freshening along the way. Lexus offers it in only one grade with a couple of fairly comprehensive option packages.
Under the hood is a 2.5-liter Atkinson-cycle 4-cylinder gas engine coupled with a an electric motor. Capable of operating together or independently, the motor and engine together generate 200 horsepower. A CVT hustles output from the hybrid system to the front wheels. Four driving modes (Normal, Eco, Sport and EV) provide some adaptation to the driver's driving style. EV mode allows driving on electric power only for short distances. The other modes are pretty self explanatory.
Some extra low-end torque provided by the motor helps launch the ESh to 60 miles per hour from a standstill in 8.1 seconds, according to Lexus. Government-estimated fuel economy is 40 miles per gallon in the city and 39 mpg on the highway.
Pricing begins at $42,815 with factory delivery charge.
GS 450h
Available in regular 450h guise or as the tricked-out 450h F Sport, this midsize sedan was the second hybrid in the Lexus portfolio, arriving in 2006. Basically a suspension-and-appearance upgrade, the F Sport first appeared for the 2015 model year.
Following the Lexus hybrid formula, both GSh versions derive their thrust from an Atkinson-cycle engine and electric motor. Here, though, the gas engine is a 3.5-liter V6. Again, the motor and engine work independently or in parallel. When working together, they put out a combined 338 hp. The leap from zero to 60 mph requires just 5.6 seconds.
A CVT ushers hybrid-system output to the rear wheels. It also offers multiple driving modes. The government-rated mileage is 29 mpg city/34 mpg hwy.
Going for the F Sport adds goodies like bigger wheels, sport-tuned adaptive variable suspension, 4-wheel steering and some exterior/interior styling enhancements.
Pricing begins at $64,630 for the GS 450h and $69,675 for the GS 450h F Sport.
LC 500h
Sitting atop the Lexus passenger-car lineup, the sporty LC 500 coupe has mind-numbing styling, sporty handling and a luxurious cabin. Waving the hybrid flag is the LC 500h. First introduced for 2018, Lexus calls it the next-generation hybrid. In comes in only one grade.
Lexus developed its new Multi Stage Hybrid System (MSHS) for the LCh. It teams a 3.5-liter Atkinson-cycle V6 with with two electric motors/generators. The V6 is an enhanced version with direct fuel injection, lightweight valve components and a 6,600-rpm redline. It uses the Lexus CVT to transfer power to the rear wheels, but adds to it a special 4-speed automatic transmission. The CVT and 4-speed conspire to alter output in four stages to maximize the V6's performance and efficiency. The result is 10 ratios for the driver to shift through with the steering-wheel-mounted paddle shifters. MSHS provides more electric assist at lower vehicle speeds and permits electric-only power up to 87 miles per hour.
With a combined output of 354 hp, this hybrid system pushes the LC 500h from zero to 60 mph in 4.7 seconds. Considered a subcompact by the EPA, the LC 500h has a government-rated fuel economy of 26 mpg city/35 mpg hwy.
Pricing begins at $97,505.
LS 500h
The flagship sedan in the Lexus car lineup, the LS 500, is an exceptional blend of luxury and performance. Making that effort greener is the 2018 LS 500h, the third generation LSh. When the 2008 LS 600h launched, it was the first-ever, full-size hybrid luxury sedan. The 2018 LS 500h is totally redesigned and comes in RWD or AWD.
The LS 500h basically employs the same hybrid system as the LC 500h with the familiar-sounding 3.5-liter Atkinson-cycle V6 and two electric motors for a combined 354 hp. Lexus mated the CVT used in the LS 500h to the same all-new 4-speed automatic gear set. The end result is the sensation of gears shifting when using paddle shifters to move up and down through the gear range in manual mode.
According to Lexus measurements, getting from zero to 60 can be as quick as 5.1 seconds. Government-estimated mileage is 25 mpg city/33 mpg hwy for RWD and 23 mpg city/31 mpg hwy for AWD.
Pricing begins at $80,505 for RWD and $83,725 for AWD.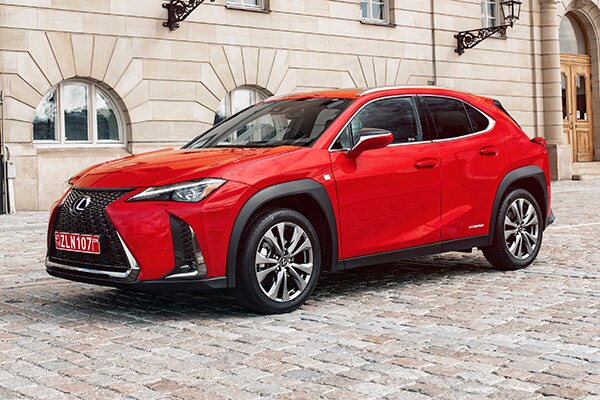 UX 250h
Scheduled for showrooms in December of 2018, the UX 250h is the newest and the smallest of Lexus crossover hybrids. Featuring the new-generation Lexus Hybrid Drive powertrain, it has a total system 175 hp from its 2-liter gas engine and two electric motor/generators. Because AWD is standard in the UX 250h, a CVT distributes power to all four wheels. Drive Mode Select will allow the driver to tailor the driving experience to personal taste.
Engineered to tackle busy urban streets, the UX 250h provides responsive steering and tidy dimensions for squeezing into narrow downtown parking spots.
Offering the latest in Lexus multimedia and navigation technology, this crossover's standard multimedia screen is 7 in., but a 10.5-in touchscreen is optional. Lexus puts safety front and center providing its Safety System+2.0 as standard on the UX 250h. It includes pre-collision system with pedestrian detection, all-speed dynamic radar cruise control, lane departure alert with steering assist, lane tracing assist, road sign assist and intelligent high-beam headlamps.
Pricing begins at $35,025.
NX 300h
The middle-child of Lexus's hybrid crossovers, the NX 300h first popped on the scene as a 2015 model. Because of its chiseled styling, it's easily recognizable among its peers. Although it's a bit short of cargo space, there's plenty of front-seat legroom and sufficient rear-seat legroom for taller adults. Lexus only offers the NXh in one grade.
Once again, Lexus called upon the 2.5-liter Atkinson-cycle 4-cylinder engine as the gasoline powerplant in the NX 300h hybrid system. It's connected to a CVT to turn the front wheels. When running in parallel, the electric motor and 2.5-liter engine deliver 194 hp. Because AWD is standard, a second electric motor replaces the the transfer case and drive shaft to the rear wheels to drive them.
No speed demon, the NX 300h needs 9.1 seconds to gallop to 60 mph from a dead stop with a top speed of 112 mph. The government-estimated fuel economy is 33 mpg city/30 mpg hwy.
RX 450h
It's the one that started it all: the RX 400h back in 2005. Today, it's the RX 450h, but it also comes in the sportier 450h F Sport with its performance handling and appearance package, and soon a longer-wheelbase, 3-row 450hL. All are 4WD only. Consumers continue to flock to the RXh for the same reason they always pick that same old pair of blue jeans to lounge around the house: familiarity and comfort.
Comprising the RXh's hybrid system is the 3.5-liter Atkinson-cycle V6 and two high-torque electric-driver motors. Together they deliver a combined 308 hp to the wheels via a CVT. The RX 450h sprints from zero to 60 in an impressive 7.9 seconds with a top speed of 112 mph.
Pricing begins at $56,490 for the 450h, $51,615 for the upcoming 450hL and $53,400 for the 450h F Sport.