Top Cars
Get Great Gas Mileage in These 7 SUV Alternatives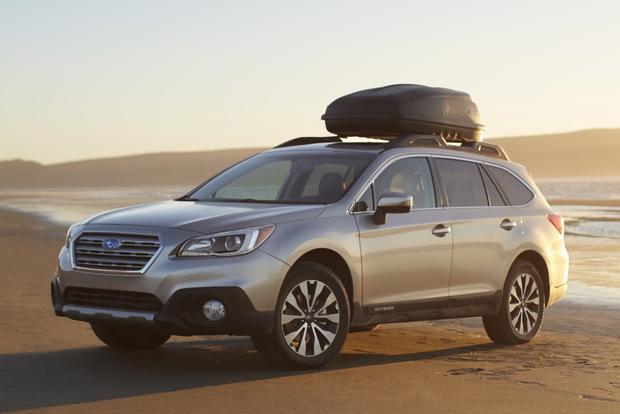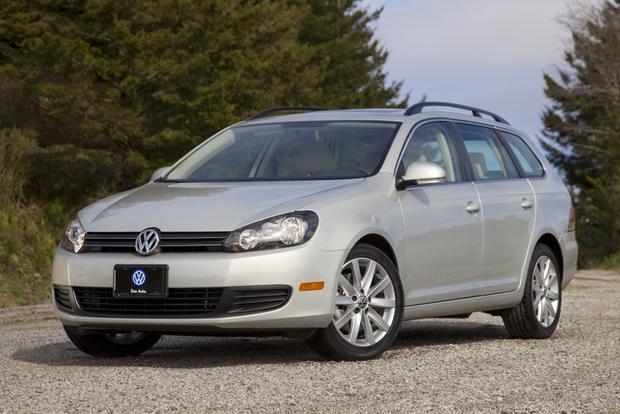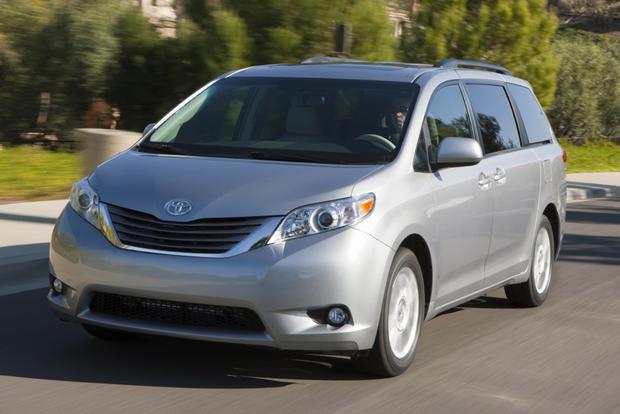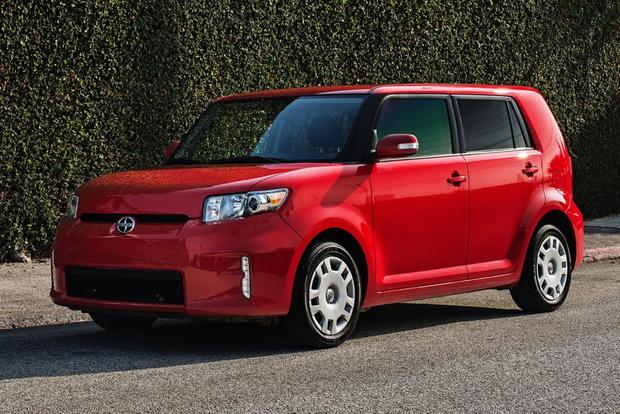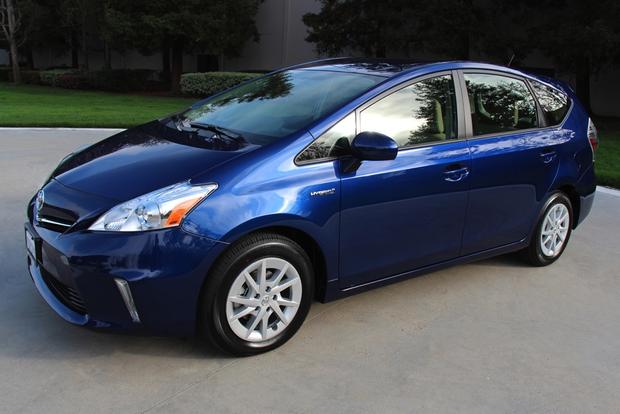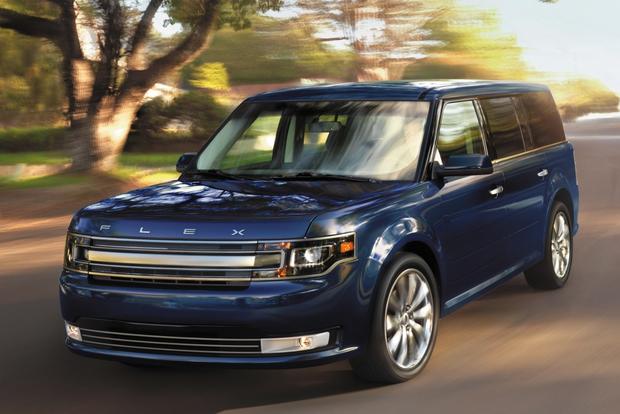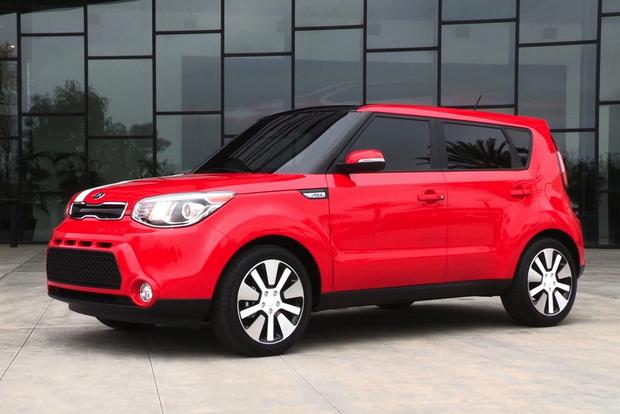 If you're searching for a new car that can fit your whole family, you don't need to get stuck with SUV fuel economy. Instead, you can choose from one of our seven excellent SUV alternatives, each of which offers better gas mileage than most SUVs -- but has just as much space for your entire family and their accessories.
Ford Flex
If you need seven seats and acceptable fuel economy, but you can't be convinced to get a minivan, the 3-row Ford Flex might be the car for you. Yes, we realize the Flex's styling is a little unorthodox -- but that's part of its charm. The boxy look also gives the Flex its excellent cargo capacity, which measures in at a whopping 83.2 cu ft. with the rear seats down, and more than 20 cu ft. behind its standard third row. Most importantly, the Flex, which starts around $30,000 with shipping, easily trumps Ford's other full-size SUV, the Expedition, when it comes to fuel economy: While the Expedition returns 14 miles per gallon in the city and 20 mpg on the highway, the Flex comes in at 18 mpg city/25 mpg hwy with its standard 287-horsepower 3.5-liter V6.
Kia Soul
The newly updated Kia Soul offers funky styling and reasonable pricing that starts below $16,000 with shipping. It also includes a surprisingly large cargo area with a cavernous 62 cu ft. of space with the seats down, a figure that falls only a few cubic feet shy of small SUVs like the Ford Escape and Honda CR-V. Rounding out its list of benefits is fuel economy, which stands at 24 mpg city/30 mpg hwy -- far better than most compact SUVs. Maybe the Soul's only drawback is a lack of available all-wheel drive, which may be a big deal to shoppers in snowy areas.
Scion xB
Get past the Scion xB's unusual styling and you'll find an excellent alternative to a compact SUV at a budget-friendly price. With a starting MSRP of around $18,000 with shipping, the xB undercuts small SUVs like the Honda CR-V and Toyota RAV4, which start at $24,000 and $24,500, respectively. It also offers roughly the same cargo space: 70 cu ft. to the CR-V's 71 and the RAV4's 73. Best of all, the xB's fuel economy rating of 22 mpg city/28 mpg hwy matches or exceeds most compact SUVs, leaving a lack of available all-wheel drive as its sole drawback.
Subaru Outback
The newly redesigned 2015 Subaru Outback is just the latest version of a popular station wagon that's been stealing SUV sales for over a decade. Featuring ample passenger room and a huge cargo area, the Outback has about the same dimensions as a midsize SUV on the inside. It also boasts standard all-wheel drive, a car-like ride thanks to its lower center of gravity, and a base price below $26,000 -- far less than many comparable SUVs. But the Outback's best trait is its fuel economy: The Environmental Protection Agency estimates 4-cylinder models will return an impressive 25 mpg city/33 mpg hwy.
Find a Subaru Outback for sale
Toyota Prius v
The Toyota Prius v is a front-wheel-drive wagon that places fuel economy and interior room ahead of everything else, much to the delight of shoppers interested in efficient family cars. Cargo space is impressive, measuring 67 cu ft. with the seats folded down -- a figure that falls just shy of rivals like the Honda CR-V and Toyota RAV4. Rear seat room is also impressive, as the Prius v touts about as much passenger space as a compact SUV. But the best part is fuel economy. For a starting price of around $28,000 with shipping, the Prius v offers 44 mpg city/40 mpg hwy, which is better fuel economy than any compact SUV on the market.
Find a Toyota Prius v for sale
Toyota Sienna
We know it's an obvious choice, but we have to suggest it anyway: If you're looking for a huge, family-friendly interior and better-than-SUV gas mileage, you'll have to consider a minivan. The Toyota Sienna is the pick of the bunch for SUV shoppers, since it's the only one available with all-wheel drive. It also offers a large interior, standard 3-row seating and a powerful 266-horsepower V6, and starts around $28,000 with shipping. Best of all, its 18 mpg city/25 mpg hwy is drastically better than most full-size SUVs with similar interior volume -- and we happen to think a minivan's sliding doors are pretty handy, too.
Volkswagen Jetta SportWagen
No, the Volkswagen Jetta SportWagen doesn't offer all-wheel drive, and that will quickly remove it from the shopping lists of many northern drivers who need the feature for snowy winters. But otherwise, the compact station wagon is everything you'd want from an SUV, but with far better fuel economy. That's especially true of the diesel-powered SportWagen TDI, which returns an impressive 30 mpg city/42 mpg hwy -- far better than any compact SUV -- for a base price of around $27,500 with shipping. And don't let its compact car roots fool you: The Jetta SportWagen still boasts a large interior, including 70 cu ft. of cargo space -- about the same as SUV rivals like the Ford Escape and Honda CR-V.