With the NFL season in full swing, we're back with the second installment of our football-themed rivalry rundown. Here's how it works: We introduce a pair of competing models, discuss their relative merits and pick a winner. Style counts, but just like a wobbly Peyton Manning pass that hits a receiver between the numbers, it's substance that really matters. Ladies and gentlemen, let's meet our contestants.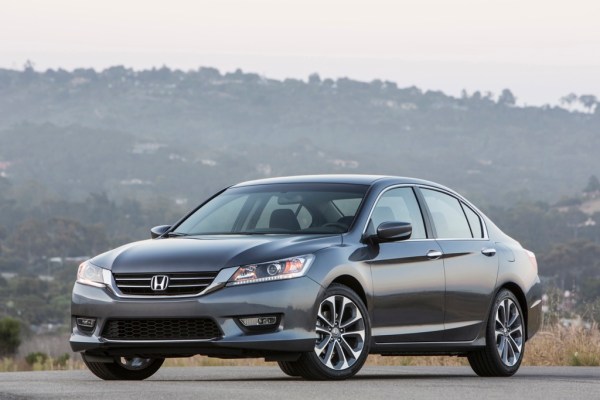 2013 Ford Fusion vs. 2013 Honda Accord
Fully redesigned for 2013, the Fusion is no longer a scrap that fell from Ford of Europe's table. In accordance with the corporate One Ford policy of selling the same strong products across the globe, the new Fusion is essentially the equivalent of the Euro-market Ford Mondeo, and that's great news for Americans. How do we love the 2013 Ford Fusion? Let us count the ways: It looks like a cross between an Aston Martin and a Jaguar; it handles more like a sport sedan than a family hauler; it offers two turbocharged engines as well as the hyper-efficient 47-mpg Hybrid; it's super quiet at speed; and its available MyFord Touch technology suite is incredibly capable, notwithstanding the controversy it has generated.
But the Accord is new for 2013 as well, and Honda's back to its old tricks. The new Accord is shorter than its bloated predecessor, and various styling tweaks make it look much tidier, though it's still got a huge back seat. A Honda-built, continuously variable automatic transmission (CVT) helps deliver up to 37 mpg on the highway with the 4-cylinder engine, while the V6 finally gets a modern 6-speed automatic that improves both acceleration and fuel economy significantly. Interior quality beats out the Fusion's, and even the formerly bare-bones Accord LX comes standard with high-tech must-haves, such as USB, Bluetooth and an 8-inch infotainment screen.
AutoTrader's Pick
Honda might want to throw the challenge flag here, but we're going with the Fusion. It just has something for everyone, including the exceptionally efficient and affordable Hybrid.
2012 Nissan Frontier vs. 2013 Toyota Tacoma
With a fresh design on the horizon (perhaps for 2014), the Nissan Frontier should be in a rebuilding phase now, yet it's still fully competitive. Offered in extended- and crew-cab configurations, the Frontier shines when equipped with the optional 4.0-liter, 252-hp V6. Acceleration is fierce, and the available off-road hardware helps the Nissan make serious time on challenging trails. Inside, you can get Bluetooth, power seats and even leather upholstery, if you want.
But the Frontier's long-time nemesis, the Toyota Tacoma, is no pushover. It's offered in three cab configurations, including a no-nonsense regular cab that the Nissan can't match. The Tacoma's base 2.7-liter 4-cylinder engine is more capable than the Frontier's base 2.5-liter unit. Remarkably, a touchscreen audio system with Bluetooth and USB comes standard on the 4×2 regular-cab Tacoma. And while there's no definitive data on pickup-truck reliability, the Tacoma's sterling reputation gives peace of mind and also helps keep resale values high.
AutoTrader's Pick
Can we call it a tie? No? Alright, then it's the Toyota by a nose. Toyota has defined the small/mid-size truck segment for decades, and the current Tacoma proudly carries on that tradition.
2013 Dodge Dart vs. 2013 Ford Focus
Not since the Neon has Dodge had a compact sedan that's generated this much buzz, and let's face it, the new Dodge Dart is a vastly better car than its spiritual ancestor. Built on Alfa Romeo bones (thanks, FIAT!), the Dart has an upscale feel on the road. It'll never make you feel like you settled for less. Under the hood, the Dart boasts an available turbocharged 1.4-liter inline-4 that features 160 enthusiastic horses and up to 41 mpg on the highway. The Dart's cabin is all new and much nicer than previous efforts from Dodge. Our favorite feature? The optional 8.4-in uConnect touchscreen, which is like having an iPad as a copilot. In terms of user-friendliness, it puts MyFord Touch to shame.
But there's so much fundamental goodness in the 2013 Ford Focus that it has no trouble keeping up with newer rivals like the Dart. The base 2.0-liter engine offers a sublime combination of strength and efficiency, delivering a cool 160 hp and up to 40 mpg. The suspension feels even more premium than the Dart's, offering excellent compliance along with genuinely sporty handling. There's technology galore inside if you want it, including that controversial MyFord Touch system, and interior quality is top notch. Plus, the Focus can be had as a great-looking and practical 4-door hatchback, which we'd take in a heartbeat over the compromised sedan.
AutoTrader's Pick
No offense to the Dart, which is a big step forward for Dodge, but the Focus is simply a more well-rounded car. Noticing a theme here? Kudos to Ford: They're crushing it these days.
2013 Chevrolet Camaro vs. 2013 Ford Mustang
Talk about fierce rivalries! The Camaro and Mustang have been going at it for decades. On paper, at least, the current Camaro is at a slight disadvantage due to its odd origins. Don't tell your friend who just dropped big money on one, but the Camaro actually rides on a modified Pontiac G8 sedan platform, which also underpins the latest Chevy Caprice police cruiser. Still, that's just a pointless piece of trivia when you're hard on the Camaro's throttle. The standard 3.6-liter V6 is significantly sportier and more satisfying than the Mustang's 3.7-liter V6, while the SS model's 6.2-liter V8 lays down the law like the Corvette engine it is. And then there's the insane ZL1, a 580-hp homage to American muscle. Did we mention that the Camaro looks like a full-size Hot Wheels car from our youth? In short, this car kicks you-know-what.
Even though the Mustang is an older car, its origins going back to the mid-2000s, Ford has done an exemplary job of keeping it fresh over the years. In particular, the GT model's relatively new 5.0-liter V8 is a gem, delivering Camaro SS-grade performance along with a scintillating soundtrack that evokes the outgoing V8-powered BMW M3. If that gets you going, wait till you try the Boss 302, which takes that 5.0-liter V8 to a whole new level. For truly depraved power-junkies, the supercharged GT500 has been updated yet again to a preposterous 662 hp, making the Camaro ZL1 seem like yesterday's news. The Mustang also wins with its tidier dimensions and better outward visibility, not to mention its more user-friendly convertible top, which doesn't require the manual installation of a cumbersome boot cover. (We're looking at you, Chevy.)
AutoTrader's Pick
The Mustang is due for replacement before too long, and we're told there's dramatic new styling and independent rear suspension on the horizon. Nonetheless, it's simply a more satisfying car all-around than the Camaro. Game ball goes to the Ford.